Home >
> Samuel N. Nahashon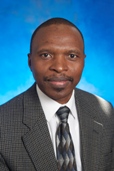 Samuel N. Nahashon
Research Professor and Interim Department Head
Department of Agricultural and Environmental Sciences
College of Agriculture

Contact Information:
Office Location: 204G Farrell-Westbrook  
Telephone:  615-963-5829
FAX:  615-963-1557 
Email:  snahashon@tnstate.edu
Research Areas:
Poultry Nutrition, Animal Biotechnology
Publications & Presentations:
Refereed journal Articles: 29
Non-Refereed publications: 7
Books Chapters: 1
Invited Lectures: 8
Research abstracts: 86
Conference Presentations: 82
Most Significant Publications:
Nahashon, S. N., S. E. Aggrey, N. A. Adefope, A. Amenyenu and D. Wright. 2010. Gomperts-Laird model prediction of optimum utilization of crude protein and metabolizable energy by French guinea fowl broilers. Poultry Science 89:52-57.
Xiaofei Wang, Samuel Nahashon, Tromondae K Feaster, Ann Bohannon-Stewart and Nathaniel Adefope. 2010. An initial map of chromosomal segmental copy number variations in the chicken. BMC Genomics 2010, 11:351 doi: 10.1186/1471-2164-11-351.
Nahashon, S. N. Nahashon, A. .Akuley and N. Adefope. 2010. Genetic relatedness of Pearl Grey guinea fowl and Single Comb White Leghorn chickens. Journal of Poultry Science 47:280-287.
Nahashon, S. N., N. Adefope, A. Amenyenu and D. Wright. 2007. Effect of Varying Concentrations of Dietary Crude Protein and Metabolizable Energy on Laying Performance of Pearl Grey Guinea Fowl Hens. Poultry Science 86:1793-1799.
Nahashon, S. N., C. O. Briles, S. Louis and J. R. Bartlett, 2000. Performance and adipose cellularity of female progeny of White Plymouth Rock dams and Commercial Broiler Breeder Sires. Animal and Feed Science 9:379-389.
Nahashon, S. N., H. S. Nakaue, and L. W. Mirosh, 1994. Phytase activity, phosphorus and calcium retention and performance of Single Comb White Leghorn layers fed diets containing two levels of available phosphorus and supplemented with direct-fed microbials. Poultry Science 73:1552-1562.
Teaching:
AGSC 5170 -Advanced Poultry Production and Management
AGSC 5140–Special Problems in Animal Science
AGSC 4420-Poultry Disease Prevention and Sanitation
AGSC 2410 Introduction to poultry Science
Recent Honors and Awards:
US President's Service Award, 2010Research Mentorship Award, Tennessee State University, 2010

Distinguished Research Scientist Award, Institute of Agricultural and Environmental Research, Tennessee State University,  2006

Outstanding Service Award, Institute of Agricultural and Environmental Research, Tennessee State University, 2005

Blue & White Award for outstanding performance in Research- Food Safety, Nutrition and Family Well-being Research Team-Tennessee State University, 2005
Education:
B.Sc (Agriculture) - Andrews University 
M.Sc (Animal and Poultry Science) - Tuskegee University 
Ph.D. (Poultry Science; Integrated Minor: Biochemistry & Statistics) - Oregon State University
Date joined staff:  2002
---
webpage contact: