Home >
> Emmanuel C. Omondi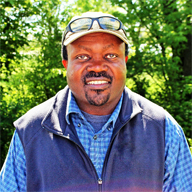 Dr. Emmanuel C. Omondi
Assistant Professor
Department of Agricultural and Environmental Sciences
College of Agriculture

Contact Information
Office Location: 204 A Farrell-Westbrook Complex 
Telephone:  615-963-5830
FAX:  615-963-5833
Email:  eomondi@tnstate.edu
Research Areas 
Industrial hemp agronomy, sustainable agriculture, cropping systems agronomy, conservation agriculture
Research Focus
My current research focus is on industrial hemp agronomy. Field and greenhouse research work is assessing best management approaches to include industrial hemp in prevailing common crop rotations, potential of hemp in reduced tillage strategies, variety trials to determine ideal ones for Tennessee, nutrient management requirements, ideal time in the year to grow it, pest and diseases, and economic and supply chain analysis. My goal is to increase the decision-making ability of stakeholders involved in hemp production and enhance the income and sustainability of farmers.
Publications
Pearsons, K. A.*, Craig Chase, E. C. Omondi, G. Zinati, R. Seidel, A. Smith, and Y. Rui*. 2022. Does reducing tillage improve the profitability of organic and conventional agricultural systems? Results from a long-term field trial. Renewable Agriculture and Food Systems. (Revision February 7, 2022). 
Bagnall D. K.; C.L.S. Morgan; K.D. Flynn; J.A. Howe; K.L.H. Greub; G.M. Bean; S.B. Cappellazzi; M. Cope; D. Liptzin; E. C. Omondi et al. 2022. Carbon-Sensitive Pedotransfer Functions for Plant Available Water. Soil Science Society of America Journal. DOI: 10.1002/saj2.20395. (In Print). 
Pearsons, K. A., E. C. Omondi, B. J. Heins, G. Zinati, A. Smith, and Y. Rui*. 2022. Reducing tillage affects long-term yields but not grain quality of maize, soybeans, oats, and wheat produced in three contrasting farming systems. Sustainability Journal. 14(2): 631 
Omondi, E. C.*, M. S. Wagner, A. Mukherjee, and K. Nichols. 2021. Long Term Organic and Conventional Farming Effects on Nutrient Density of Oats. Renewable Agriculture and Food Systems. 1-15. doi:10.1017/S1742170521000387. 
Alfahham, A., M. Amato, E. C. Omondi, D. Gimenez, and A.F. Plante*. 2021. Assessing the impact of agricultural management on soil structure and hydraulic properties in a long-term experiment. Soil Science Society of America Journal. 85(6):2135-48. 
Sanderman, J., K. E. Savage *, S. R. S. Dangal, G. Duran, C. Rivard, M. Cavigelli, H. T. Gollany, V. Jin, M. A. Liebig, E. C. Omondi, Y. Rui, and C. E. Stewart. 2021. Can agricultural management induced changes in soil organic carbon be detected using mid-infrared spectroscopy. Remote Sensing Journal. 13(12):2265. 
Littrell, J., S. Jagadamma*, E. C. Omondi, S. Xu, D. Saha, and J. Lee. 2021. Long-term organic management combined with conservation tillage enhanced soil organic carbon accumulation and aggregation. Soil Science Society of America Journal. 85:1741–1754 
Rheay, H., E.C. Omondi, and C.E. Brewer*. 2020. Research Review: Potential of hemp (Cannabis sativa L.) for paired phytoremediation and bioenergy production. GCB Bioenergy Journal. DOI:10.1111/gcbb.12782. 
Mukherjee, A., E.C. Omondi*, P. R. Hepperly, R. Seidel, and W. Heller. 2020. Impacts of long term organic and conventional management on vegetative nutritional level. Sustainability Journal.12(21): 8965. 
Wang, H., R. Bier, L. Zgleszewski, M. Peipoch, E.C. Omondi, A. Mukherjee, F. Chen, C. Zhang, and J. Kan*. 2020. Distinct distribution of Archaea from soil to freshwater to estuary: implications of archaeal composition and function in different environments. Frontiers in Microbiology 11: 2641 
Harms, K., E.C. Omondi*, and A. Mukherjee. 2020. Investigating Bat Activity in Various Agricultural Landscapes in North Eastern United States. Sustainability 2:1959. 
Sbatella G.M.*, A.R. Kniss, E. C. Omondi, and R.G. Wilson. 2017. Volunteer Corn (Zea mays) interference in Dry beans (Phaseolus vulgaris). Weed Technology. 30(4): 937-942
Lamb, J.N.*, K.M. Moore, J. Norton, E.C. Omondi, R. Laker-Ojok, D.N. Sikuku, D.S. Ashilenje and J. Odera. 2016. A social networks approach for strengthening participation in technology innovation: lessons learnt from the Mount Elgon region of Kenya and Uganda. International Journal of Agricultural Sustainability, pp 1-17 
Odhiambo, J.A., U. Norton*, D. A. Ashilenje, E. C. Omondi, and J. B. Norton. 2015. Weed dynamics during transition from conventionally tilled maize/bean intercropping to conservation agriculture practices in western Kenya. PLOS ONE 10(8): e0133976.
Omondi, E.C.* and A.R. Kniss. 2014. Interplanting annual ryegrass, wheat, oat, and corn to mitigate iron deficiency in dry beans in calcareous soils. PLOS ONE 9(12): e115673. 
Odhiambo, J.A., U. Norton*, E.C. Omondi, and J. Norton. 2014. Soil carbon and nitrogen mineralization and crop parameters in typical maize-bean production in western Kenya. International Journal of Plant and Soil Sciences 5(3): 127-142.
Omondi, E.C.*, J.B. Norton, and D.A. Shibonje. 2014. Performance of a local open pollinated maize variety and a common hybrid variety under intensive small-scale farming practices. African Journal of Agricultural Research 9(11): 950-955.
Omondi, E. C.*, M. Ridenour, C. Ridenour, and R. Smith*. 2010. The effect of intercropping annual ryegrass with pinto beans in mitigating iron deficiency in calcareous soils. Journal of Sustainable Agriculture 34 (3):244-257.
Omondi, E.C.* 1996. The smallest possible area to grow food and feed - an investigation into sustainable diet and dairy production.  A Technical Working Paper, Ecology Action Publication, CA, U.S.A.
Grants 
Co-PI, USDA, NIFA Organic Agriculture Research and Extension Initiative (OREI). A Comprehensive Assessment of Industrial Hemp as a Potential Crop for Organic Farmers. Purdue University and Rodale Institute partnership. $955,458, Project duration 2019-2022
PI, Dr. Bronners, Nutiva, and Joshua Hendricks. Industrial Hemp Project: Utilizing industrial hemp as dual cash or cover crop to manage weeds, reduce tillage, enhance soil health, and increase farm income.  $103,333, Project duration 2017-2019
PI, Pennsylvania Department of Agriculture. Evaluating organic nutrient management practices to improve industrial hemp yield and quality. $20,000, 2018-1019
Co-PI, USDA, NIFA Agriculture and Food Research Initiative (AFRI). Microbial contribution to building and stabilizing soil organic matter under long-term crop management practices in agroecosystems. University of Wisconsin, Iowa State University, and Rodale Institute partnership. $500,000, Project duration 2020-2022
Co-PI, William Penn Foundation. Evaluating how conventional, conservation, and organic farming management practices enhance soil health and improve water quality in the Delaware Watershed region. Rodale Institute and Stroud Water Research Center. $6,000,000, Project duration 2018-2022
Co-PI, USDA NRCS CIG. Innovations in cover-crop-based organic no-till systems to improve soil health and nutrient management. A partnership between Iowa State University, University of Wisconsin-Madison, and Rodale Institute. $1.13 million, Project duration 2018-2021
Co-PI and Project Manager, USAID Sustainable Agriculture and Natural Resource Management Collaborative Research Support Program (SANREM CRSP). Development and transfer of conservation agriculture production systems for small-holder farms in eastern Uganda and western Kenya. $1,385,000, Project duration 2010-2014. 
Project Leader, Tudor Trust, U.K., Ecology Action, U.S.A., and Participatory Ecological Land Use and Management Network, Kenya. GROW BIOINTENSIVE Pan African workshop and symposium on a truly African green revolution; 140 participants from Africa. $75,000, Project duration 2007.
Project Leader, Western SARE Graduate Student Fellow Grants in Sustainable Agriculture, U.S.A. Potential of managing iron and zinc deficiency in dry beans with interplantings of annual ryegrass.  $18,928, Project duration 2007-2011. 
PI, Noyce and Irving Foundation U.S.A., International Foundation, U.S.A. Biointensive Agriculture at Manor House Agricultural Centre, Kenya. $450,000, Project duration 1996-2006. 
PI, Tudor Trust, U.K. and the Rotary Club of Palo Alto, U.S.A. Community resource center establishment: a project designed to introduce internet centers in rural areas of western Kenya. $55,000, Project duration 2005-2007. 
PI, Conservation Food and Health Foundation, U.S.A. and Tudor Trust, U.K. Integrated community development through mini-training centers in western Kenya. $79,539, Project duration 2004-2006.
PI, Tudor Trust, U.K. Strengthening the MHAC's extension outreach through the established community mini-training centers.  $108,700, Project duration 2002-2004. 
Project leader, Tudor Trust, U.K. Improvement and expansion of training and seminar facilities at Manor House Agricultural Center, Kenya. $153,850, Project duration 1999-2002. 
PI, Ford Foundation – U.S.A. Farmer outreach and community extension program in Kenya.  $100,000, Project duration 1997-1999.
Honors and Awards 
First Prize, A. K. Dobrenz Student Paper Competition, Western Society of Crop Science, 2011
Gamma, Sigma, Delta Honor Society of Agriculture, University of Wyoming Chapter since 2006
Dick & Lynne Cheney Fellowship for Excellence in Study Abroad, University of Wyoming, 2011
University of Wyoming International Graduate Student Award for Excellence in Internationalization, 2010
International Students and Scholars Scholarship, University of Wyoming, 2007-2011
Brand of Excellence Scholarship, College of Agriculture, University of Wyoming, 2008-2010
First Prize, Paper Competition, Graduate Student Symposium, University of Wyoming, 2007.
National Scholars Honors Society (Magna Cum Laude), 2008
Education
Ph.D. (Agronomy) University of Wyoming

M.Sc. (Agronomy) University of Wyoming

B.Sc (General Agriculture)  University of Nairobi, Kenya
Date joined staff:  2020
---
webpage contact: