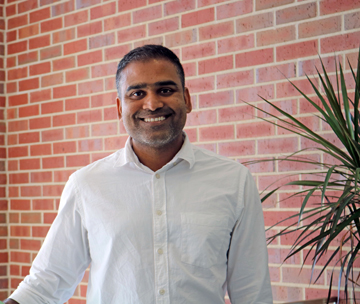 Dr. Gajender Aleti
Assistant Professor
Food and Animal Sciences
Department of Agricultural and Environmental Sciences
College of Agriculture
Contact Information
204 Farrell Westbrook Complex
(615) 963-5431
galeti@tnstate.edu

Research Areas
Understanding the interactions between diet, microbiome and gut health
Investigating the role of bioactive small molecules produced or transformed by gut microbiota
Investigating the interactions between gut microbiome and nervous system (Gut-Brain Axis)
Selected Publications
Aleti G, Kohn JN, Troyer EA, Weldon K, Huang S, Tripathi A, Dorrestein PC, Swafford AD, Knight R, Hong S. 2022. Salivary bacterial signatures in depression-obesity comorbidity are associated with neurotransmitters and neuroactive dipeptides. BMC Microbiol 22.
Beauchamp-Walters J, Aleti G, Herrera L, Debelius J, Lima N, Dalal P, Hong S, Knight R, Rhee KE. 2022. Impact of exclusive enteral nutrition on the gut microbiome of children with medical complexity. JPEN J Parenter Enteral Nutr https://doi.org/10.1002/JPEN.2392.

Schmid R, Petras D, Nothias LF, Wang M, Aron AT, Jagels A, Tsugawa H, Rainer J, Garcia-Aloy M, Dührkop K, Korf A, Pluskal T, Kameník Z, Jarmusch AK, Caraballo-Rodríguez AM, Weldon KC, Nothias-Esposito M, Aksenov AA, Bauermeister A, Albarracin Orio A, Grundmann CO, Vargas F, Koester I, Gauglitz JM, Gentry EC, Hövelmann Y, Kalinina SA, Pendergraft MA, Panitchpakdi M, Tehan R, Le Gouellec A, Aleti G, Mannochio Russo H, Arndt B, Hübner F, Hayen H, Zhi H, Raffatellu M, Prather KA, Aluwihare LI, Böcker S, McPhail KL, Humpf HU, Karst U, Dorrestein PC. 2021. Ion identity molecular networking for mass spectrometry-based metabolomics in the GNPS environment. Nat Commun 12.

Torralba MG, Aleti G, Li W, Moncera KJ, Lin YH, Yu Y, Masternak MM, Golusinski W, Golusinski P, Lamperska K, Edlund A, Freire M, Nelson KE. 2021. Oral Microbial Species and Virulence Factors Associated with Oral Squamous Cell Carcinoma. Microb Ecol 82.

Troyer EA, Kohn JN, Ecklu-Mensah G, Aleti G, Rosenberg DR, Hong S. 2021. Searching for host immune-microbiome mechanisms in obsessive-compulsive disorder: A narrative literature review and future directions. Neurosci Biobehav Rev 125:517.

Schorn MA, Verhoeven S, Ridder L, Huber F, Acharya DD, Aksenov AA, Aleti G, Moghaddam JA, Aron AT, Aziz S, Bauermeister A, Bauman KD, Baunach M, Beemelmanns C, Beman JM, Berlanga-Clavero MV, Blacutt AA, Bode HB, Boullie A, Brejnrod A, Bugni TS, Calteau A, Cao L, Carrión VJ, Castelo-Branco R, Chanana S, Chase AB, Chevrette MG, Costa-Lotufo L V., Crawford JM, Currie CR, Cuypers B, Dang T, de Rond T, Demko AM, Dittmann E, Du C, Drozd C, Dujardin JC, Dutton RJ, Edlund A, Fewer DP, Garg N, Gauglitz JM, Gentry EC, Gerwick L, Glukhov E, Gross H, Gugger M, Guillén Matus DG, Helfrich EJN, Hempel BF, Hur JS, Iorio M, Jensen PR, Kang K Bin, Kaysser L, Kelleher NL, Kim CS, Kim KH, Koester I, König GM, Leao T, Lee SR, Lee YY, Li X, Little JC, Maloney KN, Männle D, Martin H C, McAvoy AC, Metcalf WW, Mohimani H, Molina-Santiago C, Moore BS, Mullowney MW, Muskat M, Nothias LF, O'Neill EC, Parkinson EI, Petras D, Piel J, Pierce EC, Pires K, Reher R, Romero D, Roper MC, Rust M, Saad H, Saenz C, Sanchez LM, Sørensen SJ, Sosio M, Süssmuth RD, Sweeney D, Tahlan K, Thomson RJ, Tobias NJ, Trindade-Silva AE, van Wezel GP, Wang M, Weldon KC, Zhang F, Ziemert N, Duncan KR, Crüsemann M, Rogers S, Dorrestein PC, Medema MH, van der Hooft JJJ. 2021. A community resource for paired genomic and metabolomic data mining. Nat Chem Biol 17:363–368.

Jarmusch AK, Wang M, Aceves CM, Advani RS, Aguirre S, Aksenov AA, Aleti G, Aron AT, Bauermeister A, Bolleddu S, Bouslimani A, Caraballo Rodriguez AM, Chaar R, Coras R, Elijah EO, Ernst M, Gauglitz JM, Gentry EC, Husband M, Jarmusch SA, Jones KL, Kamenik Z, Le Gouellec A, Lu A, McCall LI, McPhail KL, Meehan MJ, Melnik A V., Menezes RC, Montoya Giraldo YA, Nguyen NH, Nothias LF, Nothias-Esposito M, Panitchpakdi M, Petras D, Quinn RA, Sikora N, van der Hooft JJJ, Vargas F, Vrbanac A, Weldon KC, Knight R, Bandeira N, Dorrestein PC. 2020. ReDU: A Framework to Find and Re-analyze Public Mass Spectrometry Data. Nat Methods 17:901.

Kohn JN, Kosciolek T, Marotz C, Aleti G, Guay-Ross RN, Hong S-H, Hansen S, Swafford A, Knight R, Hong S. 2020. Differing salivary microbiome diversity, community and diurnal rhythmicity in association with affective state and peripheral inflammation in adults. Brain Behav Immun https://doi.org/10.1016/j.bbi.2020.02.004.

Gauglitz JM, Aceves CM, Aksenov AA, Aleti G, Almaliti J, Bouslimani A, Brown EA, Campeau A, Caraballo-Rodríguez AM, Chaar R, da Silva RR, Demko AM, Di Ottavio F, Elijah E, Ernst M, Ferguson LP, Holmes X, Jarmusch AK, Jiang L, Kang KB, Koester I, Kwan B, Li J, Li Y, Melnik AV, Molina-Santiago C, Ni B, Oom AL, Panitchpakdi MW, Petras D, Quinn R, Sikora N, Spengler K, Teke B, Tripathi A, Ul-Hasan S, van der Hooft JJJ, Vargas F, Vrbanac A, Vu AQ, Wang SC, Weldon K, Wilson K, Wozniak JM, Yoon M, Bandeira N, Dorrestein PC. 2020. Untargeted mass spectrometry-based metabolomics approach unveils molecular changes in raw and processed foods and beverages. Food Chem 302.

Aleti G, Baker JL, Tang X, Alvarez R, Dinis M, Tran NC, Melnik A V., Zhong C, Ernst M, Dorrestein PC, Edlund A. 2019. Identification of the Bacterial Biosynthetic Gene Clusters of the Oral Microbiome Illuminates the Unexplored Social Language of Bacteria during Health and Disease. MBio 10:1–19.

Pessoa L, Aleti G, Choudhury S, Nguyen D, Yaskell T, Zhang Y, Li W, Nelson KE, Neto LLS, Sant'Ana ACP, Freire M. 2019. Host-Microbial Interactions in Systemic Lupus Erythematosus and Periodontitis. Front Immunol 10.

Hussain I, Aleti G, Naidu R, Puschenreiter M, Mahmood Q, Rahman MM, Wang F, Shaheen S, Syed JH, Reichenauer TG. 2018. Microbe and plant assisted-remediation of organic xenobiotics and its enhancement by genetically modified organisms and recombinant technology: A review. Sci Total Environ. Elsevier B.V. https://doi.org/10.1016/j.scitotenv.2018.02.037.

Sarwar A, Brader G, Corretto E, Aleti G, Abaidullah M, Sessitsch A, Hafeez FY. 2018. Qualitative analysis of biosurfactants from Bacillus species exhibiting antifungal activity. PLoS One 13:e0198107.

Aleti G, Nikolić B, Brader G, Pandey RV, Antonielli L, Pfeiffer S, Oswald A, Sessitsch A. 2017. Secondary metabolite genes encoded by potato rhizosphere microbiomes in the Andean highlands are diverse and vary with sampling site and vegetation stage. Sci Rep 7.

Aleti G, Lehner S, Bacher M, Compant S, Nikolic B, Plesko M, Schuhmacher R, Sessitsch A, Brader G. 2016. Surfactin variants mediate species-specific biofilm formation and root colonization in Bacillus. Environ Microbiol 18:2634–2645.

Aleti G, Antonielli L, Corretto E, Nikolić B, Sessitsch A, Brader G. 2016. The draft genome sequence of Paenibacillus polymyxa strain CCI-25 encompasses high potential for secondary metabolite production. Genome Announc 4.

Aleti G, Sessitsch A, Brader G. 2015. Genome mining: Prediction of lipopeptides and polyketides from Bacillus and related Firmicutes. Comput Struct Biotechnol J. Elsevier https://doi.org/10.1016/j.csbj.2015.03.003.

Doggett K, Jiang J, Aleti G, White-Cooper H. 2011. Wake-up-call, a lin-52 paralogue, and Always early, a lin-9 homologue physically interact, but have opposing functions in regulating testis-specific gene expression. Dev Biol 355:381–393.
Education
PhD Microbial Ecology, Austrian Institute of Technology & The University of Natural Resources and Life Sciences, Vienna, Austria
MSc Bioinformatics, University of Abertay Dundee, Dundee, UK
MSc Biotechnology, Government City College, Osmania University, Hyderabad, India
BSc Botany, Zoology and Chemistry, University Post Graduate College, Osmania University, Secunderabad, India
Date joined TSU: August 2022