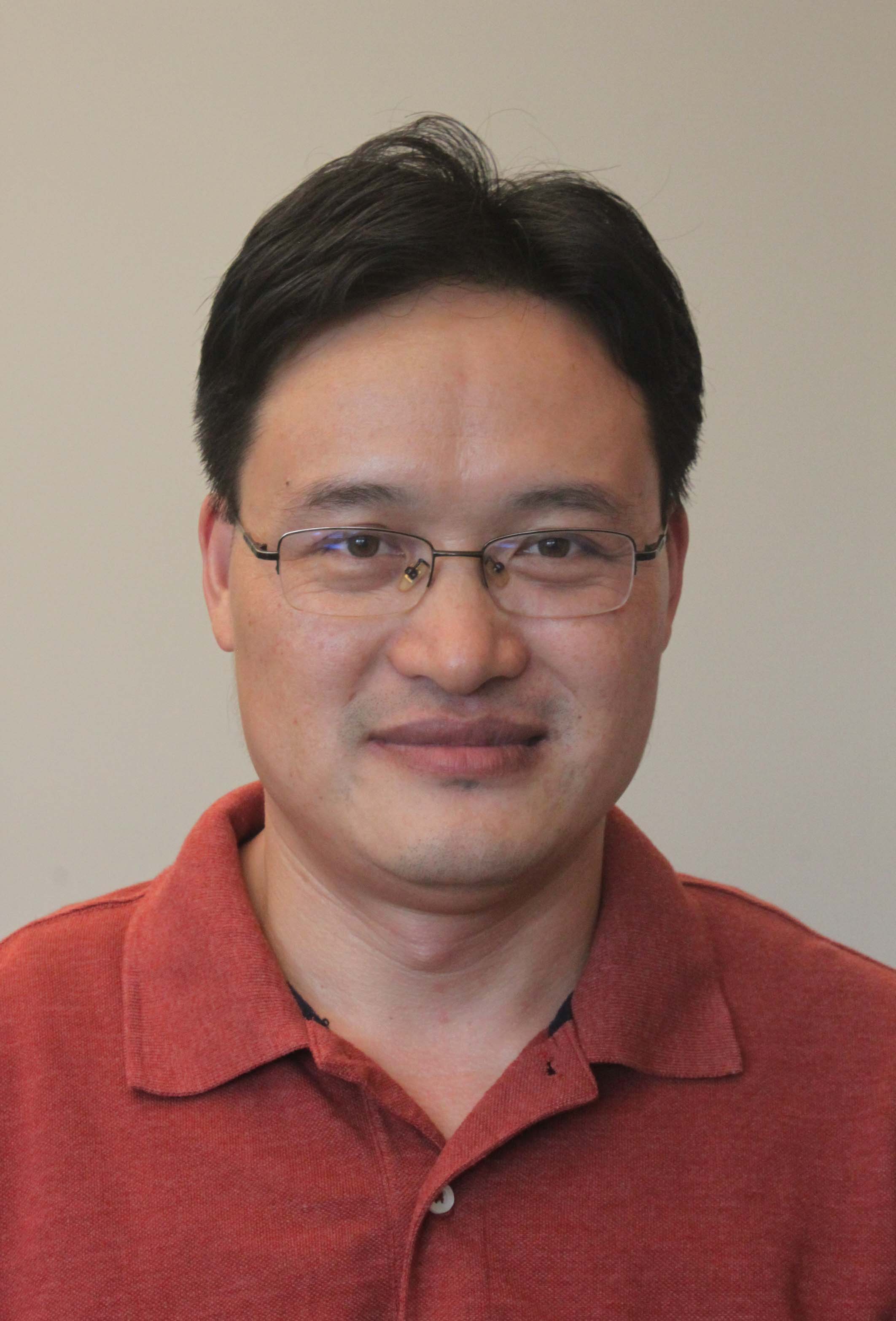 Hongwei Si
Professor
Department of Agricultural and Environmental Sciences                                         
College of Agriculture
Contact Information:
Office Location: 111-E CARP Building
Telephone:  615-963-5443
FAX: 615-963-5888
Email: hsi@tnstate.edu
Research Areas
Identification and characterization of bioactive food compounds in the prevention of chronic diseases such as cardiovascular disease, obesity and diabetes, and prolong of healthy lifespan.
Understanding the comprehensive and integrative relationship among nutrients, lifestyle and health.
Development of preventive/therapeutic strategies and approaches to treat and prevent chronic diseases and strengthen health life.
Most Significant Publications (since 2010)
Ahmed B, Si Hongwei. (2015) Combinations of genistein, EGCG and resveratrol synergistically inhibit pre-adipocyte differentiation by suppressing PPAR-gamma/C/EBP signaling pathway. Molecular Nutrition and Food Research (In press )

Si Hongwei (2015) Corn oil and aging: insights from basic research. Corn and Coconut Oil: Antioxidant, Properties, Uses and Health Benefits. Nova Science Publishers, New York. Chapter 5.

Jia Z, Nallasamy P, Liu D, Shah H,  Li Z, Chitrakar R, Si Hongwei, McCormick J, Zhu H, Zhen W, Li Y. (2015) Luteolin protects against vascular inflammation in mice and TNF-alpha- induced monocyte adhesion to endothelial cells via suppressing IΚBα/NF-κB signaling pathway. Journal of Nutritional Biochemistry (Impact Factor, IF: 3.794). 26(3):293-302

Si Hongwei, Zhang L, Liu S, LeRoith T, Virgous C. (2014) High corn oil dietary intake improves health and longevity of aging mice. Experimental Gerontology (IF: 3.802). 58:244-249

Si Hongwei, Liu D. (2014) Dietary anti-aging phytochemicals and mechanisms associated with prolonged survival. Journal of Nutritional Biochemistry (IF: 3.794). 25 (6):581-91

Nallasamy P,  Si Hongwei, Velayutham A, Pan D,  Fu Y, Brooke E, Shah H,  Zhen W, Zhu H, Liu D, Li Y, Jia Z. (2014) Sulforaphane reduces vascular inflammation in mice and prevents TNF-alpha-induced monocyte adhesion to primary endothelial cells through interfering with the NF-kappa B pathway. Journal of Nutritional Biochemistry (IF: 3.794). 25 (8):824-33

Si Hongwei, Wyeth R, Liu D. (2014) Flavonoid luteolin increases vasodilatation through promoting the activity of nitric oxide synthase. European Journal of Nutrition (IF: 3.467). 53(1):269-75

Jia Z, Babu PV, Si Hongwei, Nallasamy P, Zhu H, Zhen W, Misra HP, Li Y, Liu D, Zhu H, Li Y, Saha S, Misra HP, Liu D. (2013) Genistein inhibits TNF-α-induced endothelial inflammation through the protein kinase pathway A and improves vascular inflammation in C57BL/6 mice. International Journal of Cardiology (IF: 4.093). 168(3):2637-45

Si Hongwei, Liu D. (2012) Phytoestrogen genistein up-regulates human endothelial nitric oxide synthase expression through activation of PKA/CREB pathway. Endocrinology (IF: 4.503). 153 (7):3190-3198

Si Hongwei, Velayutham A, Liu D. (2012). Genistein prevents endothelial dysfunction in db/db mice by reducing vascular inflammation. Journal of Nutrition (IF: 3.9). 142(4):724-730

Velayutham A, Si Hongwei, Liu D. (2012). Epigallocatechin gallate reduces vascular inflammation in db/db mice possibly through an NF-κB-mediated mechanism. Molecular Nutrition and Food Research (IF: 4.603). 56(9): 1424-1432

Wang A, Si Hongwei, Liu D, Jiang H (2012) Butyrate activates the cAMP-protein kinase A-cAMP response element-binding protein signaling pathway in caco-2 cells. Journal of Nutrition (IF: 3.9). 142(1):1-6

Si Hongwei, Fu Z, Babu PV, Zhen W, Leroith T, Meaney MP, Voelker KA, Jia Z, Grange RW, Liu D. (2011) Dietary epicatechin promotes survival of obese diabetic mice and drosophila melanogaster. Journal of Nutrition (IF: 3.9). 141(6):1095-1100

Guri, AJ, Hontecillas R, Ferrer G, Casagran O, Liu D, Si Hongwei and Bassaganya-Riera J. (2010) Abscisic acid ameliorates atherosclerosis by suppressing macrophage and CD4(+) T cell recruitment into the aortic wall. Journal of Nutritional Biochemistry.  21(12):1178-1185
Grants/projects:
Anti-inflammatory Effects of Combinations of Soy Genistein, Green Tea EGCG and/or Grape Resveratrol in Preventing Diabetes-induced Vascular Inflammation.  Soy Health Research Program- Incentive Award.  10/1/2015 - 9/30/2019.  Role: PI.

Cocoa and its bioactive epicatechin extend lifespan in aging mice fed a standard diet.  TENX-1506-FS (USDA).  10/1/ 2015-9/31/2018.  Role: PI.

N-3 polyunsaturated fatty acids and human health and disease.  NC_TEMP1039 (USDA)  10/1/2012-9/30/2017.  Role: Co-PI.

American ginseng and childhood obesity: the effects and mechanisms in mice and preadipocytes. TENX-2011-0255 (USDA)  9/1/2011-8/31/2015.  Role: PI.

How does cocoa epicatechin improves vascular health and prolongs lifespan. TENX-1103-FS (USDA) 1/1/ 2011-8/31/2014.  Role: PI.

Teaching:
NUFS 4560 Functional Foods and Nutraceuticals (Classroom instruction)
NUFS 3350 Life Span Nutrition (Classroom instruction)
NUFS 2110 Elementary Nutrition (Classroom and online instruction)
NUFS 4110 Advanced Human Nutrition 
NUFS 4520 Clinical Nutrition

Recent Honors and Awards:
Outstanding Young Researcher, College of Agriculture, Human and Natural Sciences, Tennessee State University, 2013
Hepler Fellowship, Virginia Polytechnic Institute and State University, 2007
John Lee Pratt Fellowship, Virginia Polytechnic Institute and State University, 2004 - 2007
Education:
D.V.M. –Gansu Agricultural University
M.Sc (Microbiology and Immunology - Gansu Agricultural University
Ph.D. (Human Nutrition) – Virginia Polytechnic Institute and State University
Date joined staff: 2010
---
webpage contact: