Home >
> Student Achievement Data
Student Achievement
Performance Measures
Tennessee State University (TSU) utilizes a variety of metrics to measure student success and program quality. It adheres to the Southern Association of Colleges and Schools Commission on Colleges (SACSCOC) policy regarding Institutional Obligations for Public Disclosure. This policy obliges the University "to provide to its students, constituents, and the public, information about itself that is complete, accurate, timely, accessible, clear and sufficient." The University updates these charts annually to convey to its constituents the most current information available in the categories charted below. The Student Achievement Standing Committee established in 2018 has been charged with monitoring the data associated with the student success measures that are outlined on this webpage.
Tennessee State University identifies student achievement goals and outcomes within the unique context of being a Historically Black College and University (HBCU), an 1890 land-grant institution, and a comprehensive doctoral and research university. TSU's commitment to student achievement is reflected through its mission to […transform lives, prepare a diverse population of leaders, and contribute to economic and community development by providing affordable and accessible educational programs at various degree levels promoting academic excellence through scholarly inquiry, research, lifelong learning, and public service.] Goals and outcomes are identified during the university strategic planning process and based upon accountability initiatives within the state of Tennessee, which include the Tennessee Higher Education Commission (THEC) Quality Assurance Initiative and the Complete College Tennessee Act of 2010. University goals and outcomes are communicated to each division and unit, who are held responsible for the development and implementation of division/unit goals and outcomes aligned to the university's strategic plan.    
Data presented on this webpage was obtained from: (a) Tennessee Higher Education Commission Fact Books 2019-2021, and (b) data sources within University units assigned to track specific data points (i.e., Institutional Research).  It should be noted that data in the THEC Fact Book is published once a year; thus, data in this report represents the most up-to-date information available from that source.

Over the last three years, Tennessee State University has sought to improve the quality of its academic program and student body while simultaneously keeping true to its mission of providing educational opportunities for the underserved. Elements such as race, ethnicity, class, gender, and language have contributed to building a rich, diverse, and inclusive learning environment. TSU has identified several sub-populations as being mission critical (adults, low-income / Pell eligible, African-American, and transfer students)
In an effort to enroll a more successful student body, Tennessee State University, in 2016, changed its admissions requirements.  The new criteria require students to have at least a 2.5 GPA and a score of 19 on the ACT. These regulations went into effect fall 2017. Despite increasing the admission standards, total enrollment at TSU has remained consistent only reflecting the expected loss of enrollment due to the enhanced admissions standards.

TSU has a student achievement goal to increase total student enrollment. The threshold of acceptability (minimum expectation) is to increase enrollment by 3% per year per the national trends and as noted in the National Center for Educational Statistics (NCES). The yearly benchmarks and annual attainment are outlined below: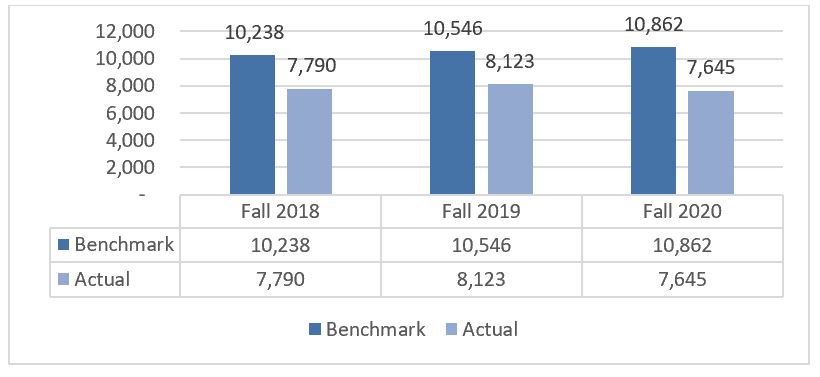 TSU has a student achievement goal to increase the average ACT scores of incoming freshmen. The threshold of acceptability (minimum expectation) is to increase the number of students admitted with an ACT score of 21 or above from 18% to 25% by 2020. Since the ACT score requirement was increased during the 2017-2018 academic year, a 2% increase is expected thereafter.  This threshold of acceptability is consistent with the national average and the average of other TN Locally Governed Institutions (4-year state institutions). The yearly benchmarks and annual attainment are outlined below: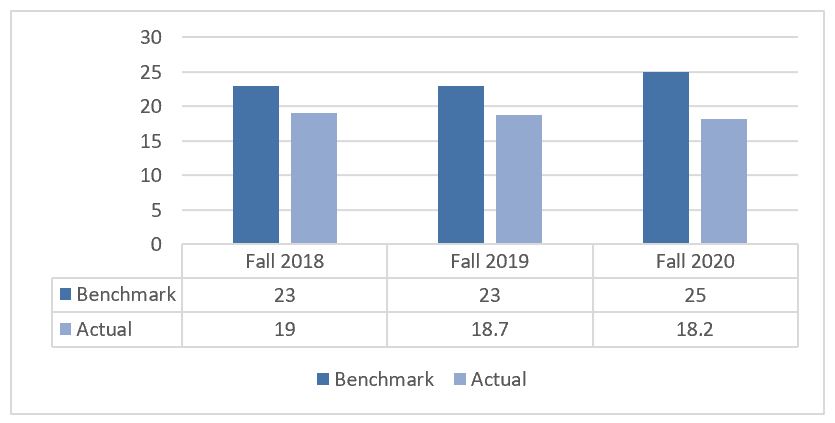 TSU has a student achievement goal to increase a student's progression through the achievement of 30, 60 and 90 credit hour benchmarks. The threshold of acceptability (minimum expectation) is to increase the progression benchmarks by 2% annually. TSU annually monitors these benchmarks as a part of the Tennessee Higher Education Commission (THEC) outcomes formula funding initiatives. The yearly benchmarks and annual attainment are outlined below: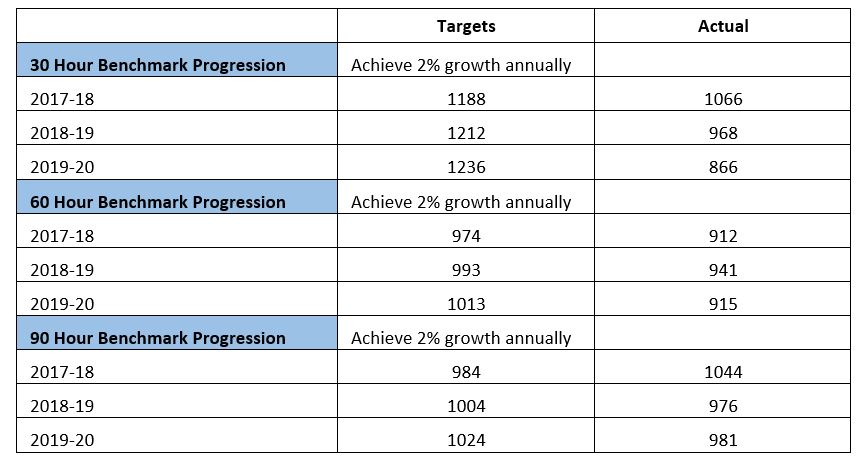 TSU has an achievement goal to increase the total number of degrees completed. The threshold of acceptability (minimum expectation) for degree completion of undergraduate, full-time students is a 3% increase each year.  Examination of the percentage growth data of Tennessee State University and other locally governed institutions support the establishment of this graduation threshold of acceptability.  The yearly benchmarks and annual attainment are outlined below: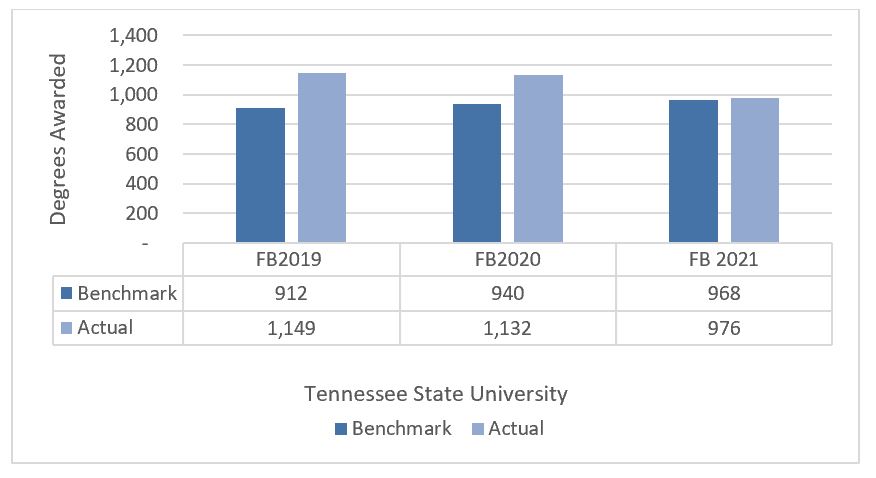 FB = THEC Factbook

TSU has a student achievement goal of meeting or exceeding the comparison score for the national or state examinations for academic programs leading to state or national professional licensure, in which licensing examinations are used as the major field assessment. The threshold of acceptability (minimum expectation) is to meet the minimum passing score endorsed by the state.  Benchmarks are determined based upon guidelines established by state and national governing bodies. The yearly benchmarks and annual attainment are outlined below:

---