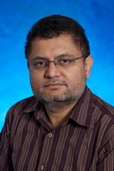 Ahmad Aziz
Research Professor
Department of Agricultural and Environmental Sciences
College of Agriculture
Contact Information
Office Location: 202C Farrell-Westbrook Complex
Telephone:  615-963-1595
FAX: 615-963-5436
Email: aaziz@tnstate.edu
Research Areas
Biotechnology, Sorghum Genetics, Biofuel Feedstock
Publications
Refereed Journal Articles 29
Books/Bulletins 3
Intl. Conference Proceedings 24
Technical reports 1
Research abstracts 22
Conference Presentations and Invited Lectures 51

Most Significant Publications
Binod M.Gyawali, Younas Khan Barozai and A. Naseer Aziz. 2020. Comparative Expression Analysis of MicroRNAs and Their Targets in Emerging Biofuel Crop Sweet Sorghum (Sorghum bicolor L.). Plant Gene. PLANTGENE-D-20-00054R1 (Accepted).

A. Naseer Aziz. 2019. Amplified Fragment Length Polymorphism based Phylogenetic Relationships of Heirloom Tomato and Dark Green Vegetable Accessions. In: Dilip Nandwani (editor), Genetic Diversity in Horticultural Crops. Springer International Publishing AG, Cham, Switzerland. ISBN10 3319964534, ISBN13 9783319964539. pp300.

Aron Felts, Deependra Bhatta, Sarabjit Bhatti and Ahmad N. Aziz. 2019. Comparative Profiling of Gossypol Enantiomers and Seed Traits' Related Transcripts in Cotton Lines. Pure and Applied Biology. 8:(2): 1850-1860.

M. Younas Khan Barozai and A. Naseer Aziz. 2018. Recent Plant Growth and Stress Management Related Significant Advancements in Epigenetics. Annals of Agrarian Science. 16 (4): 416-421.

A. Naseer Aziz, Abdul Mujeed Yakubu and Sherya Singh Hamal. 2017. Genotyping of Individually Isolated Gametes from Gossypium hirsutum Chromosome Substitution Lines. Single Cell Biology. 6:3, DOI: 10.4172/2168-9431.1000169.

Diwas K. Silwal, Nsoki Phambu, Bharat Pokharel and A. Naseer Aziz. 2017. Identification of Hydrated and Dehydrated Lipids and Protein Secondary Structures in Seeds of Cotton (Gossypium hirsutum) Lines. Pure and Applied Biology. 6(3): 965-975. http://dx.doi.org/10.19045/bspab.2017.600102 .

A. Naseer Aziz, Fisseha Tegegne, Jason de Koff and Roger Wiemers. 2017. Biofuel Training Workshops for Diverse Stakeholders Ranging from Pre-College Students to Educators. Natural Sciences Education. 46 (1). doi:10.4195/nse2016.11.0033.

H Ali, MYK Barozai, M Din and AN Aziz. 2016. A review on the Sorghum for Biofuel and microRNAs. Pure and Applied Biology. 5(4): 1064-1100. http://dx.doi.org/10.19045/bspab.2016.50131.

A. Naseer Aziz, and C. Korsi Dumenyo. 2012. Concomitant Response to Heat-Stress and Soft-Rot in Potato. European International Journal of Science and Technology 1(3): 88-96.

A. Naseer Aziz and Roger J. Sauve. 2008. Genetic Mapping of Echinacea purpurea via Individual Pollen DNA Fingerprinting. Molecular Breeding 21: 227-232.

A. Naseer Aziz, Suping Zhou, Roger J. Sauve and Xianzhang Meng. 2003. Microprojectile-Mediated Genetic Transformation and Regeneration of Chinese Elm. Canadian Journal of Plant Science 83: 587-591.

G. C. C. Tai, J. E. A. Seabrook and A. N. Aziz. 2000. Linkage Analysis of Anther-Derived Monoploids Showing Distorted Segregation of Molecular Markers. Theoretical and Applied Genetics 101: 126-130.

Teaching
AGSC 3710 Biotechnology and Society
AGSC 7030 Gene Expression and Regulation in Higher Plants
AGSC 3210 General Agricultural Botany
AGSC 7010 Advancement in Agricultural Biotechnology
BIOL 4100 Special Topics, Section 2, Bioinformatics
Extension
Conducted biotechnology trainings, and outreach for underserved communities in selected Tennessee counties as well as various clienteles in Ghana (Africa). Also remained engaged in biofuel and environmental education related outreach activities as well as anti-agro-terrorism trainings at TSU.

Research Grants
Mobile Experiential Learning towards Creating a High School Pipeline in Middle Tennessee through Integrated Research on Crops' Wild Relatives. 2020. USDA/NIFA.

Cochran and Borlaug Fellowship Programs: Hosting Scientists from Ethiopia, Kenya, Morocco, Malaysia and Pakistan. 2017, 2016, 2014 & 2013. USDA Foreign Agricultural Service

Genome-Wide microRNAs and Single Gamete Based Genetic Profiling of Sweet Sorghum Varieties for Biofuel Production. 2015. The National Academies of Sciences, Engineering and Medicine.

Biofuel Education and Training Program with Infusion of Foundation Concepts and Outreach. 2013. USDA/NIFA.

Establishing a Professional Science Master's Program to Develop Future Biotechnology Workforce with Business Skills for Sustainable Agriculture. 2011. USDA

Agricultural Biotechnology: Assessing Perceptions of Farmers and Consumers and Providing Training Workshops for Stakeholders in Ghana. 2008. USDA Foreign Agricultural Service.

Integrating Agriculture, Bioscience and Biotechnology Concepts in School Curriculum: Preparing Students for Careers in Agriculture. 2006. USDA 1890 Institution Capacity Building Grant.

Consortium for Bio-informatics Instruction. 2005. USDA 1890 Institution Capacity Building Grant.

A Science based Training Program to Enhance Capacity in Food and Agricultural Bio-Security. 2005. USDA 1890 Institution Capacity Building Grant.

Enhancement of Tennessee State University's Master of Science Program in Agricultural Biotechnology. 2004. USDA 1890 Institution Capacity Building Grant.
Honors and Awards
Poster Award on the Innovation and Feasibility Evaluations, Association of Pre-Professional Life Scientists 2013.
Travel Grant Award, for the CSREES Grantsmanship Workshop, North Carolina State University, NC, 2009.
Gold Medalists, first position among all undergraduates across campuses in the University of Agriculture, Faisalabad (Pakistan), 1988.
Education
B.Sc. (Hons.) Agriculture- 1988, Barani Agricultural College, Rawalpindi (Pakistan).
M.Phil. (Molecular Biology)- 1991, Quaid-e-Azam University, Islamabad (Pakistan).
Ph.D. (Molecular Genetics)- 1998, University of New Brunswick, Fredericton (Canada).
Date joined staff:  March 2000
---
webpage contact: