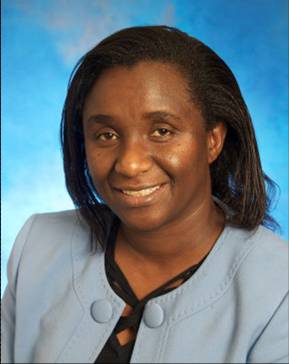 Agnes Kilonzo-Nthenge
Research Professor
Department of Agricultural and Environmental Sciences
College of Agriculture

Contact Information
Office Location: 111E CARP Building
Telephone:  615-963-5437
FAX:  615-963-5157 
Email:  akilonzontheng@tnstate.edu
Research Areas
Antimicrobial Drug  Resistance of Foodborne Pathogens
Microbial safety of Fresh Fruits and Vegetables
Characterization of microorganisms in consumer homes

Most Significant Publications
Kilonzo-Nthenge, A., Brown, A., Nahashon, S. N., Long, D. 2015. Occurrence and Antimicrobial Resistance of Enterococci Isolated from Organic and Conventional Retail Chicken. J. Food Prot. 4: 636-858
Kilonzo-Nthenge, A., Rotich E., Nahashon S. N. 2013. Evaluation of drug-resistant Enterobacteriaceae in retail poultry and beef. Poult Sci. 4:1098-1107.
Nahashon, Samuel N and Kilonzo-Nthenge Agnes K. 2013. Soybean in Monogastric Nutrition: Modifications to Add Value and Disease Prevention Properties.  Agricultural and Biological Sciences: Soybean - Bio-Active Compounds. ISBN 978-953-51-0977-8.

Kilonzo-Nthenge Agnes, E. Rotich, S. Godwin, S. Nahashon, and F. Chen. 2012. Prevalence and Antimicrobial Resistance of Cronobacter sakazakii Isolated from Domestic Kitchens in Middle Tennessee, United States. J. Food Prot. 75:1512-1517
Agnes K. Kilonzo-Nthenge (2012). Gamma Irradiation for Fresh Produce, Gamma Radiation, Feriz Adrovic (Ed.), ISBN: 978-953-51-0316-5, InTech, Available from: http://www.intechopen.com/books/gamma-radiation/gamma-irradiation-for-fresh-producce
Chen, F-C., L. Godwin, S. and Agnes Kilonzo-Nthenge. 2011. Relationship between Cleaning Practices and Microbiological Contamination in Domestic Kitchens. Food Protection Trends, Vol. 31, No. 11, Pages 672–67
Kilonzo-Nthenge, E. Rotich, S. Godwin and T. Huang. 2009. Consumer Storage Period and Temperature for Peanut Butter and Their Effects on Survival of Salmonella and Escherichia coli O157:H7. J. Food Prot Trends, Vol. 29, No. 11, Pages 787–792.
Kilonzo-Nthenge, S. N. Nahashon, F. Chen, and N. Adefope. 2008. Prevalence and Antimicrobial Resistance of Pathogenic Bacteria in Chicken and Guinea Fowl. Poult. Sc.87:1841-1848
Kilonzo-Nthenge Agnes, F. Chen, and S.Godwin. 2008. Occurrence of Listeria and  Enterobacteriaceae in Domestic Refrigerators. J. Food Prot. 71:608-612
Kilonzo-Nthenge Agnes, Jean. S. Weese, Melvin Carter, and Cheng-I Wei, and Tung- Shi Huang. 2007. Efficacy of Gamma Irradiation and Aqueous Chlorine on Escherichia 
Kilonzo-Nthenge Agnes, F. Chen, and S. Godwin. 2006. Efficacy of home washing methods in removing microbial contamination from the surface of fresh produce. J. Food Prot. 69:330-334
Chen, Fur-Chi., Y.-H. Hsieh Peggy, C. Bridgman, and Kilonzo-Nthenge Agnes. 2006. Kinetics of Tropomyosin Denaturation as a Predictive Model for Verifying Thermal Processing of Beef Products.  J. Food Prot. 69: 2447-2453
Teaching
AGSC 3530 – Food Microbiology 
Recent Honors and Awards
Distinguished Research Support Scientist Award December, 2007
Auburn university Presidential Graduate Fellowship 1999-2003
Certificate of Excellence in Research Auburn University 2000
Institute of Food Technology Paper Competition Award 2000
Education
B.Sc (Ag). – University of East African, Eldoret, Kenya M.Sc Tuskegee University, Tuskegee, Alabama
Ph.D. – Auburn University, Auburn, Alabama
Date joined staff:  2003
---
webpage contact: