Multi-Factor Authentication (MFA)
Required Setup |
For Logging In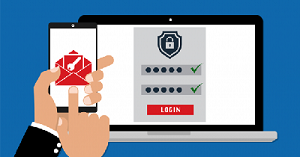 LOST OR REPLACED DEVICE
I lost/replaced the cell phone or tablet that I had already setup MFA on!  See these instructions >>
TSU Information Technology is dedicated to providing efficient, innovative technology services that provide a safe environment. In order to do so, we utilize an advanced method of protection known as Multi-Factor Authentication  (MFA). MFA keeps your university identity protected, safeguards your critical TSU data. If your password credentials are compromised by a hacker it provides another layer of protection to prevent unauthorized access.
How MFA Will Work Each Time You Login  
Essentially MFA is an authentication process that requires you to enter 2 factors in order to login to TSU accounts.
First, you'll enter your MyTSU username and password.
Next, you will receive a notification from Azure on your cell phone to accept or deny the authentication attempted. Once you click approve, you are successfully logged into your account.
Every time you have to access a TSU system, you'll have to do those same 2 steps.
---
You Must Set Up MFA |

Here's How
FIRST, perform these instructions:
Register for MFA>>
SECOND, choose your method & perform the correlating instructions:
There are 3 options for you to receive your authentication via:
app on your Android device

app on your iPhone device

text/SMS on any device

MFA Device Registration
Enrollment with our MFA system is required and also very easy to do. Please select one of the registration processes below that fit the type of MFA method that you prefer. If you need any assistance please contact the Helpdesk at 615-963-7777 or helpdesk@tnstate.edu.
MFA Registration for ANY device (iPhone, Android, iPad, etc.)
---
How to Change Your MFA Method
---
Did You Lose or Replace the Phone/Device that You had MFA Setup On?
---
Need Assistance?
If you need any assistance please contact the Helpdesk at 615-963-7777 or  helpdesk@tnstate.edu .
---