Home >
> PhD in Public Policy and Administration
PhD in Public Policy and Administration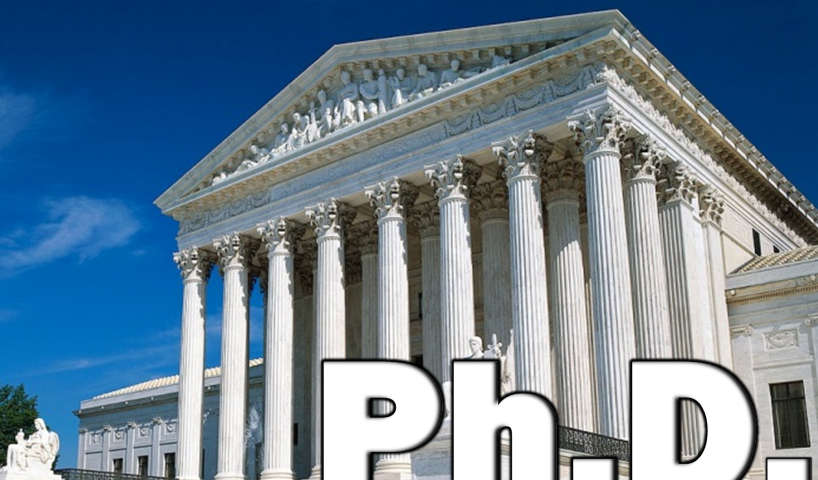 TSU is the only Tennessee university offering the PhD in public policy and administration.  Our first student was admitted in 1991, and we are pleased that our graduates have succeeded in obtaining placements appropriate for their academic preparation and career experience, as shown below.  You can review our graduates and their dissertation topics. This synchronous online program is designed for working individuals, a distinctive feature among research doctorates in public administration/public policy. Many of our students continue to work full-time while pursuing the PhD, as each doctoral class meets once weekly in the evening (synchronously online). You can also choose to pursue this degree full time to progress faster.  While this demanding course of study is not to be undertaken lightly whether by part-time or full-time students, it can lead you to your fullest development as an academic or researcher in the social sectors. Contact us to learn more.
The goal of a research doctorate in general is to prepare scholars who can both understand and produce original research of the highest quality, which adds to the state of theoretical knowledge in the field and improves practice.  In an interdisciplinary, applied field of study such as public administration, PhD graduates can see the impact of their work in the research they conduct or through the accomplishments of the students they teach.  Through the core curriculum, benchmark exam, prospectus and dissertation processes, students develop and demonstrate mastery of the core literature of the subfields of public administration including organization theory, public budgeting and finance, and policy implementation.  Doctoral students develop the ability to communicate, synthesize and evaluate complex abstract concepts key to the generation of new knowledge.
The specific mission of the Doctor of Philosophy program in public policy and administration at TSU is to prepare experienced public, nonprofit, or healthcare administrators for careers (1) as faculty members in public administration or related fields based on their education combined with professional expertise; (2) as high-level professional researchers; or (3) as senior managers with extensive research expertise in public service in public, non-profit, or healthcare agencies. The data on positions our alumni hold reflect this mission (position last held is used for retired individuals). Of 42 Ph.D. alumni (as of 8/23/2016), 25 teach at the college/university level either as their primary occupation, or in addition to their primary position. Of the 16 alumni whose primary occupation is as a faculty member at an institution of higher education, field of appointment varies depending on individual expertise from their practitioner careers, combined with educational qualifications and doctoral dissertation focus.  Fields of appointment include public administration and management, criminal justice, health policy, management, social work, sociology, planning/urban studies, political science, and clinical practice management.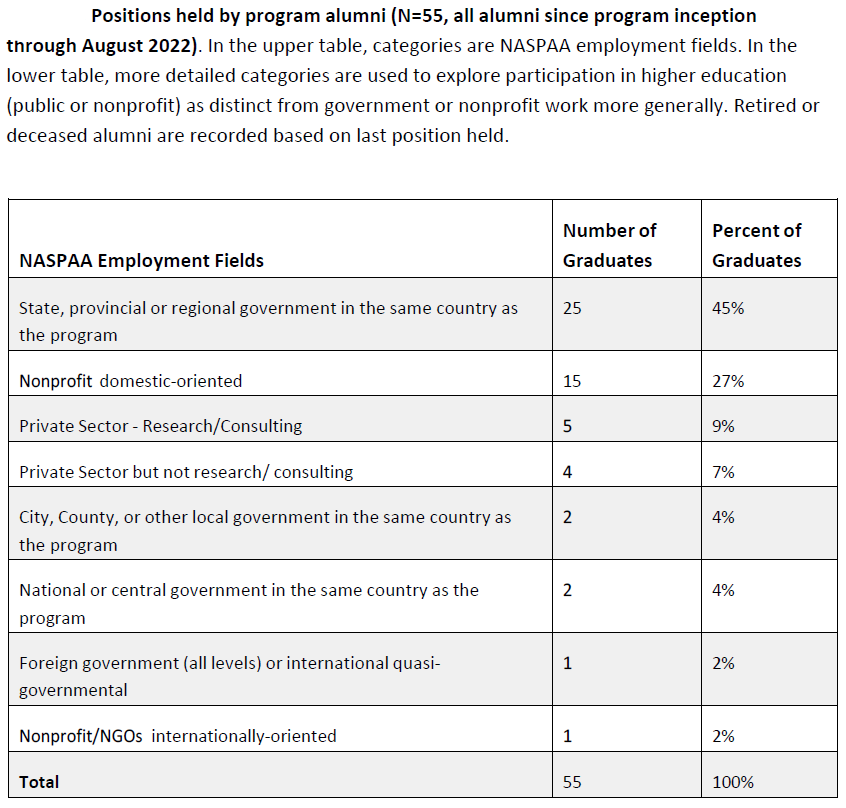 ---
Handbook: PhD in Public Policy and Administration
Point of contact for prospective students:  Dr. Rodney Stanley, Department Chair
Point of contact for admitted students in course-taking phase: Dr. Alex Sekwat, PhD Program Advisor
Point of contact for doctoral candidates past the course-taking phase:  student's Dissertation Committee Chair and Dr. Alex Sekwat, PhD Program Advisor
I. Key guiding documents
TSU Graduate Catalog - Relevant policies are found both in the front of the catalog which apply to all TSU graduate students as well as the program-specific part in the College of Public Service section. 

Please note that this "handbook," while it provides useful details for prospective and current students, does not replace or supercede the Graduate Catalog, nor does it cover all the important elements of policy included in the Catalog.  All applicants and students are responsible for knowing and abiding by TSU, Graduate School, and program policies outlined in the Catalog.
II. Purpose and uses of the PhD degree in public policy and administration

III. Applying for admission to the PhD in public policy and administration

FYI  |  TSU Graduate Catalog including admissions requirements
Apply to the Graduate School directly, 615-963-7371
Tuition and fees for programs at TSU are available at the Bursar's website. All programs in the Department of Public Administration are delivered 100% online. Out-of-state students taking only online courses may be eligible for the TSU eRate, which is lower than regular out-of-state tuition rates. Please learn more about this possibility at the Bursar's website and at the TSU Out Of State eRate page. Note that students must complete a verification process each semester they are eligible for the eRate.
IV. Scholarly engagement opportunities beyond coursework

Our Public Service Research Brown Bag Series offers an opportunity for students to both learn about and present on current research, along with TSU faculty and other scholars.
In recent years, our doctoral students have presented at scholarly conferences such as SECoPA, ABFM, ASPA, COMPA, NAPA's Social Equity Leadership Conference, and others.
On a periodic basis, the PhD program advisor holds an evening PhD Roundtable event for current and prospective PhD students.
The PHD program advisor communicates with current students via email about important opportunities and advising matters. A blog, Synergy, is also maintained by the PhD program advisor and Dr. Streams with periodic announcements of interest to our doctoral students, including job postings; research tips; conference opportunities; and others.
V. Routine program advising and course selection

The Phd program advisor is Dr. Alex Sekwat.
The recommended sequence of courses depends on the semester in which program is begun. Check in with Dr. Sekwat every semester before course selection to verify that your choices are appropriate and to complete any necessary paperwork to complete program benchmarks.  Seeking advising regularly is your responsibility as a graduate student and will help to ensure a smooth path through the program.
For information on courses planned for upcoming semesters, please contact Dr. Sekwat and Dr. Rodney Stanley. It is important to take each doctoral course when offered as waiting for the next scheduled offering which can delay program benchmarks.
Admitted students may access the course schedule and register for a semester's coursework in the myTSU system.  That system is also where you access information about billing and financial aid status, view your unofficial transcript and see which programs you have been admitted to, and where you register your vehicle to obtain a parking permit. While registration and the most current course schedule information is inside myTSU, for our students' convenience we also produce a summary sheet periodically showing the upcoming semester's course schedule.  These summaries are available here with other resources for registration.
Upon successfully completing 9 credits in the program and satisfying any outstanding conditions on your admission, you must contact Dr. Sekwat and schedule an appointment to complete the program of study for PhD students.  This form is essential for continuing in the program and ensuring that you have a plan for coursework that has been approved by your advisor.
VI. Advising related to committee composition, prospectus development and dissertation research
Once a student has successfully passed the preliminary exam, the process of building the advisory PhD dissertation committee begins.  The Chair and committee members will play an important role in the student's further development as a scholar, particularly as progress is made towards the prospectus and dissertation research. The Committee is also the evaluating body for the qualifying exam; the prospectus defense; and the dissertation defense.  For details on composition of the committee, please read this FAQ on the selection and role of the PhD Dissertation Committee.
VII. Benchmark exams (comprehensive on old design or prelim/qualifiers on current design)
FAQ on PhD exams (all entering students are on new program design with prelim/qualifying exam)
Form | Request to take the PhD comprehensive exam (students on old program design; if you're not sure, consult Dr. Sekwat); due at beginning of semester
Form | Request to take the PhD preliminary exam (students on the current program design; if you're not sure, consult Dr.

Sekwat

); due at beginning of semester
Sample questions for preliminary exam (current design) AND comprehensive exam (older design). 

The administration, format and evaluation of the exams do differ, as described in th

e FAQ on PhD exams,

given the different expectations for students at the different stages eligible for the exams

;

but the sample questions are appropriate as an adjunct to study for both exams. Students who entered under the current program design (prelim/qualifying exams) who have passed the preliminary exam, completed doctoral coursework and are taking the qualifying exam take a specifically designed exam developed by members of their committee, as described in the Graduate Catalog . Therefore sample questions that are "generic" cannot be provided for that benchmark exam.
VIII. Preparing to graduate
Please read this detailed FAQ on preparing to graduate. Important points are summarized below, but full information is in the FAQ.
If you are planning to graduate in the upcoming semester, you must apply online inside myTSU to notify the Graduate School.  Apply to graduate inside that system separately for

each

program you plan to complete

(MPA and/or certificate(s)).

 

Check the Graduate School graduation information website  for deadline. Application is mandatory whether or not you plan to attend Commencement ceremonies; instructions on how to apply to graduate are available. If you have any problems registering to graduate for all program(s) you are completing, contact your advisor immediately.
Also complete the Graduate School survey for commencement book information (link available on this page).
Visit the TSU commencement site to obtain important information on the "Grad Finale" which you must attend to get fitted for cap and gown; this event typically occurs before mid-semester) as well as on Commencement exercises themselves. Commencement ceremonies are held only in May and in December.  In May, the ceremony for graduate students may be held at a different time than the undergraduate ceremonies; the site will have these details.
---
webpage contact:
Department of Public Administration