Master of Public Administration
Important Links
---
Overview
Ranked among the top graduate public affairs programs according to U.S. News & World Report's 2020 rankings, and ranked as the #2 graduate public affairs program at an HBCU, Tennessee State University's College of Public Service offers a fully online Master of Public Administration degree that working professionals can complete in two years.
The Master of Public Administration (MPA) is the key professional degree for individuals working in the fast-growing public and nonprofit sectors, and our graduates succeed in obtaining work in those areas (see figure; read our program mission and values statement). The fully online College of Public Service MPA is the only NASPAA-accredited  MPA program in Middle Tennessee. Located in the state capital and a vibrant city, we can offer opportunities to interact with state and local public policymakers, administrators and nonprofit leaders during your studies. Learn the core competencies needed to effectively lead, manage, and serve in the field of public administration.
---
At a Glance
---

In order to maximize flexibility for full-time and part-time students, our MPA program is administered fully online. Faculty work with learning design experts to combine the rigor of the on-campus curriculum with the interactivity of online learning. In our user-friendly learning platform, each course is designed to maximize your interaction and collaboration with classmates and instructors. Our faculty has received formal training in online teaching and has many years of experience teaching online in this and other programs. Faculty also are all prepared with doctorates in public administration, policy or a related field, with areas of focus related to the courses they teach. Our courses were each designed in accordance with TSU guidelines regarding fully online courses. You will enjoy a dynamic learning environment that ensures your academic and professional career goals become a reality.
---

Beginning in the Fall 2020 semester, students are no longer required to submit GRE scores for admission to the MPA program. There are two paths to the MPA, which are (1) Direct Admission to the MPA - have an undergraduate GPA of 2.7 or higher from an accredited college or university, or (2) Graduate Certificate Bridge Admission to the MPA - have an undergraduate GPA between 2.5 and 2.69 from an accredited college or university, begin in one of our five graduate certificate programs, and complete the selected graduate certificate program with a GPA of 3.0 or higher. The courses from your certificate will count towards your MPA once admitted. Financial aid is available for our certificate programs if University and Federal requirements for eligibility are met and maintained by students, just like a degree. Apply Today!
---

The College of Public Service's MPA program has been fully accredited by NASPAA for approximately four decades. This rigorous accreditation process ensures that the program's curriculum meets the highest standards and develops high quality graduates that are securing the best jobs in the public and nonprofit sectors. The program's accreditation was successfully re-affirmed in 2019, for the maximum seven years!
The MPA program has been ranked for two consecutive years by U.S. News & World Report as one of the best graduate public affairs programs. In 2020, the program earned the distinction of being the #2 ranked program at an HBCU. These rankings reflect the hard work of the faculty, staff, and College leadership. As Dr. Michael Harris (Dean & Professor, College of Public Service) offers, "Our ranking reflects the strengths of our graduate programs, the effectiveness of our alumni, and the commitment of the faculty to innovating in the classroom and beyond. This confirms that the College of Public Service's mission is being realized and making an impact!"
---

Alongside the MPA, students are required to earn a graduate certificate in either Public Policy, Healthcare Administration and Planning , Nonprofit Management, Local Government Management, or Executive Leadership. These graduate certificates are a more substantive credential than a concentration or a minor. Students who begin in one of the five graduate certificate programs offered in the Department of Public Administration, and complete that certificate with a GPA of 3.0 or higher, can earn admission into the MPA degree.
The coursework of the graduate certificates strategically fits into the requirements for the MPA (see last page of MPA factsheet). When you look at the 3-semester course schedule you see how completing the graduate certificate leaves you 50% of the way to finishing the MPA.
---

We know that many of our students are working full-time jobs and living rich lives in the world of family and friends. We also know that all of our students want to finish as soon as possible, and then begin the next exciting step in their career journey. Therefore, we have designed our program where students can finish as fast as two years. A quick review of the three-semester course schedule lets you map out that process. Regardless of how long you take to earn your MPA, our fully-online format means you can balance your studies with your life.
---

The Tennessee State University mission is available at the President's webpage. Our program-specific accreditor, NASPAA, also requires a program-level mission for the MPA degree.
MPA Program Mission. Our MPA program prepares students, as ethical public and nonprofit managers and leaders, to respond equitably, effectively, and efficiently to the needs of a diverse society. We recognize the goals of our students working in, or preparing for, public service by emphasizing flexibility and quality in teaching and learning. We teach the core concepts of public administration with a focus on practical application, while strengthening students' ability to solve problems analytically. Students may build specialized skills on one of the program's areas of expertise: public policy, leadership, or nonprofit management. As instructors and advisors, we work closely with students to support both their classroom and career achievement; in return, students are expected to pursue academic excellence and demonstrate integrity. As scholars, we engage in research and service to the University, community, and profession. By building relationships with public and nonprofit organizations in Middle Tennessee and beyond, we enhance our ability to develop students as professionals.
Public Service Values Statement. The guiding public service values of the MPA program in the College of Public Service at TSU are:
EQUITY – Public servants should practice impartiality and fairness in their daily work, while balancing that pursuit with the need for effectiveness and efficiency.
EFFECTIVENESS – Public servants should work in a proficient and productive manner towards the common good, setting transparent performance outcomes to measure progress while balancing that pursuit with the need for equity and efficiency.
EFFICIENCY – Public servants should be careful and innovative stewards who seek to create the most public value out of scarce resources, while balancing that pursuit with the need for effectiveness and equity.
DIVERSITY – Public servants should understand, value, and respect both individual differences and commonalities, working to create and maintain inclusive organizations and communities.
--current mission and values statement adopted May 2018 by MPA program faculty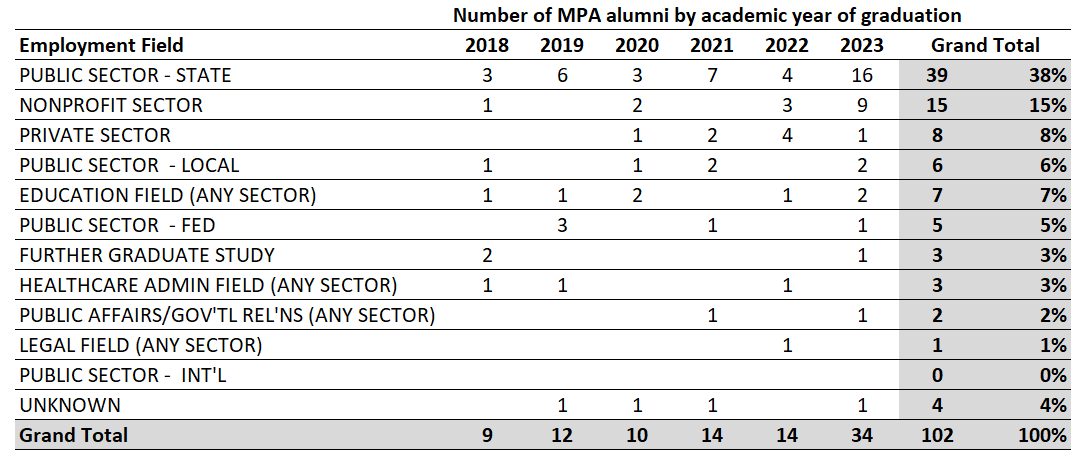 ---
webpage contact:
Public Administration