Home >
> Education Scholarships
Education Scholarships
Let's Make College Affordable for Aspiring Educators!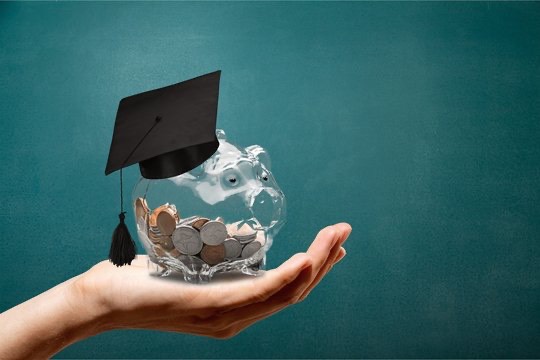 Here are a list of organizations/agencies that provide scholarships to teacher education majors.
*Note: Some funds are only available upon Admissions to the Teacher Education program. Make sure that you speak with your program coordinator or TESS personnel for more information.
Overview: The Applegate-Jackson-Parks Future Teacher Scholarship honors three Michigan public school teachers who were fired for no other reason than their refusal to pay union dues.

Key criteria: Applicants are limited to undergraduate and graduate students majoring in education in institutions of higher learning throughout the United States.  This could include a current teacher pursuing an advanced education degree such as a master's degree through a qualified college, university, or other qualifying educational institution.  This scholarship is not open to high school students or undergraduates who do not have a declared major in education.

Award information: $1,000

How to apply:

Student writes essay.
Student completes application.
Student submits application.
Institute staff choose top essays and forward them to the Selection Review Committee members.
Selection Review Committee members review blind essays re: If any personally identifying information is included in the essay, it will be redacted before submitting it to the Selection Review Committee.
Institute Board receives the nominees as chosen by Selection Review Committee.
Institute Board votes to either approve, make different selections, or not to award any scholarship
Winner announced and notified by Institute.

Don Sahli-Kathy Woodall Scholarship Fund

Overview: The Fund was established to honor former Tennessee Education Association (TEA) Executive Secretary, Dr. Donald G. Sahli, and former TEA President, Kathy Woodall. Many TEA local associations and members contribute annually to the fund, which has grown from granting one scholarship in 1971 to granting 10 today. 

Award information: There are seven (7) different categories in which an applicant could pursue:
1. Student Tennessee Education Association (STEA)
2. Sons and Daughters of TEA members
3. Future Teachers of America/Ed Rising
4. Johnella Martin Memorial
5. Education Support Professional (ESP)
6. Al Mance Memorial, and 
7. Graduate

For more information, visit TNEA.org.

How to apply: Complete an application by March 1.

Overview: Through the Daughters of the American Revolution, two one-time scholarships are available for students 25 years of age or older. The awards are merit-based. One is given to students who are studying to teach elementary school, and the other award is for students who plan to teach at the secondary level.

Key criteria: To be eligible, students must be at least a college sophomore and attend or plan on attending an accredited college or university.

Award information: $1,500

How to apply: Complete a scholarship application form and send it in an email to BorgensElementaryScholarship@NSDAR.org .

Overview: Junior Fellowships are offered to high-achieving college seniors and college graduates who plan to earn a master's degree to become secondary school teachers of American history, American government, or civics.

Key criteria: To be eligible, students must be a U.S. citizen, plan to become a teacher and teach topics on the Constitution in grades 7-12. They must also obtain a bachelor's degree by August 31 of the year in which they are applying.

Award information: Up to $24,000 total

How to apply: Register online, complete the application, upload your transcripts, and submit recommendations online. The application deadline is March 1.

Overview: To support prospective educators, author and publisher Nancy Larson awards scholarships to college students striving to become elementary school teachers.

Key criteria: This teaching scholarship is open to juniors, seniors and graduate students who have chosen to major in elementary education.

Award information: $1,000

How to apply: Submit a personal narrative about why you want to teach and what will make you an excellent teacher. Explain your community service activities and experience working with children.

Overview: More than 30 teaching scholarships are awarded each year by PDK International to high school seniors and undergraduates who intend to major in a field of education.

Key criteria: Applicants must be a member of at least one of the following associations: PDK International, Educators Rising and Pi Lambda Theta. A few of the scholarships have specific eligibility requirements, such as studying journalism or English, overcoming adversity or demonstrating financial need.

Award information: $500 to $2,000

How to apply: Complete an online application, and submit your transcripts, personal statement, list of activities related to teaching or service, list of extracurricular activities, and a letter of recommendation.

Overview: If you love math, this scholarship could be perfect for you. The National Council of Teachers of Mathematics (NCTM) offers financial support to a college student who is working toward a career teaching secondary school mathematics.

Key criteria: To be considered, applicants must be members of NCTM and be full-time students in their sophomore year of college at a college or university.

Award information: Up to $10,000

How to apply: Submit a written proposal that explains the remaining coursework required for certification and your plan for completion. Provide transcripts and three letters of recommendation. In addition, submit a budget outlining how you would allocate money from the award.




Overview: Interested in teaching English as a second language? This award is designed to encourage current graduate students who are enrolled in a TESOL/TEFL graduate program or a program focused on second language acquisition or foreign language education.

Key criteria: Students who are TESOL members and plan to conduct a graduate study project on a topic relevant to TESOL/TEFL are eligible to apply.

Award information: $1,500, plus a convention registration

How to apply: Complete an online application. Students are required to write two essays and a description of a graduate study project. They must also arrange for a letter of recommendation.

Overview: Want to inspire future generations of innovators with STEM? The Armed Forces Communications and Electronics Association (AFCEA) provides scholarships to students pursuing graduate degrees or licensures to teach STEM subjects at K-12 schools in the U.S.

Key criteria: Applicants must be U.S. citizens living in the U.S. attending an accredited U.S. college or university on-campus and majoring in secondary education with the goal of teaching STEM. Students must also be in their second semester, taking two courses per term, with a current GPA of 3.5 or higher, and have already completed a B.S. degree in a STEM subject. Students enrolled in online programs should email edfoundation@afcea.org to inquire about eligibility.

Award information: $2,500 to $5,000

How to apply: Complete an online application and submit the following documents: a current official transcript, two letters of recommendation, current resume, and undergrad transcript.

Overview: The TEACH Grant provides scholarships for education majors who commit to teach in high-need fields in low-income areas for at least four academic years.

Key criteria: Students must meet eligibility criteria for federal student aid, complete the FAFSA, be enrolled at a TEACH Grant-eligible program at a participating school, meet specific academic requirements, receive TEACH grant counseling, and sign an agreement to serve.

Award information: Up to $4,000 per year

How to apply: Contact the financial aid office at your school and ask if any programs are eligible for the TEACH Grant. Then request information on how to apply.

Overview: In partnership with Wells Fargo, TMCF offers financial assistance to high-achieving undergraduate students enrolled at one of the 47 public Historically Black Colleges and Universities within the TMCF network. The scholarship is open to all majors.

Key criteria: Students must be full-time sophomores, juniors or seniors with a GPA of 3.0 or higher. In addition, they must have demonstrated financial need and leadership ability and be a U.S. citizen or legal permanent resident.

Award information: One-year merit scholarship of up to $5,000

How to apply: Complete your application and submit a Student Aid Report, college transcript, recommendation, and essay.

Overview: The Tennessee Future Teacher Scholarship is a loan-scholarship program intended to encourage exemplary students to enter the teaching field in Tennessee. Participation is limited to college juniors and seniors admitted to an approved educator preparation program (EPP) in a Tennessee college or university.

Award Information: For students attending a public institution, the award amount will be tuition and mandatory fees less gift aid. Gift aid is financial aid received from the Pell Grant, the Tennessee Education Lottery Scholarship, and the Tennessee Student Assistance Award.

Eligbility: To be eligible, the applicant must:

Be admitted to and enrolled in an approved EPP
Be eligible for, and receive, a Tennessee HOPE Scholarship
Maintain the minimum cumulative grade point average required by the EPP
Complete the scholarship application as required by TSAC
Submit a letter of recommendation from an official of the EPP at the eligible postsecondary institution
Sign a promissory note agreeing to teach in a Tennessee public school for at least four (4) consecutive years in a targeted setting (a targeted setting is either: 1) a Tennessee public school located in a distressed or at-risk county, as determined by the department of education, or 2) a subject area for which there is a critical shortage, as determined by the department of education)

How to apply: Students must complete the scholarship application and email the completed application to cindy.runnels@tn.gov by September 1st for consideration.  In addition, recipients must complete the Free Application for Federal Student Aid (FAFSA) for each academic year.
Sources:
All Star Directories, Inc. (2023). 20 Teaching Scholarships for Education Students. Retrieved on February 1, 2023, from https://www.alleducationschools.com/financial-aid/teaching-scholarships/