Hiram Van Gordon Gallery
Showcasing Student and Professional Art
Hours:
Monday - Thursday
8:00am - 2:00pm
(Beginning August 16th, 2021)
---
Location:
TSU Main Campus
Elliott Hall, Room 118
About the Gallery
The Hiram Van Gordon Gallery offers approximately six exhibitions yearly that highlight the works of Tennessee State University students, faculty and alumni in the visual arts, African American and African artists, social and civic engaged work along with conversations regarding sustainable environmental practices in art.
Fall 2021 Gallery Schedule (In-Person)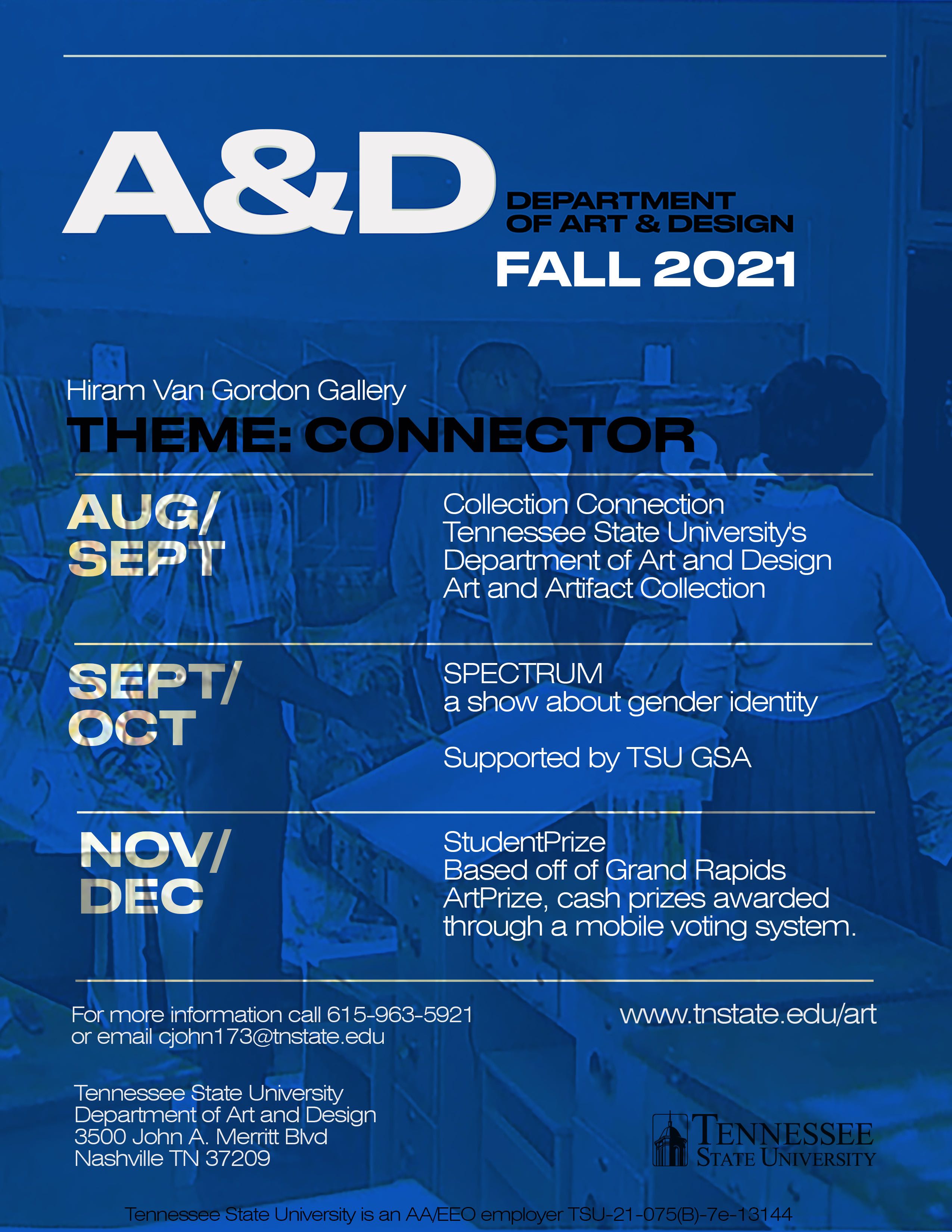 August 9th to September 10th 2021
Reception September 2nd    6-8 pm
SPECTRUM: A show about gender identity (Supported by TSU GSA)
September 20 to October 15 2021
StudentPrize (Based on Grand Rapids' ArtPrize)
APPLY
October 18 to November 18 2021
Reception November 18
6-8 pm
---
Virtual Artist Talks (via Zoom)
Our artists' talks and lectures are geared at creating forums for artists and students to talk about their work in a supportive open environment. In the process of creating a line up of artists and speakers that relate back to our exhibit schedule in the Hiram Van Gordon Gallery, Space for New Media, and M-SPAR, connecting what is learned in classroom courses and seminars to real-world applications. We will invite organizations and artists from a variety of perspectives to talk about their work. You can view previous lectures on our
YouTube channel TSU Art and Design. 
---
Recent Exhibitions
•  Graduating  Seniors SPRING 2021, Game Changer/s: April 2021
•  We Shall Overcome: Civil Rights and the Nashville Press, 1957–1968  from Frist Art Museum: March - April 2021
• People to People: Men-dong Daily  Photograph from Nanjing, China by Zhengwen Xiong: January - February 2021
• Graduating Seniors FALL 2020,  Renovations through Self-Reflection: November 2020
•   I'M SO GLAD:  An exhibition of Tennessee State University memorabilia and artifacts highlighting the university's legacy, culture, and history. - October 2020
•  What Matters...A Collection of Portraits and Stories from UM and TSU Art Departments: August 2020 - September 2020
•  We Shall Overcome: Civil Rights and the Nashville Press, 1957–1968 Organized by Frist Art Museum: April 2020 - June 2020 (Rescheduled March 2021 due to Covid19)
• Graduating  Seniors SPRING 2020, We Are Hue: March 2020 
•  Just Imagine by Samuel Dunson: January 2020 - February 2020  
---
Space for New Media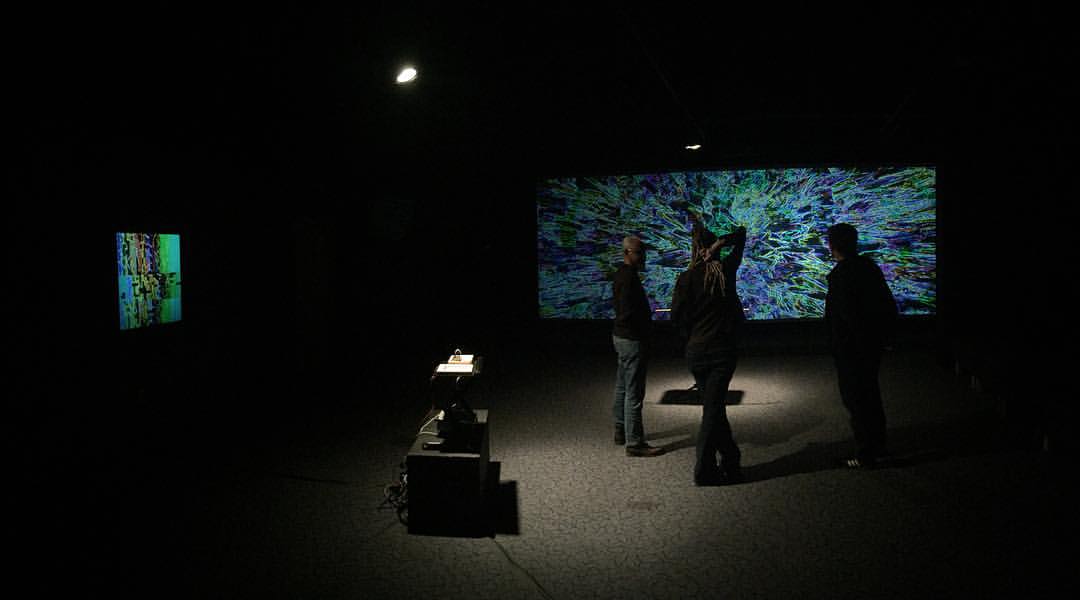 The Space for New Media gives students and artists a place to produce and display digital, experimental, and performance-based work, using our state of equipment to bring innovative ideas and images to campus.
---
The McGruder Social Practice Artist Residency, M-SPAR provides artists opportunities to impact the social landscape and engage with McGruder Family Resource Center, local Historic Black College and University's (HBCU), and the community of North Nashville. Artists engage with community through an artist's residency. Artists are provided studio space in exchange for community activated work leading to the conception, development, and execution of viable, transformative art projects.  
---
Art Collection
Over the years the art department has amassed a permanent collection of African and Alumni artwork in a few notable collections: the Art Eubanks Collection, the Ruth Witt Collection, and the Dr. Richard and Sharon Edwards Collection.
---
Directions
The Hiram Van Gordon Gallery is located in Elliot Hall on Tennessee State University's main campus. Elliot Hall is on the backside of campus, from 28th Ave pass the front of campus, continue on 28th Ave North/Ed Temple Blvd, take a Left on Dr. Walter S Davis Blvd, then turn Left on 39th Ave North, take a Left at the stop sign on to John L. Driver, then a Left on 37th Ave North. The first building on your Right is Elliot Hall.  Parking is right past the building, up the hill or to the left. Enter the building at the ramp and proceed to the Right down the hall to the Gallery and Space for New Media.
---
Contact Us
Courtney Adair Johnson
Gallery Director
cjohn173@tnstate.edu
615-963-5921
---
Follow Us!
---