Hiram Van Gordon Gallery
Hours: 
Monday - Thursday
10:00am - 4:00pm 

---
Location:
TSU Main Campus, 1108 37th Ave N
Elliott Hall, Room 118
About the Gallery
The Hiram Van Gordon Gallery offers approximately six exhibitions yearly that highlight the works of Tennessee State University students, faculty and alumni in the visual arts, African American and African artists, social and civic engaged work along with conversations regarding sustainable environmental practices in art.
The gallery is named after former Professor and Chair Hiram Van Gordon (1918-1979). Artist, Military cartographer and longtime chair of Tennessee State University's Art Department was a graduate of Pearl High School and enrolled at Tennessee A&I in 1940. He enlisting in the Untied Sates Army in 1942, returning to attain his bachelors and Masters Degree in Art. He began his teaching in 1951, while still a student. In 1958 he began his twenty-one tenure of head of the department. 
Fall 2023 Gallery Schedule 
AUG/SEPT
Human Narrative(s)
Aug 14 to Sept 14
Reception Aug 31 5-7 pm CST
We all live in a narrative of our own and the narrative of the macro consciousness. Human Narrative(s) is an exhibit utilized as an outlet for the artist to express their unique human experience within the macro and micro consciousness to concoct their experience and form a narrative using their ART. In this day and age, we are in the midst of a renaissance, where the old world of new ideologies is dying and simultaneously reconnecting with the new world of ancient motifs. Co-Curated by Bryson Scott (STR)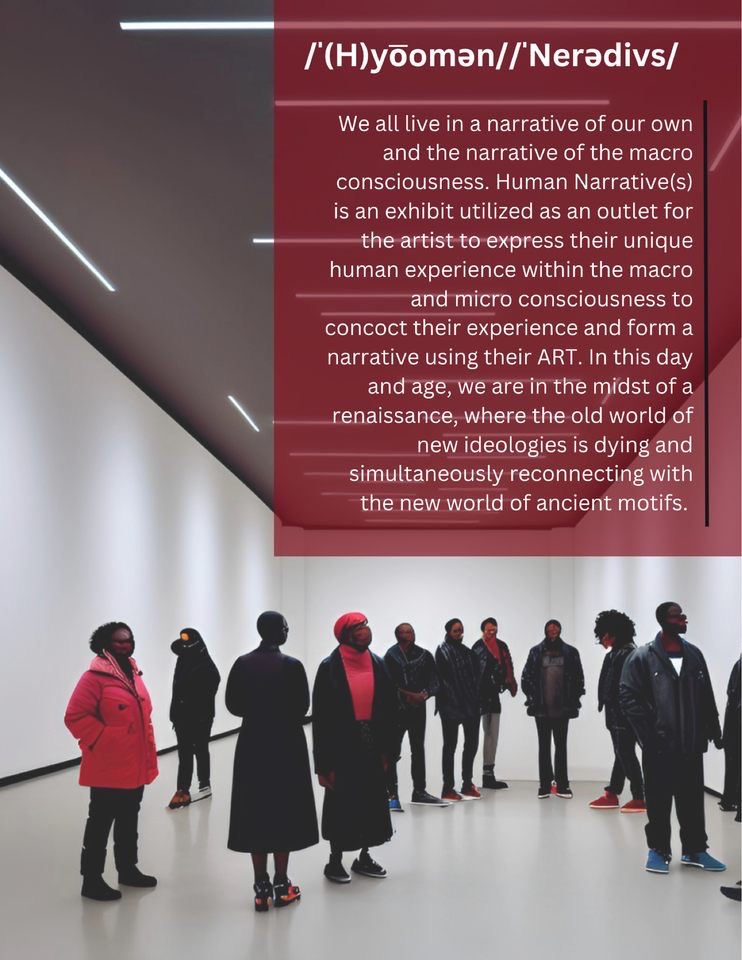 SEPT/OCT 
The Band of Firsts: Aristocrat of Bands
Sept 25 to Oct 26
Reception Oct 18 (Wednesday) / 5-7 pm CST
Known as "The Band of Firsts," AOB has made collegiate band history throughout the decades. The Aristocrat of Bands became the first marching band from an HBCU to appear on national television in 1955, performing during a halftime show at a football match between the Los Angeles Rams and Chicago Bears to the 2023 GRAMMY Award-winning album, The Urban Hymnal. The gallery will highlight the legacy of the AOB through the years to present-day photographs.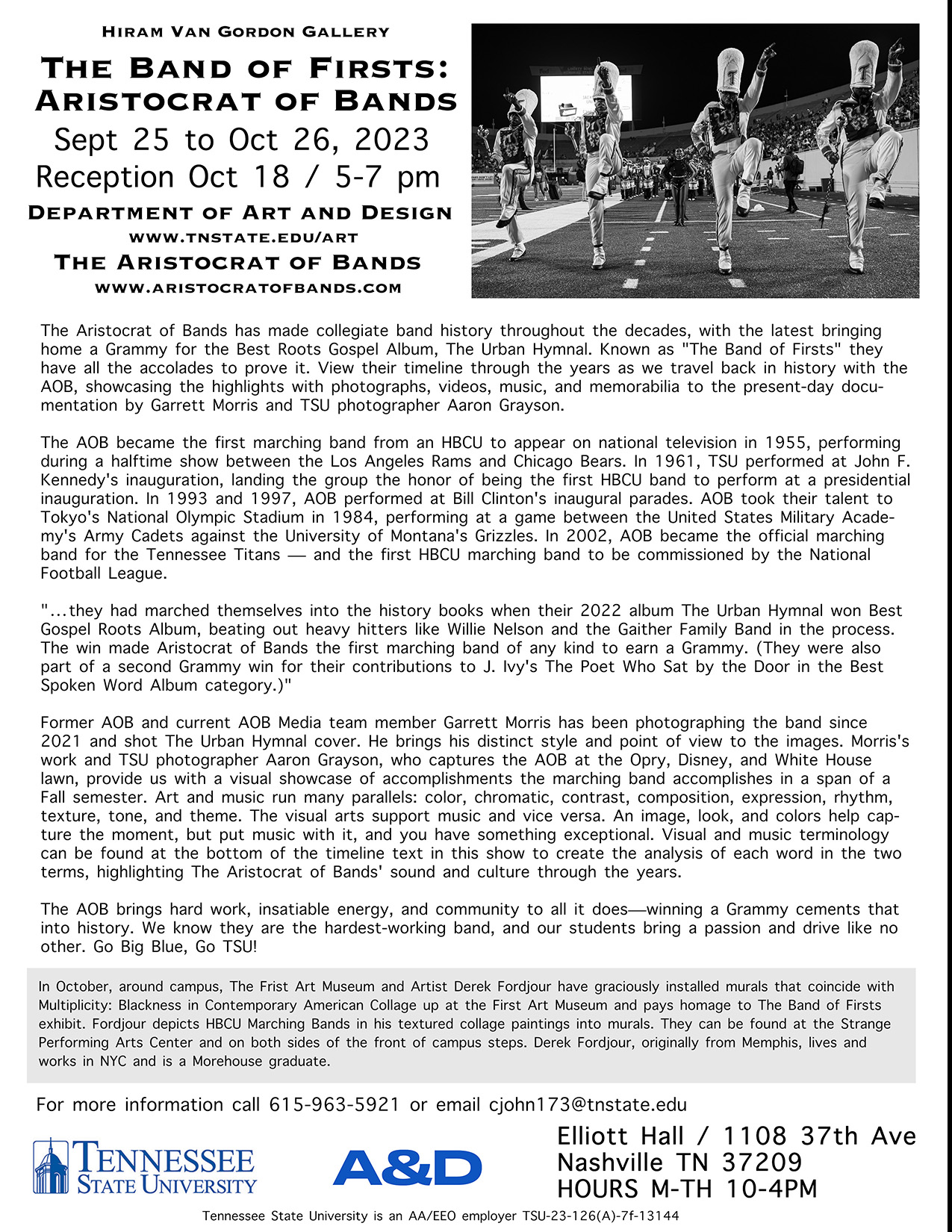 NOV/DEC
The Olympian
Jane Allen McKinney
Nov 6 to Dec 7
Reception Nov 14 (Tuesday) / 4-6:30 pm CST
Tennessee State University's Art and Design Professor Jane Allen McKinney designed and constructed the TSU Olympian from 2003 to 2005. The Olympian is a 21-foot running figure made of three metals: brass, aluminum, and copper, proudly displayed on the back side of campus at Hale Stadium and the entrance of the Gentry Center Athletic Complex called Olympic Plaza. The percentage of metals in the figure corresponds to the Olympic medals won by TSU Tigerbelles and track stars. TSU Olympians have won 17 Gold medals represented by brass in the statue, including Wilma Rudolph, eight silver medals illustrated by aluminum, and seven bronze medals represented by copper in the figure. You will learn more about this iconic sculpture and our legendary Olympians at TSU in The Olympian.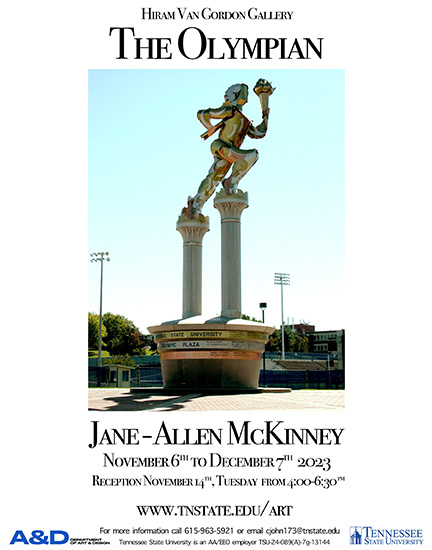 ---
Virtual Artist Talks
in Space for New Media (unless noted otherwise)
Our artists' talks and lectures are geared at creating forums for artists and students to talk about their work in a supportive open environment. In the process of creating a line up of artists and speakers that relate back to our exhibit schedule in the Hiram Van Gordon Gallery, Space for New Media, and M-SPAR, connecting what is learned in classroom courses and seminars to real-world applications. We will invite organizations and artists from a variety of perspectives to talk about their work. You can view previous lectures on our YouTube channel TSU Art and Design. 
ART Talk
Fall 2023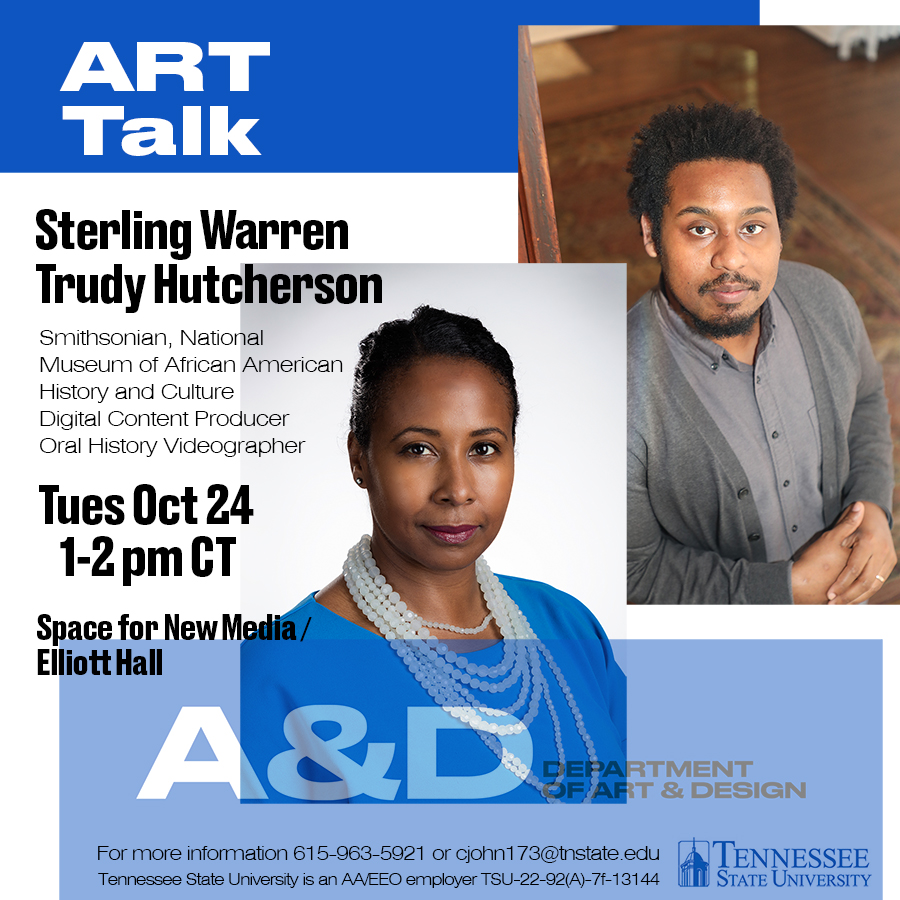 Tues, Oct 24th, 1-2 pm  Space for New Media / Elliott Hall
Sterling Warren 
Smithsonian, National Museum of African American History and Culture
Digital Content Producer, media artist, writer and curator
Trudy Hutcherson
Oral History Videographer, photojournalist, video journalist
Sterling Warren is a Digital Content Producer at the Center for the Digitization and Curation of African American History (Smithsonian, National Museum of African American History and Culture). As a media artist, writer and curator, Sterling has developed collaborative projects with the Lillie Carroll Jackson Civil Rights Museum, Maryland Historical Society, the Walters Art Museum and Galerie Myrtis.
Trudy Hutcherson is the Oral History Videographer with the Smithsonian National Museum of African American History and Culture. Her work at the museum involves the establishment of oral history video production and post-production standards, as well as producing oral history inspired media content.  Prior to joining the museum, Ms. Hutcherson worked for more than a decade as a freelance  photojournalist, covering numerous national and international events including US presidential elections, the aftermath of the devastating Haitian earthquake and the Iraq war.   In addition, she has contributed to multiple documentary series such as "Faultlines" and  "The Contenders".  Ms. Hutcherson also worked as a video journalist with Al Jazeera America, where she produced feature reports with a primary focus on African American life and culture.  Ms. Hutcherson earned a Bachelor of Science degree in TV/Film from the University of Texas in Austin.  She has also completed coursework for an advanced degree at American University in Washington, DC.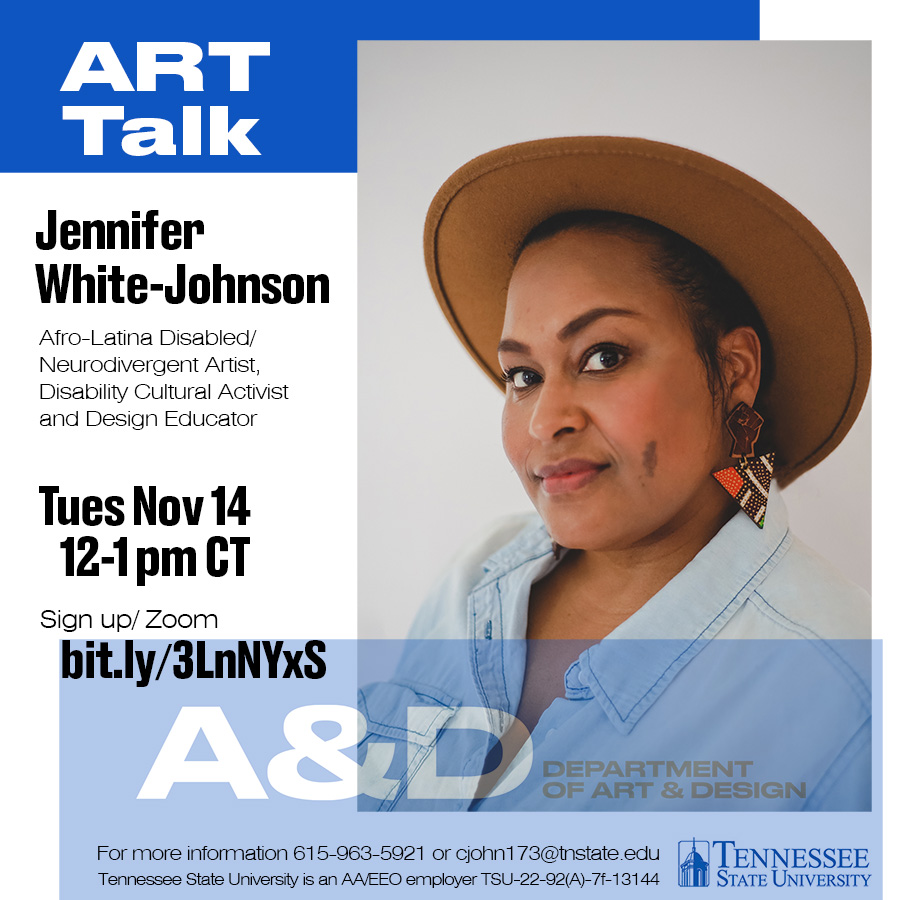 Tues Nov 14th, 12-1pm    ZOOM/ bit.ly/3LnNYxS
Jennifer White-Johnson 
Afro-Latina Disabled/ Neurodivergent Artist,  Disability Cultural Activist  and Design Educator
Jen White-Johnson (she/they) is an Afro-Latina Disabled/Neurodivergent Artist, Disability Cultural Activist and Design Educator whose visual work explores the intersection of content and caregiving with an emphasis on redesigning ableist visual culture. As an artist-educator with Graves disease and ADHD, her heart-centered and electric approach to disability advocacy bolsters these movements with invaluable currencies: powerful, dynamic art and media that all at once educates, bridges divergent worlds, and builds a future that mirrors her Autistic son's experience. Jen has presented her activist work and collaborated with a number of brands and art spaces across print and digital such as Coachella, Target, and Adobe. Her photography and design work has been featured and written about in Art in America, Juxtapoz Magazine, AfroPunk, and most recently, After Universal Design: The Disability Design Revolution, and is permanently archived at The Metropolitan Museum of Art, and the National African American Museum of History and Culture in DC. Jen currently lives in Baltimore, MD with her husband and son.  https://jenwhitejohnson.com/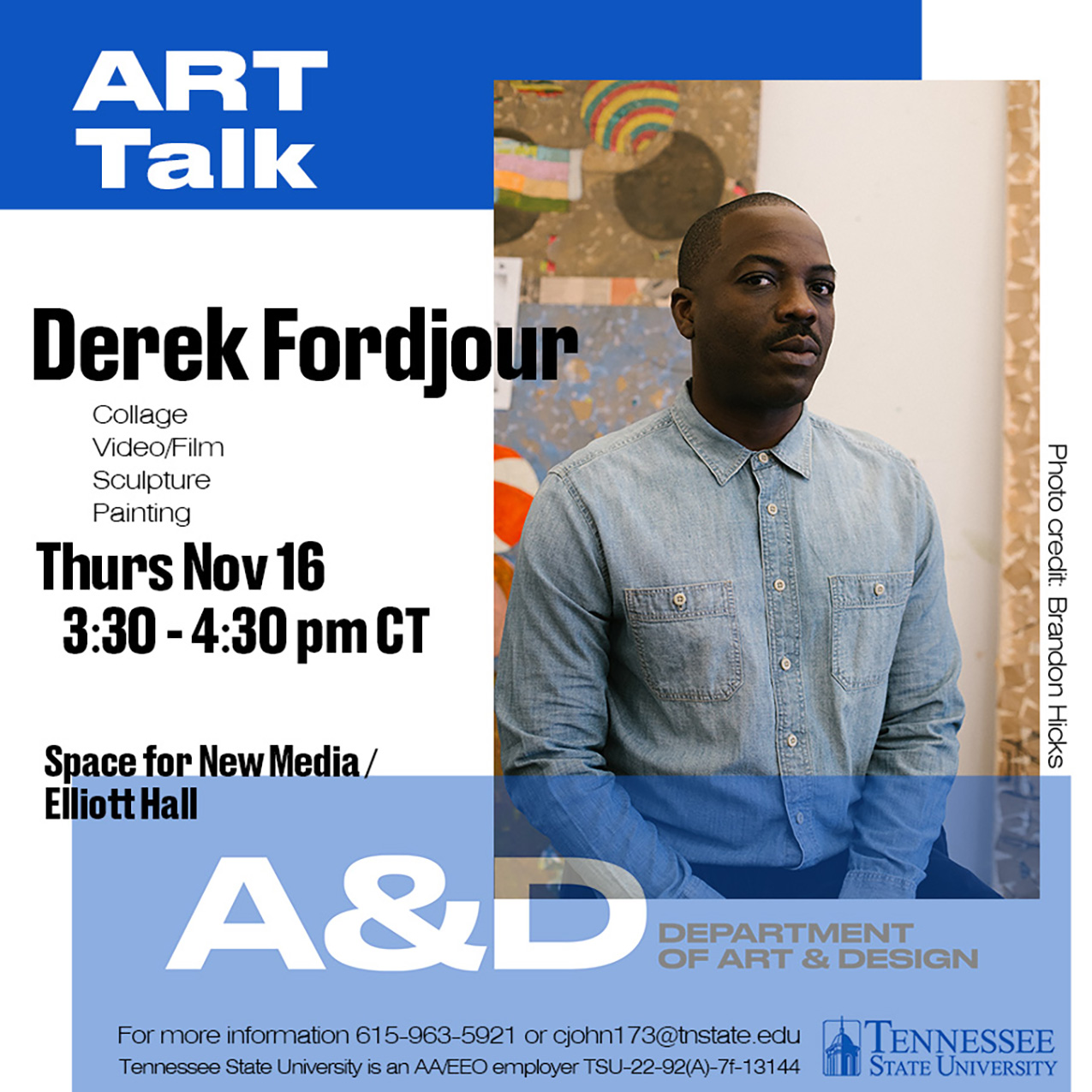 Thurs Nov 16th / 3:30- 4:30 pm  Space for New Media / Elliott Hall
Derek Fordjour
Collage, Video/Film, Sculpture, Painting
Derek Fordjour (b. 1974, Memphis, Tennessee) makes paintings, sculptures, and installations whose exuberant visual materiality gives rise to portraits and other multilayered compositions. Born of both broad sociological vision and a keen awareness of the body's vulnerability, Fordjour's tableaux are filled with athletes, performers, and others who play key roles in cultural rituals and communal rites of passage. In his paintings, Fordjour methodically constructs the ground of each composition through a collage-based process involving cardboard, newspaper, and other materials and pigments. The varied and textural surfaces that emerge are as complex—and physically engaging—as the dynamic subjects that Fordjour inscribes on top, within, and through them. His ability to grapple with many strata of artmaking on physical, conceptual, and straightforwardly human terms alike allows his project to communicate the widest possible array of emotions, from celebration and ecstasy to melancholy and lamentation. This, in turn, allows Fordjour to connect to audiences inside and outside of traditional art venues.
Derek is currently in the First Art Museum show, Multiplicity: Blackness in Contemporary American Collage. In November, around campus, The Frist Art Museum and Artist Derek Fordjour have graciously installed murals that coincide with Multiplicity and pays homage to The Band of Firsts exhibit. Fordjour depicts HBCU Marching Bands in his textured collage paintings into murals. They can be found at the Strange Performing Arts Center and on both sides of the front of campus steps. Derek Fordjour, originally from Memphis, lives and works in NYC and is a Morehouse graduate. https://www.instagram.com/fordjourstudio/?hl=en
Past ART Talks
Fall 2022
Ann Johnson, Vanessa German, David Jon Walker 
Spring 2022
Dreamworks Animation, Daisy Patton, Michael Coppage
Fall 2021
Forest Young, Art Sims, Eliane Lopez
---
Recent Exhibitions
Woven Wind, MAY-JUNE 2023 
Senior Show, APRIL-MAY 2023
Crowning Glory, FEB-MAR 2023 
IMAGE Faculty Triennial, JAN-FEB 2023
"Our Friend, Jean" Early Works By Jean-Michel Basquiat, HBCU Tour presented by The Bishop Gallery in collaboration with Hennessy, Thurgood Marshall College Fund (TMCF), and Group Black. Nov 2022
Call and Response and Other Black Technologies, Rick Griffith Sept - Oct 2022

2022 Spring Graduating Seniors, Senior Art Exhibition A Guiding Light April - May 2022

A Hidden Legacy Feburary - March 2022

Light Of The Truth: Student Exchange And Exhibition

University of Tennessee, Tennessee State University, and Fisk University January - Feburary 2022

StudentPrize (Based on Grand Rapids' ArtPrize) October - November 2021 

SPECTRUM: A show about gender identity (Supported by TSU GSA) September - October 2021 
---
Space for New Media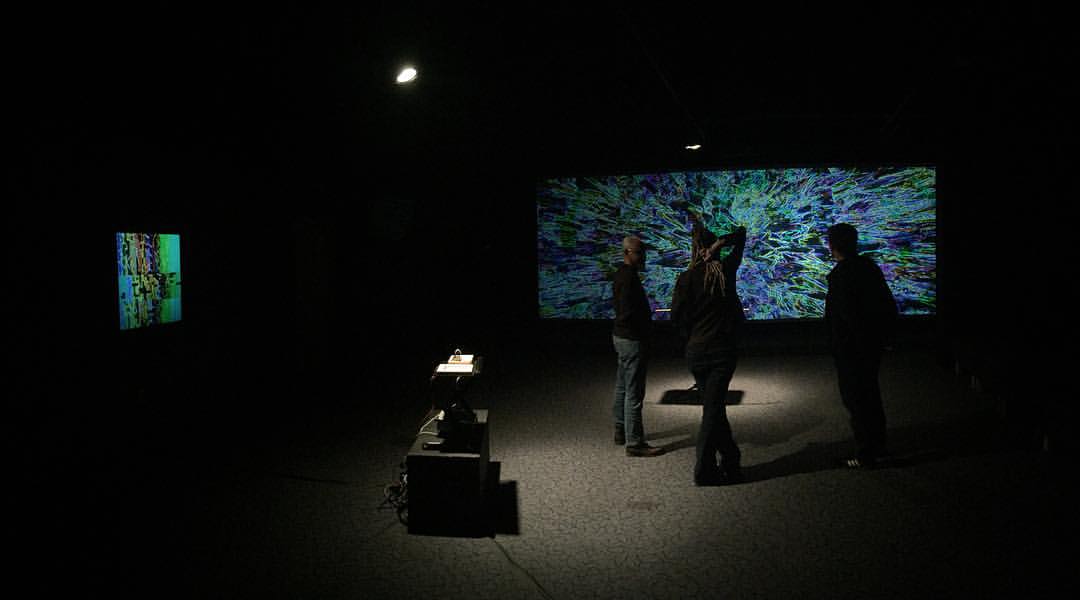 The Space for New Media gives students and artists a place to produce and display digital, experimental, and performance-based work, using our state of equipment to bring innovative ideas and images to campus.
Past Student Residency 
Chaz Presents A Thin Line, by Chaz Baylin
February 17-18 2023
Interactive Multimedia Experience
Photography and Digital Presentation, Interactive Photo booths, and Music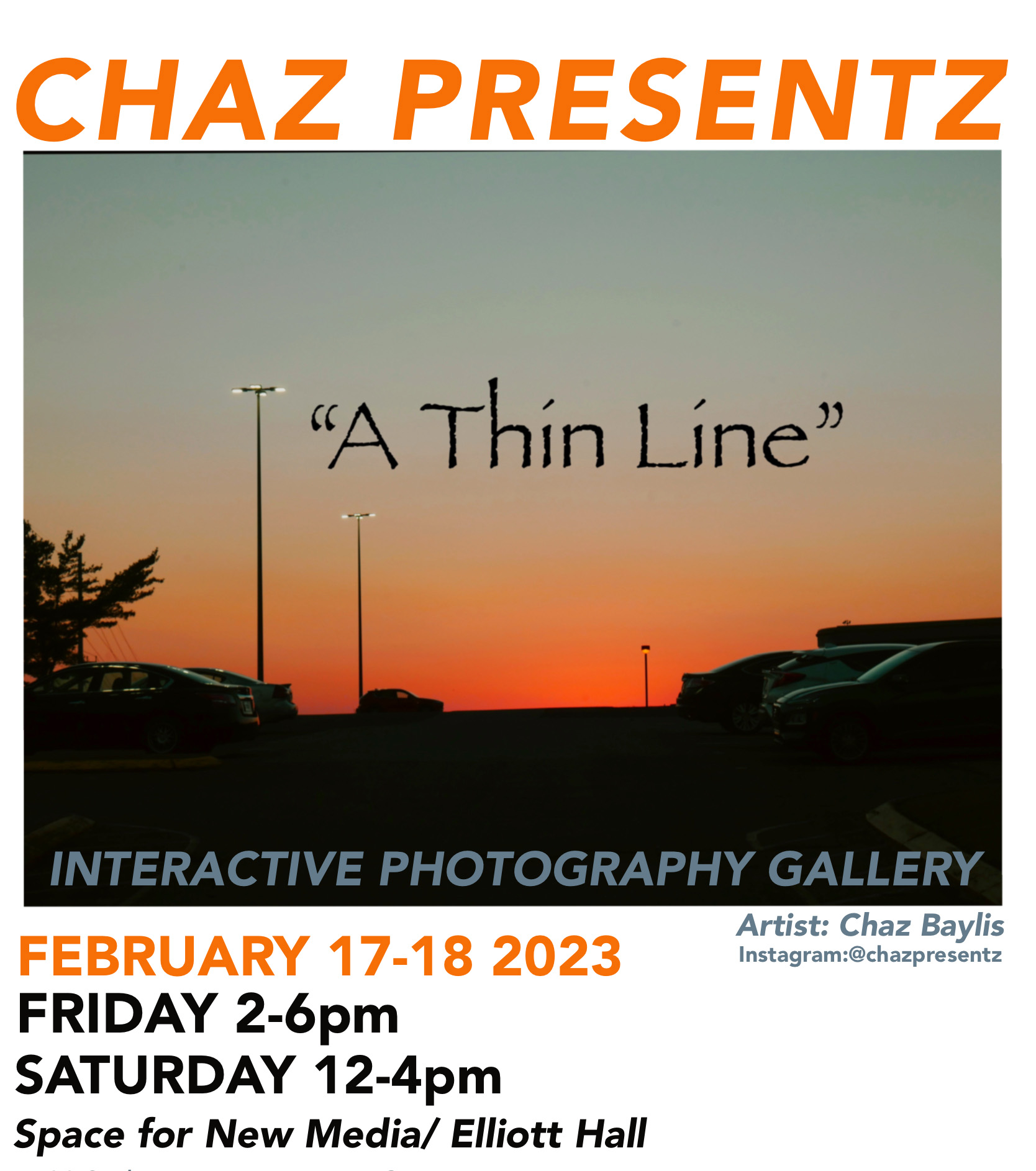 ---
The McGruder Social Practice Artist Residency, M-SPAR provides artists opportunities to impact the social landscape and engage with McGruder Family Resource Center, local Historic Black College and University's (HBCU), and the community of North Nashville. Artists engage with community through an artist's residency. Artists are provided studio space in exchange for community activated work leading to the conception, development, and execution of viable, transformative art projects.  
---
Art Collection
Over the years the art department has amassed a permanent collection of African and Alumni artwork in a few notable collections: the Art Eubanks Collection, the Ruth Witt Collection, and the Dr. Richard and Sharon Edwards Collection.
---
Directions
1108 37th Ave N 
Elliott Hall is locate on the back side of Tennessee State University main campus. From I-40 East, take a Right on 28th Ave/Ed Temple then Left on Walter S Davis. Left on 39th Ave N, Left on John L Driver Ave, past the guard station, Left on 37th Ave N.
From I-40 West, turn left of Jefferson St. take a Right on 28th Ave/Ed Temple then Left on Walter S Davis. Left on 39th Ave N, Left on John L Driver Ave, past the guard station, Left on 37th Ave N.
From Charlotte Ave, take a Right on 28th Ave/Ed Temple then Left on Walter S Davis. Left on 39th Ave N, Left on John L Driver Ave, past the guard station, Left on 37th Ave N. 
Parking is lots K and L. Enter Elliott Hall from front of building and proceed to back right side, enter Hiram Van Gordon Gallery.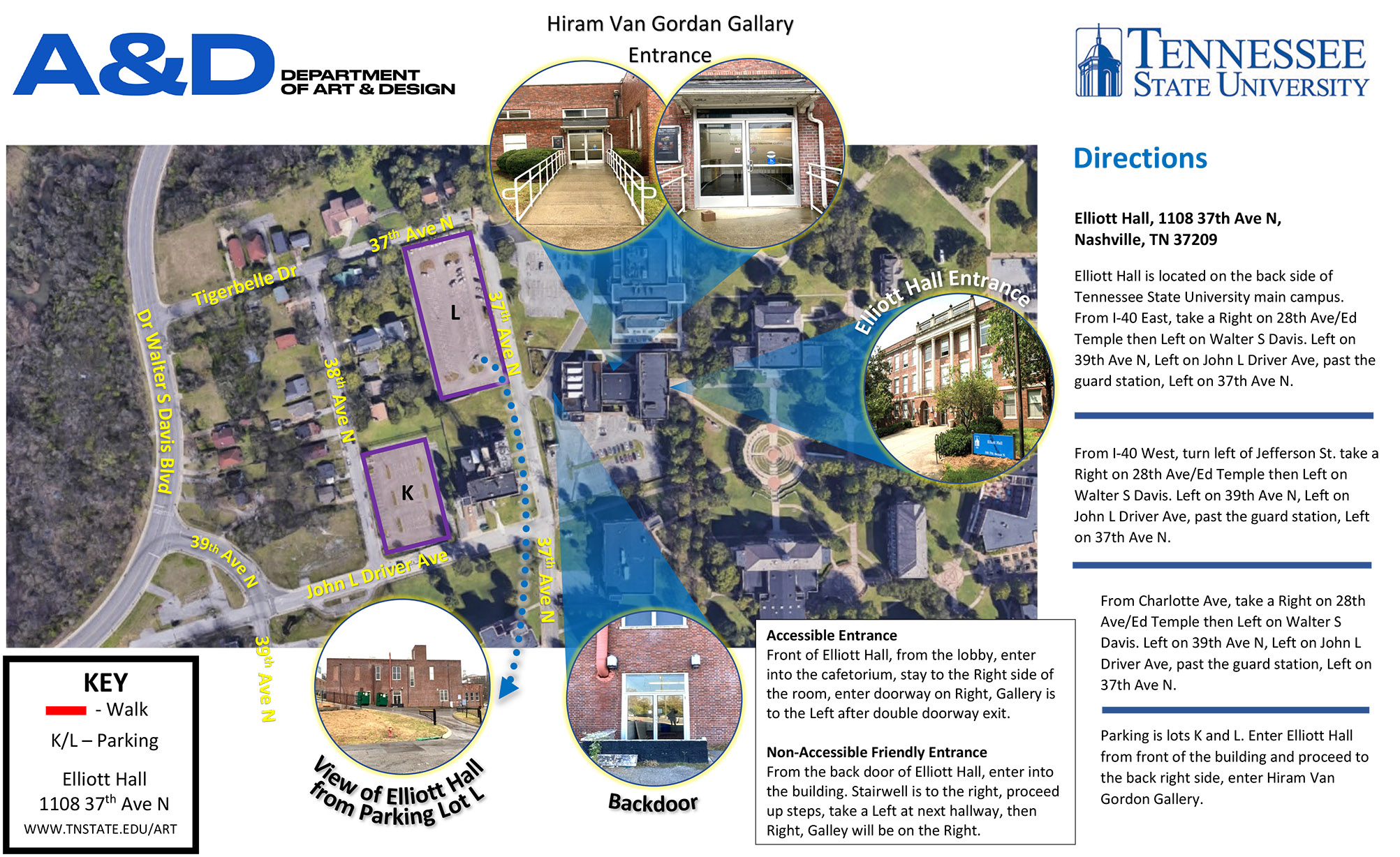 ---
Contact Us
Courtney Adair Johnson
Gallery Director
cjohn173@tnstate.edu
615-963-5921
---
Follow Us!
---