Hiram Van Gordon Gallery
Showcasing Student and Professional Art
Hours:
Monday - Thursday
8:30am - 4:00pm

---
Location:
TSU Main Campus
Elliott Hall, Room 118
About the Gallery
The Hiram Van Gordon Gallery offers approximately six exhibitions yearly that highlight the works of Tennessee State University students, faculty and alumni in the visual arts, African American and African artists, social and civic engaged work along with conversations regarding sustainable environmental practices in art.
Fall 2022 Gallery Schedule 
September- October
Rick Griffith
Open Sept 1
Close Oct 27
Event Sept 23, 2022 5-8 PM / Lecture 6 pM
November  
Early Works By Jean-Michel Basquiat
HBCU Tour presented by The Bishop Gallery in collaboration with Hennessy, Thurgood Marshall College Fund (TMCF), and Group Black.
Open Nov 9
Close Nov 16
Event Nov 10, 2022 4-6 PM CT
Gallery Hours M-F 8:30-4 Sat 12-4
December - February
IMAGE 
Faculty Show/ Triennial 
Open Dec 5
Close Feb 9
Event Feb 2, 2022 6-8 PM  CT
---
Virtual Artist Talks (via Zoom) 
Wednesday, Sept 21st at 1-2 PM (CST)
Ann Johnson was born in London, England and raised in Cheyenne, WY. Ann is a Professor of Practice at Prairie View A&M University in Texas. Primarily a mixed media artist, Johnson's passion for exploring issues particularly in the Black community has led her to create series' of works that are evocative and engaging such as The Hoop Dreamin Collection and "Black Indian". 
Wednesday, Nov 2nd at 1-2 PM (CST)
Vanessa German is a self-taught citizen artist working across sculpture, performance, communal rituals, immersive installation, and photography, in order to repair and reshape disrupted systems, spaces, and connections. The artist's practice proposes new models for social healing, utilizing creativity and tenderness as vital forces to reckon with the historical and ongoing catastrophes of structural racism, white supremacy, heteropatriarchy, resource extraction, and misogynoir.Based in Homewood, Pittsburgh, german's artistic practice is intertwined with and inextricable from her dedicated role in activism and community leadership. In 2011, german founded the Love Front Porch, an arts initiative for the women, children, and families of the local neighborhood that began after she moved her studio practice onto the front steps of her home. Three years later, in 2014, german opened the ARThouse, which combines a community studio, a large garden, an outdoor theatre, and an artist residency. 
Friday, November 18th at 1-2 PM (CST)
David Jon Walker is an Assistant Professor of Art at Austin Peay State University in Clarksville, TN, teaching Web and Graphic Design. A graduate of Tennessee State University, he is presently pursuing his Masters of Fine Art at Yale. He has honed his skills as a design servant-leader with community and governmental organizations to provide an aesthetic face and visual messaging. 
Past ART Talks
Spring 2022
Fall 2021
Our artists' talks and lectures are geared at creating forums for artists and students to talk about their work in a supportive open environment. In the process of creating a line up of artists and speakers that relate back to our exhibit schedule in the Hiram Van Gordon Gallery, Space for New Media, and M-SPAR, connecting what is learned in classroom courses and seminars to real-world applications. We will invite organizations and artists from a variety of perspectives to talk about their work. You can view previous lectures on our YouTube channel TSU Art and Design. 
---
Recent Exhibitions
---
Space for New Media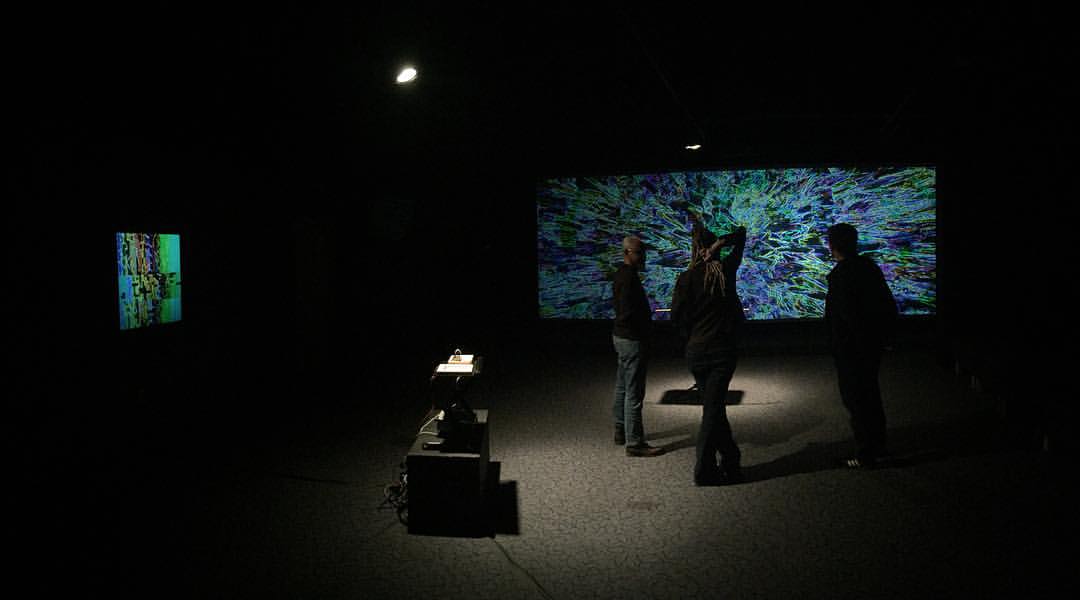 The Space for New Media gives students and artists a place to produce and display digital, experimental, and performance-based work, using our state of equipment to bring innovative ideas and images to campus.
---
The McGruder Social Practice Artist Residency, M-SPAR provides artists opportunities to impact the social landscape and engage with McGruder Family Resource Center, local Historic Black College and University's (HBCU), and the community of North Nashville. Artists engage with community through an artist's residency. Artists are provided studio space in exchange for community activated work leading to the conception, development, and execution of viable, transformative art projects.  
---
Art Collection
Over the years the art department has amassed a permanent collection of African and Alumni artwork in a few notable collections: the Art Eubanks Collection, the Ruth Witt Collection, and the Dr. Richard and Sharon Edwards Collection.
---
Directions
1108 37th Ave N
Elliott Hall is locate on the back side of Tennessee State University main campus. From I-40 East, take a Right on 28th Ave/Ed Temple then Left on Walter S Davis. Left on 39th Ave N, Left on John L Driver Ave, past the guard station, Left on 37th Ave N.
From I-40 West, turn left of Jefferson St. take a Right on 28th Ave/Ed Temple then Left on Walter S Davis. Left on 39th Ave N, Left on John L Driver Ave, past the guard station, Left on 37th Ave N.
From Charlotte Ave, take a Right on 28th Ave/Ed Temple then Left on Walter S Davis. Left on 39th Ave N, Left on John L Driver Ave, past the guard station, Left on 37th Ave N. 
Parking is lots K and L. Enter Elliott Hall from front of building and proceed to back right side, enter Hiram Van Gordon Gallery.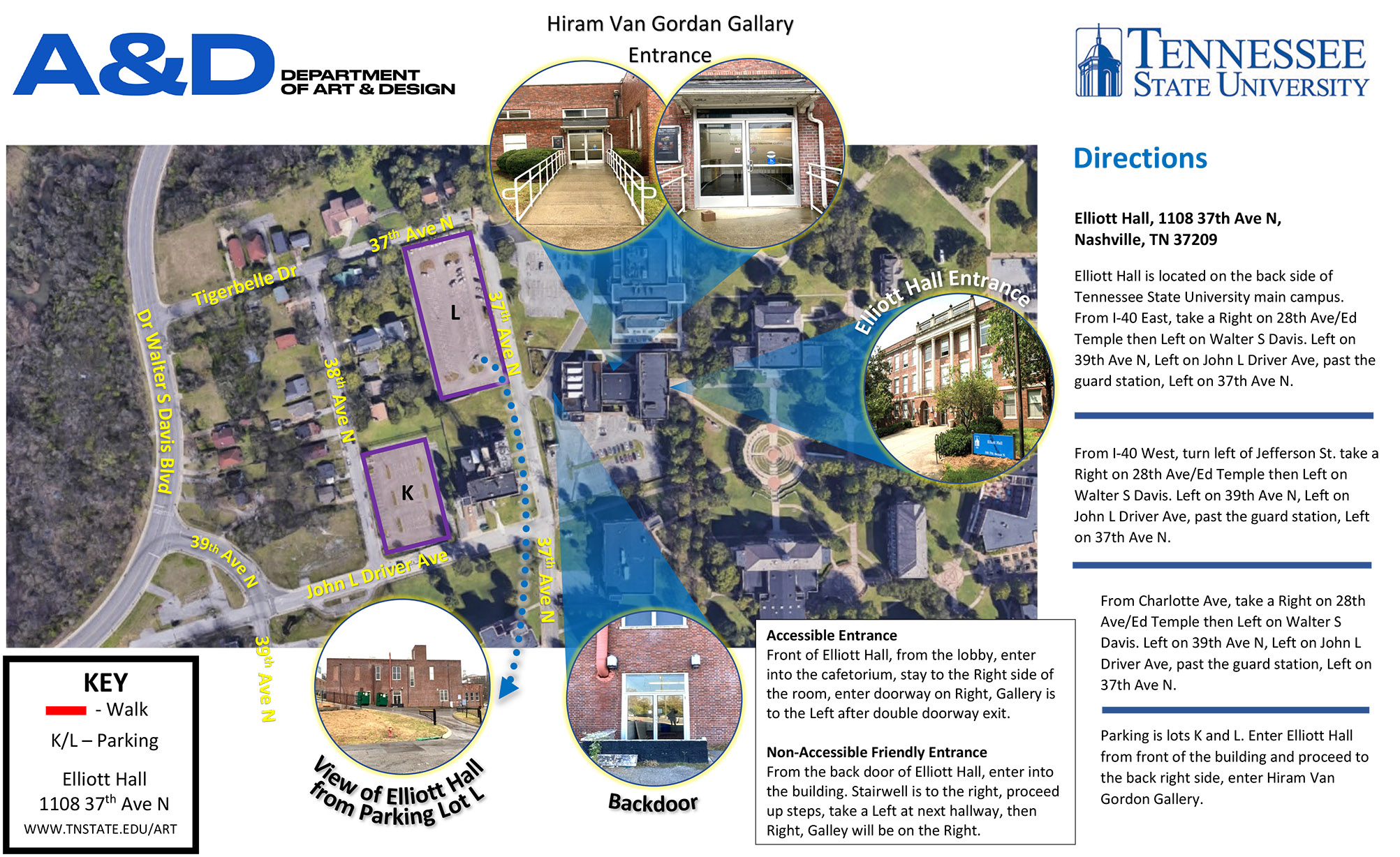 ---
Contact Us
Courtney Adair Johnson
Gallery Director
cjohn173@tnstate.edu
615-963-5921
---
Follow Us!
---