Hiram Van Gordon Gallery
Hours: 
Monday - Thursday
9:30am - 2:30pm

---
Location:
TSU Main Campus, 1108 37th Ave N
Elliott Hall, Room 118
About the Gallery
The Hiram Van Gordon Gallery offers approximately six exhibitions yearly that highlight the works of Tennessee State University students, faculty and alumni in the visual arts, African American and African artists, social and civic engaged work along with conversations regarding sustainable environmental practices in art.
Spring 2023 Gallery Schedule 
JAN-FEB
Image
Faculty Triennial 
Open January 9
Close February 9 
Event February 9, 4-6 pm CTS *Rescheduled
We process more images than ever before; they say we can individually compute 10-12 images per second. Where does that put the artist, the professional image-maker? What images do you want to contemplate or consider? What images do you slow down to view? We typically look around us for images and what seems most relevant. We look at family, friends, lovers, or community, and we look at culture, what we are exposed to, and what we want to see. Past, present, and future reflections all permeate the artist's viewpoint. As a professor and artist, you become responsible for teaching/leading the viewer into something, anything, by the image chosen to explore. Image looks at the artist's responsibility as an image maker, be it playful, severe, subtle, or direct.
Join us February 9 at 6 pm for Knit and Crochet Meet-up, hosted my Professor Cynthia Gadsden, PhD. Do you crochet or knit?  Are you interested in learning how to knit or crochet?Bring your yarn and hook or needles if you have them OR just show up and we'll help get you started.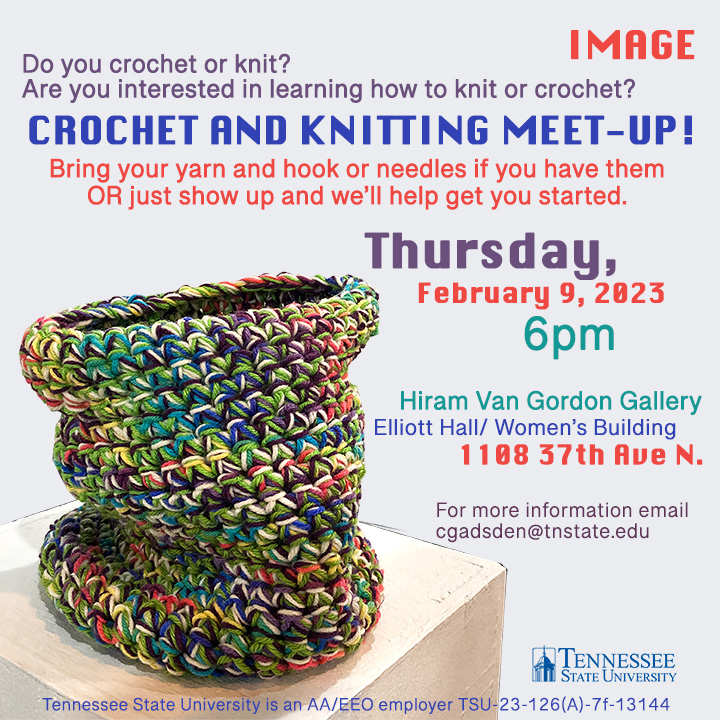 FEB-MAR
Crowning Glory 
Open February 20 
Close March 30 
Event March 23, 5-7 pm CTS
Hair Hair Hair! Crowning Glory will look at Black hair through six women artists' powerful and playful expressions of what adorns the head. A range of mediums; soft pastels to sculptures, prints to paintings, interpreting bonnets to braids. The show highlights the importance of hair community and individual expression. We acknowledge the work being done with the CROWN Act, a law that prohibits race-based hair discrimination, that was blocked in the U.S. Senate this past Dec. Co-Curated by Cynthia Gadsden, PhD, Art Historian and Courtney Adair Johnson, Gallery Director at Tennessee State University . Artists: Jeannette Ehlers, Elise Kendrick, Jasmine Moseley, Elisheba Israel Mrozik, Althea Murphy-Price, Tanekeya Word. Supported by EADJ/Maria Magdalena Campos Pons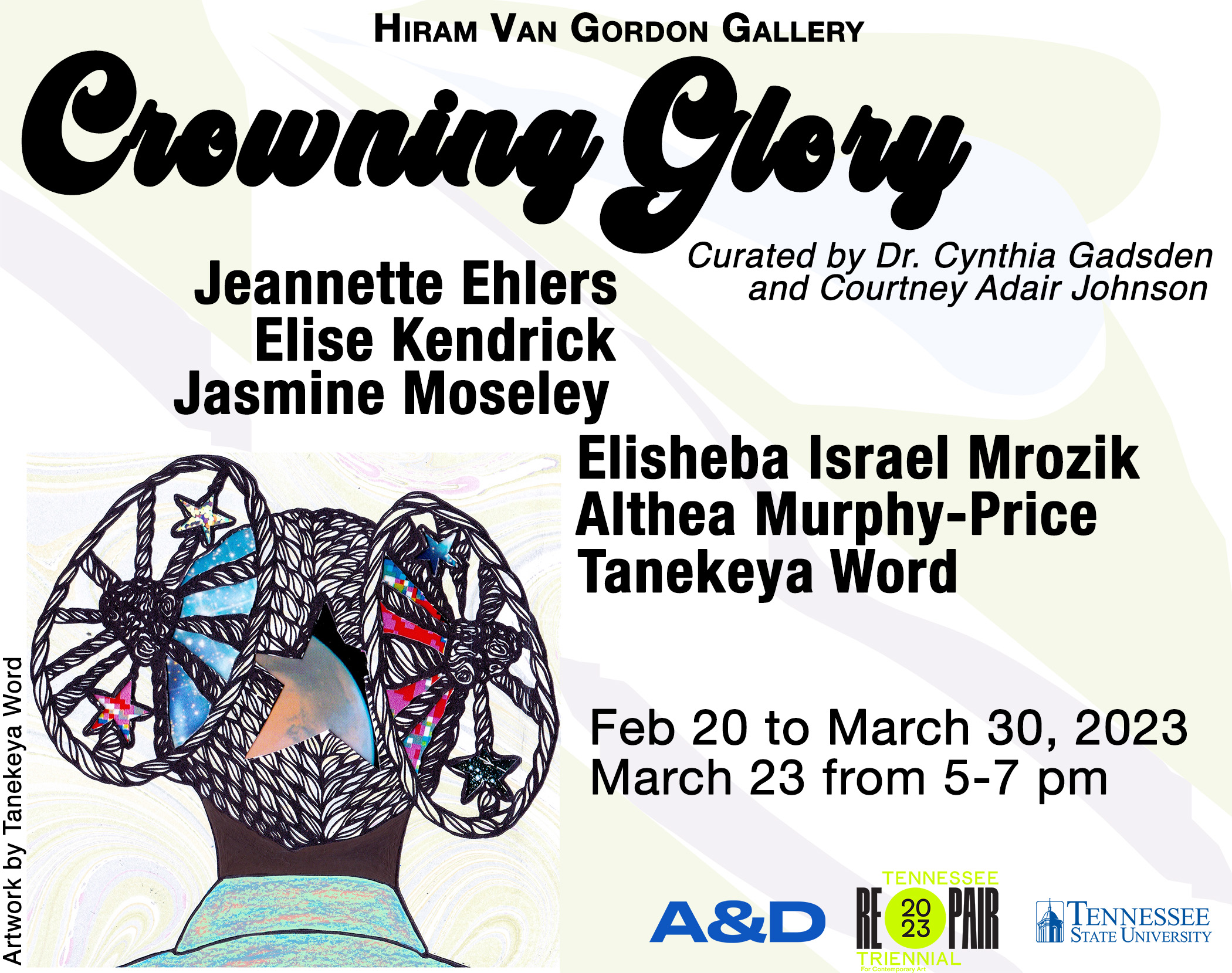 APRIL-MAY 
Senior Show TBA 
Open April 17 
Close May 4
Event April 20, 5-7 pm CTS
MAY-JUNE 
Woven Wind 
Open May 15 
Close June 9 
Event May 18, 5-7 pm CTS
The Woven Wind, summer May-June, is a multi-layered research project drawing from artistic translations of the Lovell- Quitman archive at the University of the South. Artists in archival research, fieldwork, and genealogical findings to amplify the silenced voices of the enslaved preserved in the archive. Relationships, spaces, and places construct a platform for education, conversation, empathy, and healing. Artists: Vesna Pavlovic, Mélisande Short-Colomb, Marlos E'van, Courtney Adair Johnson, Rod McGaha, genealogist Jan Hillegas, and historian Woody Register
---
Virtual Artist Talks
in Space for New Media (unless noted otherwise)
Our artists' talks and lectures are geared at creating forums for artists and students to talk about their work in a supportive open environment. In the process of creating a line up of artists and speakers that relate back to our exhibit schedule in the Hiram Van Gordon Gallery, Space for New Media, and M-SPAR, connecting what is learned in classroom courses and seminars to real-world applications. We will invite organizations and artists from a variety of perspectives to talk about their work. You can view previous lectures on our YouTube channel TSU Art and Design. 
Spring 2023 
Imagine A Place , podcast recording and networking session on how to build a career in design (Jobs, careers, transition out of school, etc.)
Tuesday, February 7, 2023 at Noon
Moderated by Cheryl S. Durst, IIDA EVP and CEO
               Sofia Acosta, Associate IIDA, Designer, Gensler
               Mike Johnson II, IIDA, Assoc Principal, Director of Interiors, Hickock Cole
               Tonya Spry, Director of Human Resources at Gresham Smith
Intro to Craft Careers with Tennessee Craft 
Professional artists will introduce craft careers and explore business skills for artistic career success with students. We will also share real-world experiences for students to further engage these speakers (coop, maker spaces, craft fairs, gallery shows, etc).
Each session is scheduled on a Wednesday from 12:30-2:00pm:
February 8: Marketing & Pricing with Olasubomi Aka-Bashorun and Renee Ford
March 1: Sales Opportunities with Wilson Lee, Jr. and Evan Brown (Black Futures Week)
April 5: Shared Creative Spaces with Danielle McDaniel and Jackie Schlicher
Organized by Professor Michael McBride 
Black Futures Week 
February 27 to March 3 2023
February 27 at 5 pm: Design Panel with Rick Griffith, Saki Mafundikwa, Kaleena Sales, and Omari Souza
February 28 at 3pm: Paint Panel with Samuel Dunson and TBA
March 1 at 12:30 pm: Intro to Craft Careers, Sales Opportunities with Wilson Lee, Jr. and Evan Brown 
Sponsored by Kappa Pi 
Past ART Talks
Fall 2022
Ann Johnson, Vanessa German, David Jon Walker 
Spring 2022
Dreamworks Animation, Daisy Patton, Michael Coppage
Fall 2021
Forest Young, Art Sims, Eliane Lopez
---
Recent Exhibitions
---
Space for New Media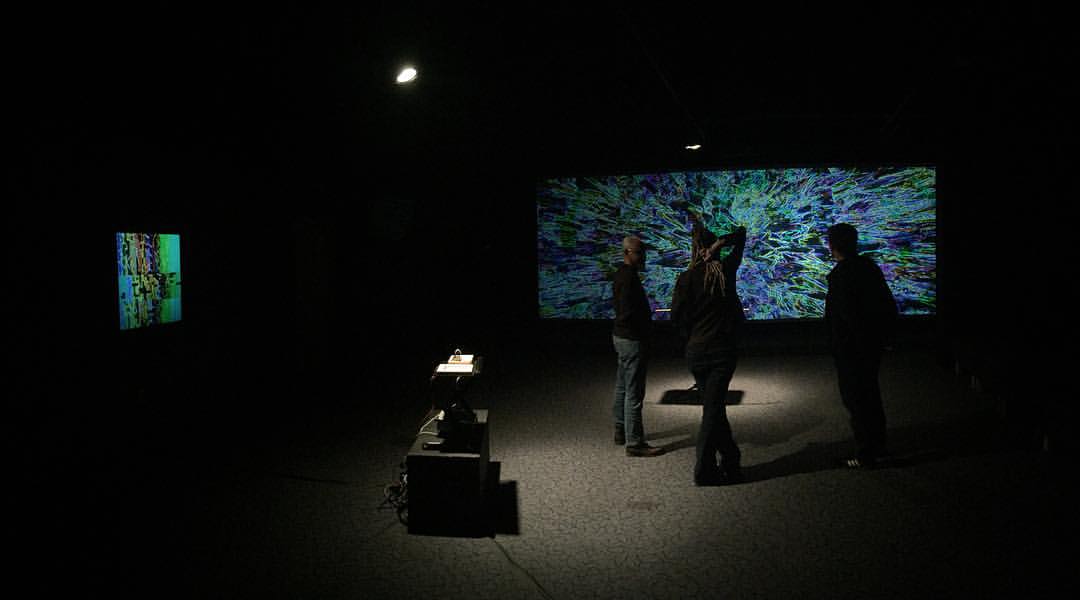 The Space for New Media gives students and artists a place to produce and display digital, experimental, and performance-based work, using our state of equipment to bring innovative ideas and images to campus.
Student Residency 
Chaz Presents A Thin Line, by Chaz Baylin
February 17-18 2023
Friday 2-6 and Saturday 12-4
Interactive Multimedia Experience
Photography and Digital Presentation, Interactive Photo booths, and Music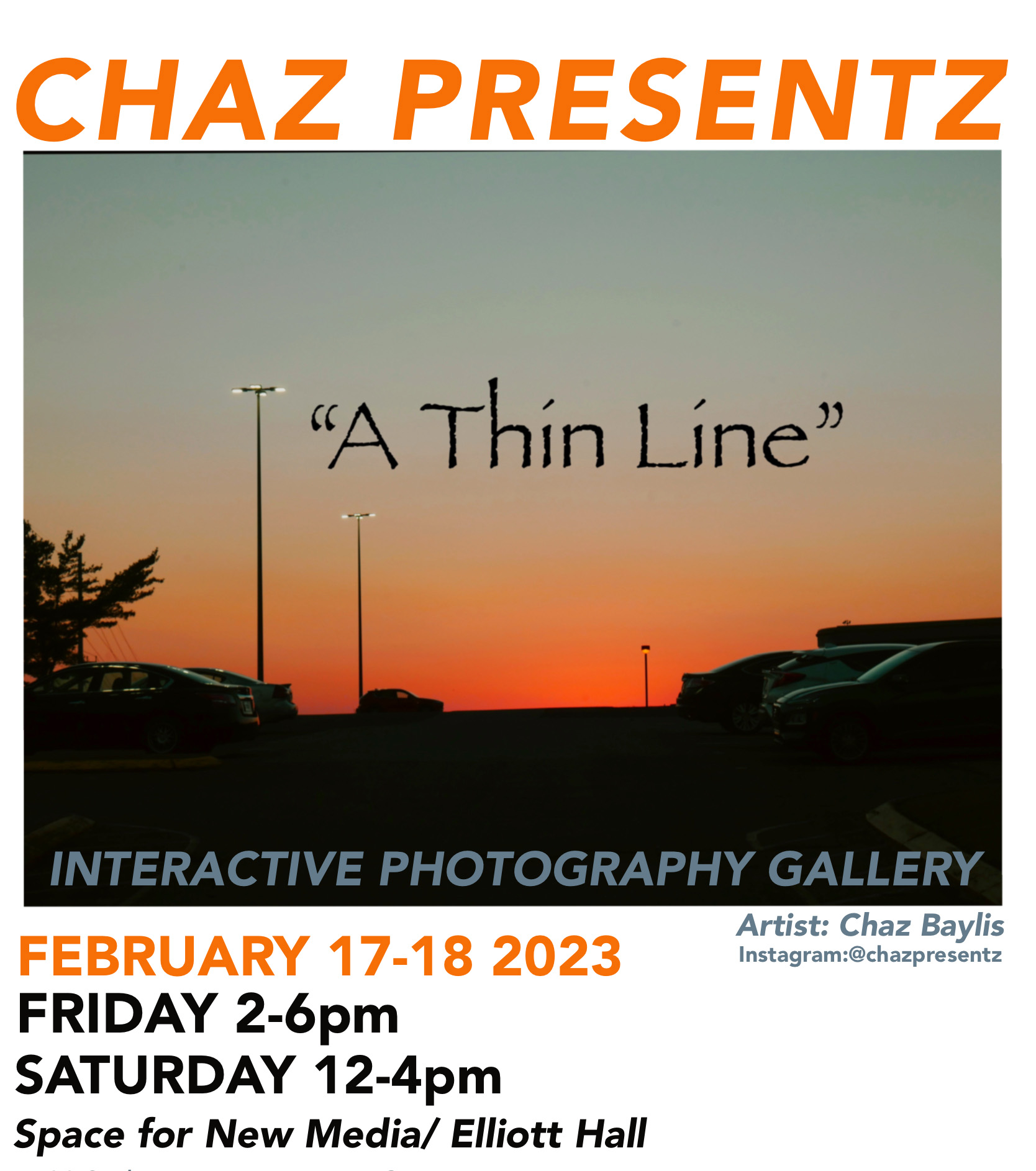 ---
The McGruder Social Practice Artist Residency, M-SPAR provides artists opportunities to impact the social landscape and engage with McGruder Family Resource Center, local Historic Black College and University's (HBCU), and the community of North Nashville. Artists engage with community through an artist's residency. Artists are provided studio space in exchange for community activated work leading to the conception, development, and execution of viable, transformative art projects.  
---
Art Collection
Over the years the art department has amassed a permanent collection of African and Alumni artwork in a few notable collections: the Art Eubanks Collection, the Ruth Witt Collection, and the Dr. Richard and Sharon Edwards Collection.
---
Directions
1108 37th Ave N 
Elliott Hall is locate on the back side of Tennessee State University main campus. From I-40 East, take a Right on 28th Ave/Ed Temple then Left on Walter S Davis. Left on 39th Ave N, Left on John L Driver Ave, past the guard station, Left on 37th Ave N.
From I-40 West, turn left of Jefferson St. take a Right on 28th Ave/Ed Temple then Left on Walter S Davis. Left on 39th Ave N, Left on John L Driver Ave, past the guard station, Left on 37th Ave N.
From Charlotte Ave, take a Right on 28th Ave/Ed Temple then Left on Walter S Davis. Left on 39th Ave N, Left on John L Driver Ave, past the guard station, Left on 37th Ave N. 
Parking is lots K and L. Enter Elliott Hall from front of building and proceed to back right side, enter Hiram Van Gordon Gallery.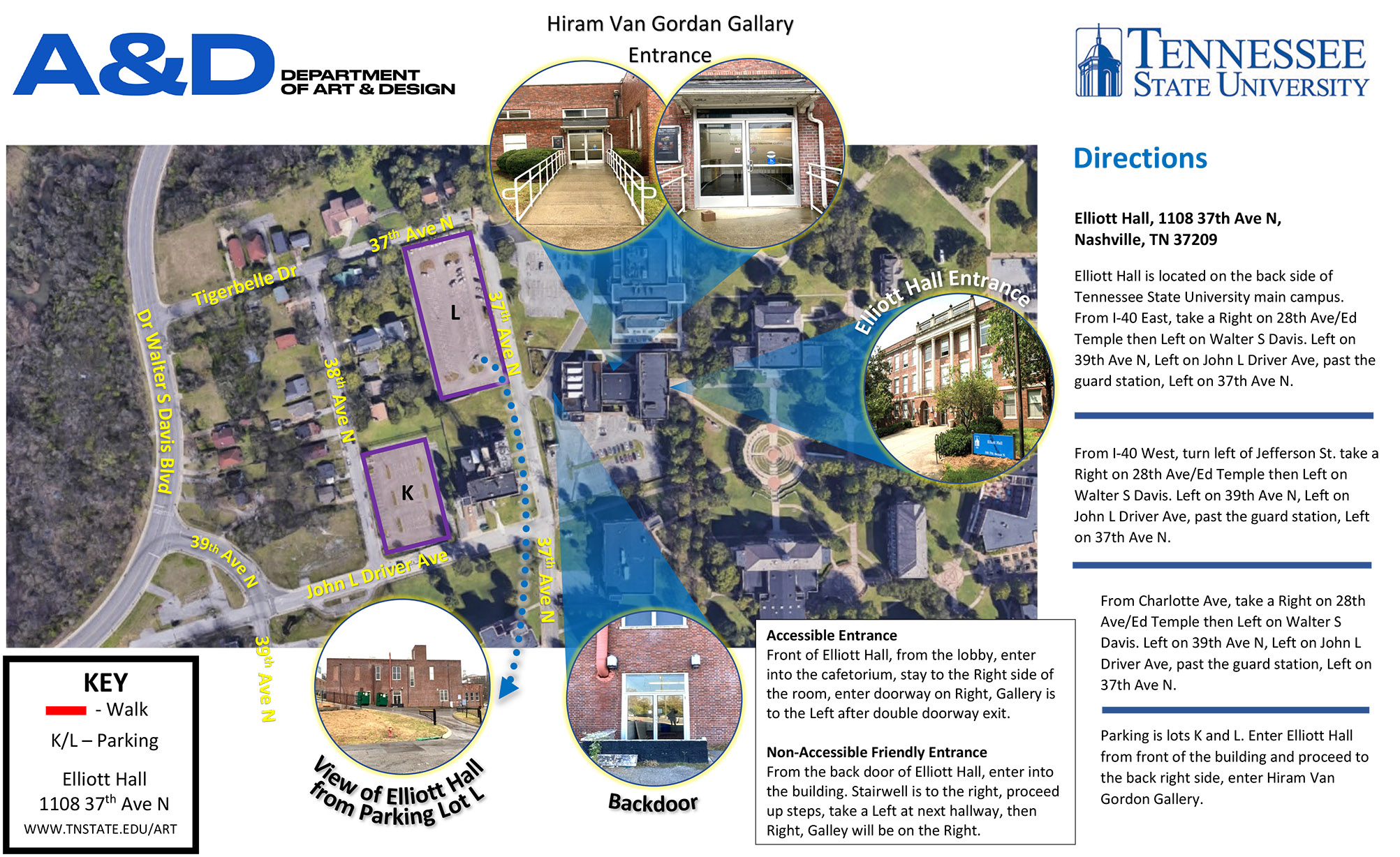 ---
Contact Us
Courtney Adair Johnson
Gallery Director
cjohn173@tnstate.edu
615-963-5921
---
Follow Us!
---