Home >
> Doctor of Education (Ed.D)
Doctor of Education (Ed.D)
Major: Foundations and Curriculum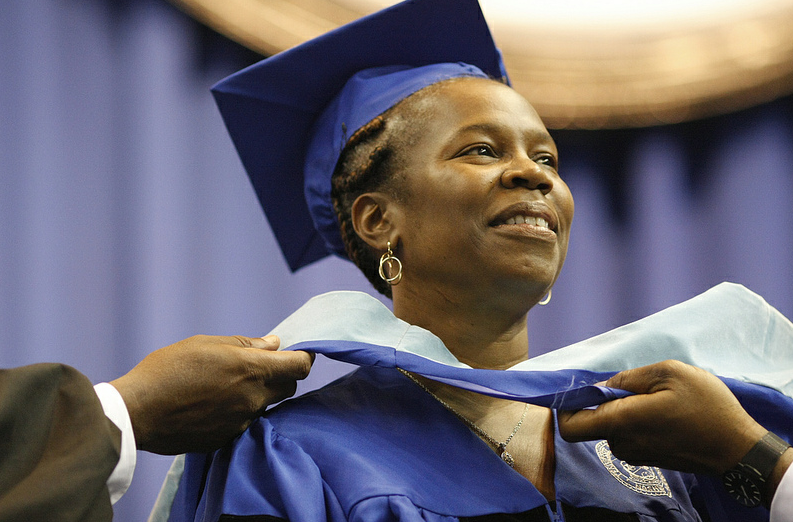 DEGREE:  Doctor of Education (Ed.D.)
CONCENTRATIONS:
Foundations & Curriculum

Admission Requirements
1.  A minimum Graduate Record Exam (GRE) score of 900 (Verbal & Quantitative), or a minimum Miller Analogies Test (MAT) score of 402, are normally required for admission.
2.  A minimum G.P.A. of 3.25 is required on the last graduate degree, either Master's or Education Specialist. No more than thirty (30) semester hours from an Education Specialist degree may be used toward the doctorate. The advisor will recommend the appropriate Education Specialist credits to be transferred.
3.  An acceptable work experience record
4.  Four (4) letters of recommendation indicating probable success in the program
5.  Proof of the ability to write effectively
6.  An acceptable interview

The admissions committee will review and weight the entire academic and professional record in making the admissions decision. Equal weight will be given to: (a) previous graduate GPA, (b) GRE or MAT scores, (c) other variables listed above. Applicants whose standardized test scores are below those normally expected for admission will be considered for admission to these programs if: (1) the overall record (based on the above variables) indicates high potential for success in doctoral study, and (2) the applicant's overall potential for success in the program is judged to be comparable to that of the other applicants in the admissions cycle.

General Department Requirements  
A minimum of sixty (60) semester hours of approved course work beyond the Master's degree is required: fifteen (15) semester hours of general education core, twelve (12) semester hours of research, eighteen semester hours in the concentration, six (6) semester hours of electives, and nine (9) hours credit for the satisfactory completion of the doctoral dissertation. Also required is the successful completion of a written qualifying examination, a written comprehensive examination, and residency of a minimum of eighteen (18) semester hours over a period of four (4) semesters.


The program of study coursework is comprised of:.
CORE (15 hours): 
          EDCI 6300 - Multicultural Education
          EDCI 7000 - Foundations in Education
          EDCI 7020 - Doctoral Seminar in Curriculum
          EDCI 7450 - Learning Theories for Teachers
          EDLD 6000 - Statistical Analysis in Educational Leadership I (formerly EDAD 6000)

RESEARCH (12 hours): 
          EDCI 7190 - Applied Technology in Research Development
          EDCI 7740 - Advanced Qualitative Research Methods
          EDLD 7120 - Advanced Methods in Research
          EDLD 7180 - Statistical Analysis in Educational Leadership II

CONCENTRATION (18 hours): 
          EDCI 7030 - Independent Study
          EDCI 7080 - Curriculum Theory
          EDCI 7130 - Evaluation of Education Programs
          EDCI 7140 - Principles of Teaching
          EDCI 7340 - Curriculum Development & Design
          EDCI 7870 - The Elementary & Secondary Curriculum
ELECTIVES (6 hours)

DISSERTATION (9 hours)      

For Additional Information
---