Accreditation
Institutional Accreditation
Tennessee State University is accredited by the Southern Association of Colleges and Schools Commission on Colleges to award associate, baccalaureate, master's, education specialist, and doctoral degrees. Contact the Southern Association of Colleges and Schools Commission on Colleges at 1866 Southern Lane, Decatur, Georgia 30033-4097 or call 404-679-4500 for questions about the accreditation of Tennessee State University.
Program Accreditation 
Master of Public Health Program at Tennessee State University Receives Full Accreditation
The Master of Public Health (MPH) program, established in 2009 at Tennessee State University (TSU) received full accreditation by the Council on Education for Public Health (CEPH).  According to information provided on its web site, CEPH is "an independent agency recognized by the U.S. Department of Education to accredit schools of public health and public health programs offered in settings other than schools of public health" (2015, p 1).   Accreditation signifies that the MPH program meets high standards set by CEPH in the areas of academics, governance, financial management as well as several other areas of assessment.  The top MPH programs in the world are accredited through CEPH, and TSU is proud to join the ranks of these prestigious institutions.   
The MPH program at TSU is an academic component of the Department of Public Health, Health Administration, and Health Sciences within the College of Health Sciences.  The mission is to preserve and promote the health of local, state, regional, national, and global populations through a focus on cultural competency and to address critical issues that affect the health of the public.   The MPH program is the only graduate program in public health that is offered at a public institution in middle Tennessee and at a public Historically Black College or University (HBCU) in Tennessee. Through practice and applied research experiences, the MPH program has recognized expertise in understanding and addressing the unique public health needs of medically underserved populations including racial/ethnic minorities. Diversity is recognized as our strength, which is reflected by faculty, staff, and students who represent every geographic region in the U.S. and several countries which enrich the learning and practice experiences of students and the public health community.
CEPH accreditation is not obtained easily.  The application for accreditation was submitted in June 2012, and a preliminary self-study was submitted in June 2014.   In January,  three members of the CEPH accreditation team came to Nashville for a two-day site visit.  The MPH program was officially accredited in June 2015 for five years and reaffirmed in June 2021 for seven years. 
Council on Education for Public Health. (2021). Retrieved from ceph.org
Contact Dr. Wendelyn Inman if interested in a copy of the final self-study and/or final team report.  Her email address winman@tnstate.edu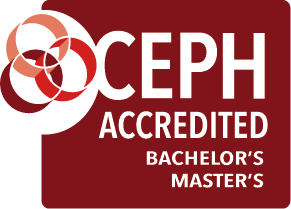 ---