Home >
> Public Health BS
Public Health BS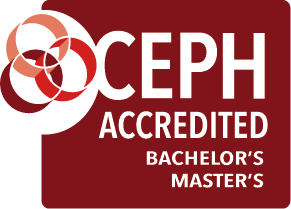 The official CEPH accreditation report and final self-study are available to the public upon request.  Please request a copy of the document by sending the request to Dr. Wendelyn Inman, Interim Public Health Program Director at winman@tnstate.edu.
The Health Science program was established in 2004 as a degree completion program for students who were interested in applying to graduate programs in Physical Therapy, Occupational Therapy, Speech Pathology, and Public Health. As of 2014, students developed more of an interest in the Public Health concentration.  In addition to the interest in the concentration, students have expressed an interest in a Bachelor's degree in Public Health, and Tennessee State University was approved to offer a Bachelor of Science Degree in Public Health (BSPH) in 2019.
What Can I Do With a Public Health Science Degree?
Students who earn the BSPH degree are qualified to work in a variety of settings such as:
Community Health Agencies
Business and Educational Organizations
Public Health Departments
Nursing Homes
Retirement Residences
Home Health Agencies
Schools
Hospitals
HMOs
Medical Group Practices
Insurance Companies
Alcohol/Drug Programs
According to the Bureau of Labor Statistics
The overall employment of health educators and community health workers is projected to grow 16 percent from 2016 to 2026, much faster than the average for all occupations.
Growth will be driven by efforts to improve health outcomes and to reduce healthcare costs by teaching people healthy behaviors and explaining how to use available healthcare services. 
Governments, healthcare providers, social services providers want to find ways to improve the quality of care and health outcomes while reducing costs.
This should increase the demand for health educators and community health workers.  
There is a shortage of trained public health professionals. 
With the pending retirements of baby boomers, the need has become even more critical. 
Please note that some agencies conduct a background check before employment and a felony conviction may affect a student's ability to be eligible for certain internships.
---
Public Health Brochure
Job Market and Earning Potential
Public Health Application Packet and Instructions
Scholarships & Resources for African Americans: https://www.edumed.org/financial-aid/african-american-student-scholarships-resources/