Home >
> Graduation Admission
Graduation Admission
MAJOR: ENGINEERING
DEGREE: Master of Engineering (M.E.), and Doctor of Philosophy (Ph.D)
CONCENTRATIONS: Civil Engineering, Environmental Engineering
The Department of Civil & Architectural Engineering offers work leading to the Master of Engineering (M.E.) degree with two concentrations: Civil Engineering and Environmental Engineering, and Doctor of Philosophy (Ph.D) degree
Admission Requirements for Master of Engineering:
For unconditional admission to the Master of Engineering degree program, the student must have a bachelor's degree in engineering or science from an accredited program and must have the necessary prerequisite courses. If the evaluation of a student's undergraduate degree program reveals prerequisite deficiencies, the student must eliminate them by satisfactorily completing each of the prerequisite courses prescribed before unconditional status is achieved. None of the courses used to eliminate undergraduate deficiencies may be used in the student's program of study for the Master of Engineering degree.
For admission with unconditional classification, in addition to the above, the student must possess a grade point average (GPA) of 3.00 on a 4.00 scale.
For admission with conditional classification, in addition to the above, the student must have a GPA between 2.75 and 2.99 or a GPA between 2.50 and 2.74 and a passing score of 70 on the Fundamental of Engineering (FE) examination.
All students applying for admission must submit to the Graduate School a completed Graduate Application form and two copies of transcripts from all colleges and universities previously attended.
Admission Requirements for Doctor of Philosophy (Ph.D):
For admission to the Ph.D. in ENCS program, the student must:

Have a Master of Science in an engineering discipline or computer science, a Master of Engineering, or a master's degree in a closely related field. Students with B.S. degrees with documented exceptional academic performance will also be considered.

Submit a certificate of proficiency in English with the required scores as noted in the current TSU Graduate Catalog (for students that have a B.S. and/or master's degree(s) from a foreign university).

Have a minimum cumulative grade point average (GPA) of 3.30 on a 4.0 scale for their master's degree to be eligible for unconditional admission to the Ph.D. program.

Have above average grades in all of the pre-requisite courses in related mathematics, engineering, and computer science courses:
a. Differential Equations
b. Engineering Design
c. Computer Programming
Application Deadlines
Fall-July 1

Spring-Nov 1

Summer-Apr 1
To apply for admission, submit the following: (send to address below and not to TSU) - Official Transcript sent to EngineeringCAS      EngineeringCAS Transcript Processing Center     P.O. Box 9121     Watertown, MA 02471
- M.S. and M.E. programs (Two Letters)
- Ph.D. program (Three Letters) - No GRE, GMAT, MAT, etc. required at this time. 
For International Applicants:
In addition to the required documents for the degree program, international students must submit:
A completed application for Admission to Graduate School and a non-refundable $35.00 application fee

Official transcripts and authorized school records with a course-by-course listing of courses and grades received; such transcripts must have been evaluated by a foreign educational credential agency, at the student's expense. Recommended agencies:

World Education Services: www.wes.org

Global Services Associates, Inc.: www.globaleval.org

Educational Credential Evaluators, Inc.: www.ece.org

A complete listing of acceptable agencies can be found on the NACES Website

Applicable test scores, such as GMAT, GRE, FE, MAT, etc.

Certificates of proficiency in English or a minimum score of:

TOEFL Scores: 525 (Paper Test), or 71 (Internet Based Test), or 6.0 (IELTS Score), or  95 (Duolingo score), or ELS Level 112 Certificate Completion

Copy of current, valid passport

Evidence of financial resources sufficient to provide tuition and fees for the academic year (minimum of $28,500 USD) and an affidavit of support

Certificate of Immunization verifying:

Measles, Mumps, and Rubella (MMR) - 2 doses

Varicella/Chicken Pox - 2 doses

All international students applying for admission who have a student visa shall submit a certificate from a licensed physician or the qualified medical authority verifying freedom from tuberculosis within thirty (30) days from the first day of classes. Failure to submit such certificate shall result in denial of further enrollment or admission. In the event that the student either has tuberculosis or has potential tuberculosis requiring medical treatment, continued enrollment will be contingent upon the determination by a licensed physician that further enrollment does not present a risk to others and upon the student's compliance with any prescribed medical treatment program.

After admission, copies of Visa, I-94, or Alien Registration card must be submitted to Mark Gunter, Director of International and Multicultural Affairs, before student may enroll

International students transferring from another school must complete and submit an International Student Transfer Form to their current school's international advisor before their I-20 record can be transferred
Test Codes for Tennessee State University
GMAT: 1803

GRE: 1803

MAT: 1753

TOEFL: 1803
Application Online through this link: http://go.tnstate.edu/inquiryform.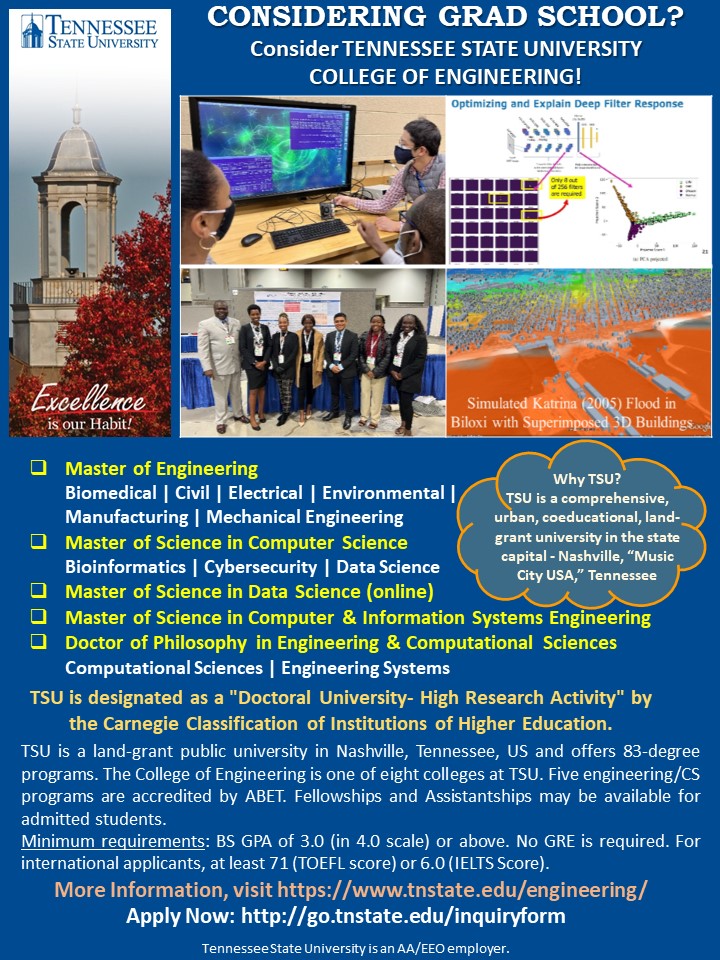 M.E. Degree Requirements
admission of all degree seeking students to candidacy for the degree after the completion of nine (9) graduate credit hours in residence at the University;

a minimum of thirty-three (33) graduate semester hours of course work, including at least six (6) credit hours of mathematics, three (3) credit hours of laboratory based courses, three (3) credit hours of special problems in engineering applications (design project), and six (6) credit hours of electives with the consent of the advisor.

Substitution within the core courses may be permitted with the consent of the advisor and the department head.
  Ph.D. Degree Requirements
The applicants must meet all degree requirements set by the Graduate School. In addition, the applicants must meet the following degree requirements to obtain the Ph.D. in Engineering Degree.

a minimum of seventy-two (72) graduate semester hours of course work, including at least twelve (12) credit hours of PhD Common Core Courses; nine (9) credit hours of Concentration Core Courses; twenty-seven (27) credit hours of Specialty Elective Courses with the consent of the advisor; and twenty-four (24) credit hours of Ph.D. Dissertation Hours. Course of Professional Development and Ethics and PhD Seminar are also required.

Substitution within the core courses may be permitted with the consent of the advisor and the department head.

Student must maintain a 3.0 GPA.

Student must pass a written Comprehensive Examination after six months of the Ph.D. study, but no later than after 2 years of study. Academic advisor and engineering faculty in a student's area of research determine the coursework needed for a student to prepare for the Comprehensive Examination. The Comprehensive Examination includes a written part and oral exam. During the Comprehensive Examination, students must demonstrate a sufficient depth and breadth of knowledge in their major to pursue independent and original research. However, the student must consult with their advisor and/or the exam coordinator in the major area of study for the schedule and specific procedures. A signature form, verifying that a student has passed the Comprehensive Examination, must be signed by the student's advisor and returned to the departmental office. After passing the Comprehensive Examination, the students will be admitted to Ph.D. Candidacy. If a student fails to pass the Comprehensive Examination, he/she will be allowed to take it again between one and six months after the first attempt. If the student fails twice on this exam, he/she will be dropped from the PhD program.

When at least 80% of coursework is completed and the Comprehensive Examination is successfully passed, the students are able to take an oral dissertation proposal defense administered by the advising committee and academic advisor. Students should take the oral dissertation proposal defense within 3 years of residence and at least two semesters before their final dissertation defense. This exam is based upon an oral exam and a written proposal and a detailed plan to carry out the Ph.D. dissertation. Students must consult with their advisors for specific details of the requirements for the oral dissertation proposal defense.

The defense of dissertation is the final exam of the Ph.D. program. An oral defense and a written Ph.D. dissertation demonstrating original and independent research and major contributions to an engineering field have to be approved by the advising committee before graduation. Recognizing the importance of high quality graduates, each graduate is expected to publish at least 2 papers based on the results of his/her research in high quality refereed engineering journals in the civil engineering and environmental engineering .
---