Architectural Engineering
Enjoy Planning, Designing, or Constructing Buildings?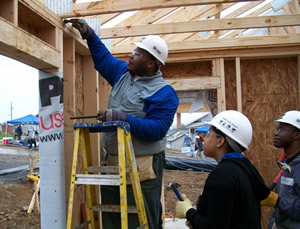 Architectural Engineering is the profession that offers an integrated, multi-disciplinary approach to the:
planning,
design,
construction, and
operation of buildings.
Architectural engineers have the primary responsibility for the design of:
structural,
heating,
cooling,
electrical,
lighting, and
fire protection systems
for all building types, but may also design systems for:
acoustical,
communications,
water and waste water,
vibration, and
site plan analysis and orientation.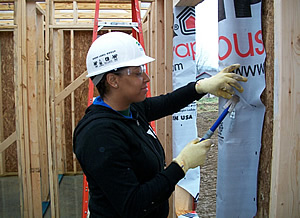 Architectural engineers use their knowledge of mathematics and science and analytical skills as professional engineers to design "green" buildings that encourage sustainability and energy efficiency. Architectural engineers partner with architects to design modern state-of-the-art buildings to serve the needs of society.
CAREERS IN ARCHITECTURAL ENGINEERING
Graduates of architectural engineering programs may chose a career path with consulting engineering design firms, construction companies, local, state, or federal governments, facilities management, or enroll in graduate programs in engineering or architecture.
The Bachelor of Science degree in Architectural Engineering is accredited by the Engineering Accreditation Commission of the Accreditation Board for Engineering and Technology [EAC/ABET]
---
 Undergraduate Program
Architectural Engineering deals with all engineering aspects of building performance, integrated with the building's architectural requirements. Architectural engineering students study all engineering aspects of building performance systems including structural systems design, heating ventilation and air conditioning design, electrical and power design, and construction and project management. Our four year curriculum also includes courses in architectural design intended to impart appreciation and basic understanding of aesthetic design and to give the student an understanding of architectural design and it relation to engineering. The design experience is culminated in a year-long capstone design course.
The Architectural Engineering program at Tennessee State University is an ABET- accredited Bachelor of Science in Architectural Engineering degree.
Most graduates work in the firms that do structural, HVAC, and electrical design. They may also work for smaller specialty firms that focus on any of the building systems design. Some graduates work as facilities managers or in the construction management area for large company. Some pursue graduate degree in Architecture or in other specialty branches of engineering. Graduates after several years in practice, are engaged in professional career in building industry.
Graduate Program
Currently Architectural Engineering Program does not offer a graduate program. Graduates from our Architectural Engineering Program may pursue graduate degrees in architectural engineering, architecture, or in other engineering fields from any accredited institutions.
For admission to any of the college of Engineering graduate programs, the prospective graduate student should apply through the TSU School of Graduate Studies.
FOR MORE INFORMATION
Degrees Offered
Frequently Asked Questions           
Program Mission and Objectives                  
For further information, please contact us!
---
webpage contact:
Architectural Engineering