About Us
"High Research Activity" Institution
About our Associate Vice-President, Dr. Frances Williams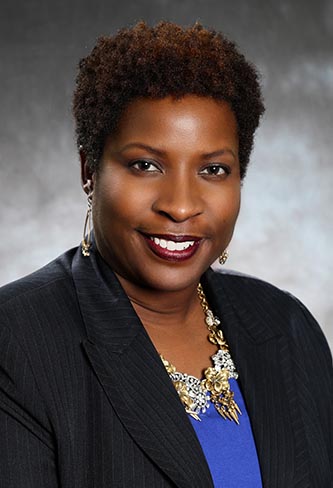 Dr. Frances Williams is the Associate Vice President for Research and Sponsored Programs and the Chief Research Officer at Tennessee State University (TSU).  She is a Professor of Electrical and Computer Engineering with extensive research in the areas of advanced materials and devices, microfabrication techniques, and nano-/micro-electromechanical systems (NEMS/MEMS) processing and devices. She has been awarded grants totaling more than $15M as a principal investigator (PI) or Co-PI.  Dr. Williams has also been awarded a patent (#7,784,346) for developing a micromachined sensor for monitoring electrochemical deposition.
In her role as AVP Dr. Williams is over the Research and Sponsored Programs Office, the Center of Excellence for Learning Sciences and the Center of Excellence for Information Systems and Engineering Management. She also serves as the Director for the Center for Micro-, Nano-, and Bio-technology Research and Director of the Advanced Materials Initiative under the TSU Interdisciplinary Graduate Engineering Research (TIGER) Institute. Prior to joining TSU in 2016, she was a faculty member and director for the Center for Materials Research at Norfolk State University.  She also was the Founding Director of Norfolk State University's Micro- and Nano-Technology Center Cleanroom.
For her contributions in teaching, scholarship, and service Dr. Williams has received various awards including the STEM Innovator Award at the 32nd BEYA STEM Global Competitiveness Conference in 2018 and the 2013 State Council of Higher Education for Virginia (SCHEV) Outstanding Faculty Award.  She was named an "Emerging Scholar" by the Diverse Issues in Higher Education magazine (2012) and was awarded Norfolk State University's top distinguished faculty award, the University Award of Excellence (2010).
Dr. Williams is a member of five professional and honorary societies.  In addition, she volunteers in her community where she participates in various programs that promote the STEM (science, technology, engineering, and math) fields to students from elementary to college age.  She received the B.S. and M.S. degrees in electrical engineering from North Carolina Agricultural & Technical (A&T) State University and the Ph.D. degree in electrical and computer engineering from Georgia Institute of Technology.
---
Mission Statement
---
Contact Us
---