Safety Enhancement Plan
Tennessee State University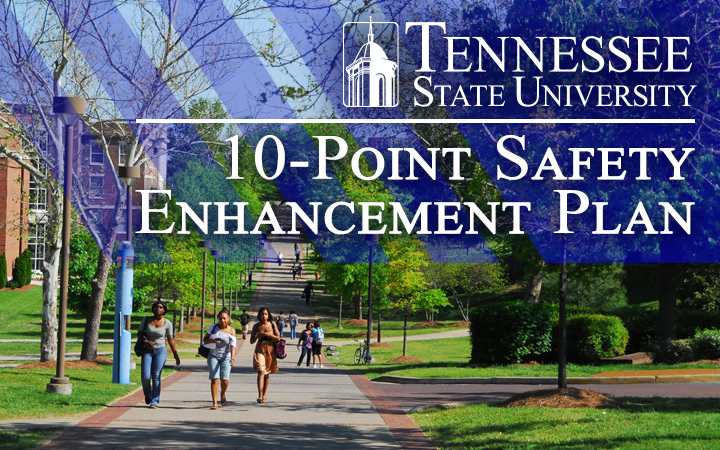 Increased visibility of the TSU police force
TSU continues its partnership with the Metro Nashville Police Department, which has already joined with TSU's Police Department in providing increased patrols on campus. TSU's Chief of Police, Greg Robinson, a former member of the Metro Nashville Police Department, continues to cultivate a strong working relationship with the Metro Nashville Police Department. Further, the university continues with its process of hiring more police and security officers to fully implement the increased activity, including the addition of a bicycle patrol unit dedicated to heavily populated areas not accessible by vehicles, such as lawns in and around academic buildings and residence halls. All bike officers have completed training and are certified through the International Police Mountain Bike Association.
Additionally, zones and perimeter concerns have proven extremely beneficial to reduction in crime. Checks in parking lots, lobbies, and low-visibility areas are conducted on a continual basis.
The opening of a new TSU Police satellite office in the Floyd-Payne Campus Center, near the courtyard area
This satellite office has been fully operational since November 1, 2015 and is centrally located in the heart of the campus. The satellite is staffed daily.
Strict enforcement of the TSU ID policy, requiring students, faculty, and staff to wear IDs at all times.
TSU's long-standing ID policy is strictly enforced and requires students, faculty, and staff to have their campus-issued ID at all times. IDs must be worn visibly and not contained in a pocket, book bag and/or handbag. Fines will be imposed for individuals not wearing IDs. (The first time there will be a warning or referral. The second time is a $25 fine, and the third time is a $50 fine). The same policy also applies to parking. Students and employees must show a campus-issued decal and ID to come on campus. Special IDs and parking passes will be issued to campus visitors.
The incorporation of a tip hotline, through our Red Flag System, that will allow individuals to report information anonymously. We also have a mobile TSU Safety App which can be downloaded to cellular phones
The Red Flag system is in place and readily available for anyone to use to report something anonymously.
We offer cash awards to students as a part of our See Something Say Something campaign.
This initiative continues to encourage students to report suspicious activity to the TSUPD. The university offers cash rewards to students with information leading to the successful location and arrest of someone wanted or known to be involved in criminal activity. Fliers are posted throughout the campus about this important safety program. The university accepts monetary donations to support this effort.
The initiation of a Student Safety Patrol staffed by volunteers from male student organizations—which include fraternities, service organizations, and other related campus groups—
to accompany individuals across campus.
The TSU Student Safety Patrol consists of uniformed volunteers who are strategically located across the campus to provide added patrol and assistance for students when requested. Recruitment and training is managed through the Division of Student Affairs.
More frequent room inspections in campus housing
Room checks are randomly conducted if there is reasonable cause to believe that a student is using a residence facility for purposes that are illegal, constitute a safety hazard, or would seriously interfere with campus discipline.
Enhanced surveillance on campus, including cameras and lighting will continue.
Increased access control on campus through proximity readers
We began this initiative with our classrooms and expanded the program to include the Floyd-Payne Campus Center. Other campus buildings will come online throughout the year.
The completion of Phase II of the fence project on TSU's campus
Phase I is complete. It is the existing fence with gates and access control from Kean Hall on 33rd to Hale Hall on Albion. Phase II of the fence project is near completion pending final city approval and will start from the existing chain link fence behind the Torrence Hall Engineering Building to the TSU steam plant area.
---
New Emergency Call Phones
New Emergency Call Phones are being installed. The first phase of this project will be to install 10 New Emergency Call Phones. These will replace the existing Blue Phones in high traffic areas. This project has started with wiring being installed.

Lighting
Campus lighting is being improved through multiple projects. One project is replacing aged exterior lighting fixtures with new LED fixtures. The new fixtures will increase the amount of lighting in the areas they are located. Secondly some of the existing light fixtures will be retrofitted to accommodate LED lights bulbs. These too will increase the amount of lighting in areas where located. Thirdly LED lighting will be installed in areas identified as deficient in the amount of lighting presently being illuminated.

Security Fencing
Fencing and bollards have been installed around the campus. This project is 95% completed. The area located on John L. Drive Boulevard where the new security booth is presently being designed. The area located at the corner of Tigerbelle and 37th Avenue located near the Queen Washington Building is scheduled to be gated with a turnaround for safety constructed. These are the only two area that have not been completed with the fence project.

Cameras
Cameras have been installed throughout the campus. All of the entrances to campus are now equipped with a camera view. All of the residence halls and apartments have a camera view. These projects do not cover all of the areas needing to be covered however the university has made tremendous strides in accomplishing much of the needed camera coverage to aid in the deterrent of negative behavior.
---