Home >
> RAD Self Defense

Self Defense
---
Rape Aggression Defense (R.A.D.) Program
Enroll now in the landmark self-defense program that is taught at colleges and universities in over 40 states and Canada. The Rape Aggression Defense System is comprised of easy to learn proven effective physical tactics that may enable you to survive the violent encounter that awaits 1 in 3 women. This dynamic, hands-on program was designed for the average woman, beginning with awareness, risk reduction, avoidance and overall prevention. Then, basic techniques are taught in an enjoyable format by certified instructors. At the end of the basic program, women are encouraged to use their new techniques in a practical, controlled simulation exercise. Don't miss this opportunity to develop your options of resistance if assaulted.
TSUPD is certified to teach both men and women. Currently TSUPD has six RAD certified staff members.
---
What is RAD?
Rape Aggression Defense Systems is NOT a martial arts program. R.A.D. is a program of realistic self-defense tactics and techniques for women. The R.A.D. System is a comprehensive, women only course, that begins with awareness, prevention, risk reduction, and risk avoidance; followed by hands on instruction in defensive concepts and techniques against various types of assault. It utilizes easy, effective, and proven self-defense tactics. R.A.D. is taught at various colleges, universities, and municipal law enforcement agencies as well as various other community organizations internationally.
What does R.A.D. Provide?
Reliable, professional training by nationally certified instructors
Practical self-defense options that specifically apply to gender physiology and mind set
A continuum of strategies to counteract assaults by strangers and acquaintances
Integrity and compassion for participants
Comprehensive R.A.D. System's Manual
A lifetime return guarantee
What is the cost?
We offer this class for free for university affiliates and $20 for non-affiliates.
Do I have to be a student?
You do NOT need to be a student, faculty, or staff to enroll.
What is the attendance policy?
The class offered meets for 3 days using 4 hours each day. Please make sure you are committed to attending all of the days before you register as we have limited spaces available and each day's attendance is required.
---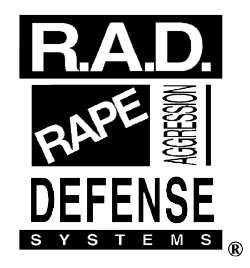 R.A.D. for Women 


  R.A.D. for Men