Jeff Adams
Trombone, Adjunct Faculty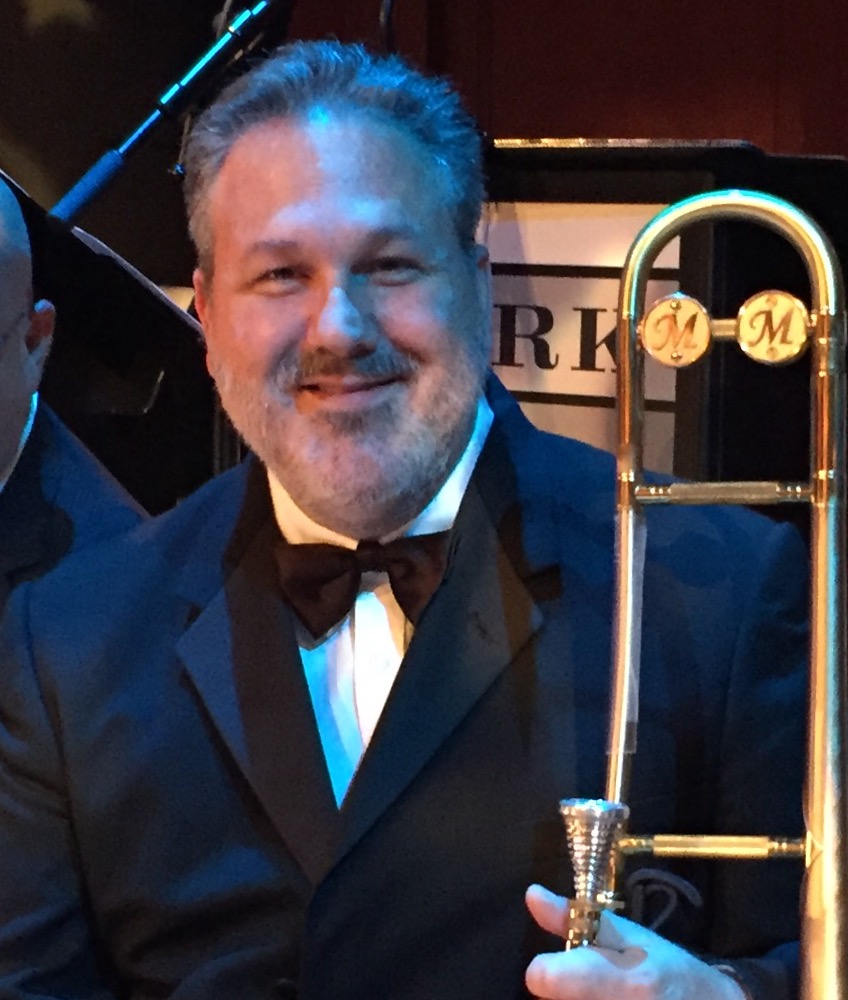 As of  the  2nd half of 2015, Jeff has concluded his career in the Jazz Ambassadors of the US Army, and has happily rejoined his family in Nashville .

Beginning work as a freelancer at the age of 15, Jeff quickly gained experience in many styles and became an in-demand commercial trombonist in Southern California. He credits his quick rise when he was young, to great parental support, a blessing from above and to excellent instructors such as Bob Waner, Jeff Tower (himself a student of Crisafulli in Chicago), Loren Marstellar, Bill Booth, Mike Hoffman (who has performed on all John Williams soundtracks since "Hook"), Don Ferrara, John Prince, Randy Campora, Milt Stevens, Tony Lada, Hal Crook, and the teaching staff at Berklee College of Music. Because of the excellent instruction he received from many of them early on, he won numerous awards at High School and College Jazz festivals, recognition in the November 1985 issue of Downbeat Magazine, and partial and full college scholarships. Most recently, he has received wonderful accolades in the trombone community for his Jazz and Educational CD's.

Since the late 80's Jeff has been in-demand trombonist in a variety of genres sharing the stage in the past with big name artists such as Lou Rawls, Tony Bennett, Kenny Rogers, Keely Smith, Frankie Lane, Frankie Valli, The Four Tops, Hank Levy, Sammy Nestico, Joshua Redman, Lew Soloff, Jon Faddis, Christian McBride, Bill Charlap, Phil Wilson, Phil Woods, Jimmy Smith, Slide Hampton, Ernie Andrews, Kevin Mahogany, Brandon Fields, Conte Candoli, Bobby Shew, Conrad Herwig, Dave Stryker, Byron Stripling, Rich Perry, Bill Watrous, Ashley Alexander, Hal Crook, Dick Shear, Ed Shaughnessy, Geri Allen, John Clayton, Justo Almario, George Bohannon, Charles McPherson, Steve Madaio, Greg Gisbert, Dick Oates, Eric Marienthal, and Les Brown. He also paid some dues working for Princess and Crystal cruise lines in the late '80s and early 90's and performed at the 1995 Montreaux Jazz Festival as a guest artist.

Jeff has been a pit orchestra member in numerous musicals including: Sound of Music, Camelot, My Fair Lady, Cats, Phantom of the Opera, Les Miserables', Ain't Misbehavin', Once Upon a Mattress, Joseph and the Technicolor Dreamcoat, Jesus Christ Superstar, Evita, Starlight Express, Annie, West Side Story, Fiddler on the Roof, Oklahoma, Wizard of Oz, Guys & Dolls, La Cage aux Folles, Grand Hotel, South Pacific, A Funny Thing Happened on the way to the Forum, Urinetown and Hello Dolly. He was also a member of the Redding symphony (semi-professional) from 1993-'97.

While a member of the Jazz Ambassadors Jeff performed with the DC-based Capitol Bones. He has also played with the Pops in Boston, NYC, Cincinnati, Pittsburgh, Baltimore, Long Beach, Ohio, Seattle, San Diego, Denver, Madison, Syracuse and National Symphonies, even performing at Carnegie Hall in January of 2001 & 2008; nearly all of which as a part of Maestro Marvin Hamlisch's pops-jazz program. Jeff has released three cd's during this time as well. The first being the non-profit "Jeff Adams 2000", which contains all the charts he was featured on with the Jazz Ambassadors during that touring year. The second being a comprehensive recording of Rochut Melodius Etudes Book One, which contains all 60 etudes spanning 2 hours and 20 minutes in a two-disc set now available exclusively online here, emusic, iTunes and cdfreedom.com. Finally, he harmonized and recorded, with rhythm section, the "Raph, Dance Band Reading and Interpretation" book by Fox Publishing, in which each exercise has an example track then a play-along track.  He also played for a number of years with the Washington Winds who record at Omega Studios in Rockville, MD. Through this affiliation he can be heard on many of the demo recordings financed by numerous music publishing companies to showcase their library each year for music educators nationwide.

Since relocating to Nashville in November of 2015, Jeff has been fortunate to work with some of the top Commercial Musicians in town...not only in the recording studio and as a member of his wife Cheryl Desere's band , but also gigging with the Nashville Jazz Orchestra, Tim Akers & the Smoking Section, Chris West's very funky Junkyard Horns, and the the prohibition era style jazz band the Willies, as well as a couple of musicals thrown in for good measure.

Jeff has a Bachelor's in Commercial Music and a Master's of Music in Music Education. He ran a H.S. Music Dept. and maintained a private studio prior to his high-profile time in the Army's top-touring jazz band. Some of his favorite educational assignments have been summer jazz camps and the frequent clinics he did through the Army's free clinic program while on tour with the Jazz Ambassadors.

Jeff's additional affiliations (some presently, some formerly) are the National Academy of Recording Arts and Sciences, American Federation of Musicians, International Association of Jazz Educators, and the International Trombone Association,
​
Jeff was a Yamaha Artist/Clinician from 1999 to early 2005.