Home >
> About the Director
Dr. Kimberly Smith
About the Director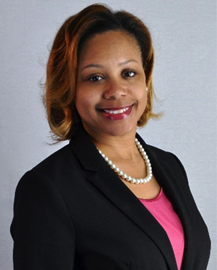 Dr. Kimberly Smith is the Director of the Center of Excellence for Learning Sciences (COELS) at Tennessee State University where she oversees and provides direction to over $15 million in federal and state funded programs.  Under her leadership, COELS builds capacities to strengthen communities through education:
by conducting and disseminating research,
offering direct services and supports to early childhood programs,
and by providing professional development to early childhood and social service professionals across the state of Tennessee.
Prior to her role as COELS Director, she served in various other leadership positions within the Center including program director for the multi-county Early Head Start programs and Early Head Start-Child Care Partnership program, statewide curriculum coordinator for the Tennessee Early Childhood Training Alliance, and child care specialist for Child Care Resource and Referral. 
Dr. Smith is also an adjunct Assistant Professor at Tennessee State University. Since 2010 she has taught several Early Childhood Education courses at Tennessee State University for the departments of Human Sciences and Teaching and Learning.  She has also served as adjunct faculty at Nashville State Community College for eight years where she taught multiple Child Development courses. 
Dr. Smith is a strong advocate for children and families and has continuously committed her time to support such initiatives. Dr. Smith was appointed by Tennessee Governor Bill Haslam to serve on the Star Quality Advisory Committee.  During her time on the committee, she provided expertise and advisement that assisted in creating and maintaining higher standards of quality for child care agencies across Tennessee.  Dr. Smith is a member of several professional organizations including the Beta Gamma Sigma Honor Society and the Million Dollar Research Club.
Dr. Smith is a graduate of Chicago State University and holds a Master of Education degree in Supervision and Administration, and a Master of Business Administration from Tennessee State University.  She also holds a Doctorate of Education degree in Learning Organizations and Strategic Change from Lipscomb University.