Home >
> Undergraduate Degree Programs
Undergraduate Curriculum

Bachelor of Science (B.S.E.E.)
The mission of the Department of Electrical and Computer Engineering, commensurate with the mission of the University and the College of Engineering, is to provide quality Electrical Engineering, Computer and Information Systems Engineering, and Biomedical Engineering education, pursue basic and applied research (inquiry) in selected and focused critical areas, and to engage in service to its constituents.
The program in electrical engineering systematically builds upon the knowledge acquired in basic sciences, mathematics, and engineering sciences to provide the students a broad base in various areas of electrical engineering. The department also offers a concentration in computer engineering under the B.S.E.E. degree. The program offers courses in electrical circuits, linear systems, computer programming, electromagnetic theory, control systems, energy conversion, power systems, electromagnetic theory, communication systems, digital logic design, software engineering, computer structures and microprocessors. The students may further specialize in one among the areas of control systems, communication systems, power systems, or computer engineering through a choice of technical electives.
Program Educational Objectives

The goal of the Department of Electrical and Computer Engineering at Tennessee State University is to offer a high quality, broad-based program in electrical engineering, complemented by basic and applied research and public service to prepare its graduates for starting positions in industry, government and/or pursue graduate study in related fields.
The Program Educational Objectives (PEO) of the Electrical Engineering (BSEE) program defines the characteristics of most of its graduates about 4 -6 years after graduation and are listed below:
Graduates will be engaged in multidisciplinary activities and achievements that demonstrate continuous learning, technology advancement, and/or professional development in electrical and computer engineering related industries and/or advanced degrees. 
Graduates will obtain recognition of their electrical engineering competency and leadership by career advancement (promotion), awards, education, and/or engagement in community and professional societies.
Student Outcomes:
The Student Outcomes are consistent with the Program Educational Objectives and the mission of the Electrical Engineering program. All graduates of the Electrical Engineering program are expected to have the following skills at the time of graduation.
 an ability to identify, formulate, and solve complex engineering problems by applying principles of engineering, science, and mathematics
an ability to apply engineering design to produce solutions that meet specified needs with consideration of public health, safety, and welfare, as well as global, cultural, social, environmental, and economic factors
an ability to communicate effectively with a range of audiences
 an ability to recognize ethical and professional responsibilities in engineering situations and make informed judgments, which must consider the impact of engineering solutions in global, economic, environmental, and societal contexts
an ability to function effectively on a team whose members together provide leadership, create a collaborative and inclusive environment, establish goals, plan tasks, and meet objectives
an ability to develop and conduct appropriate experimentation, analyze and interpret data, and use engineering judgment to draw conclusions
an ability to acquire and apply new knowledge as needed, using appropriate learning strategies.
The B.S. degree program in Electrical Engineering is accredited by the Engineering Accreditation Commission of the Accreditation Board for Engineering and Technology (EAC of ABET).  http://www.abet.org

Enrollment and Degrees Awarded
Department of Electrical and Computer Engineering


Suggested Four Years Plan
Bachelor of Science in Electrical Engineering (B.S.E.E.)
FRESHMAN YEAR


  SOPHOMORE  YEAR 

JUNIOR YEAR

 
SENIOR YEAR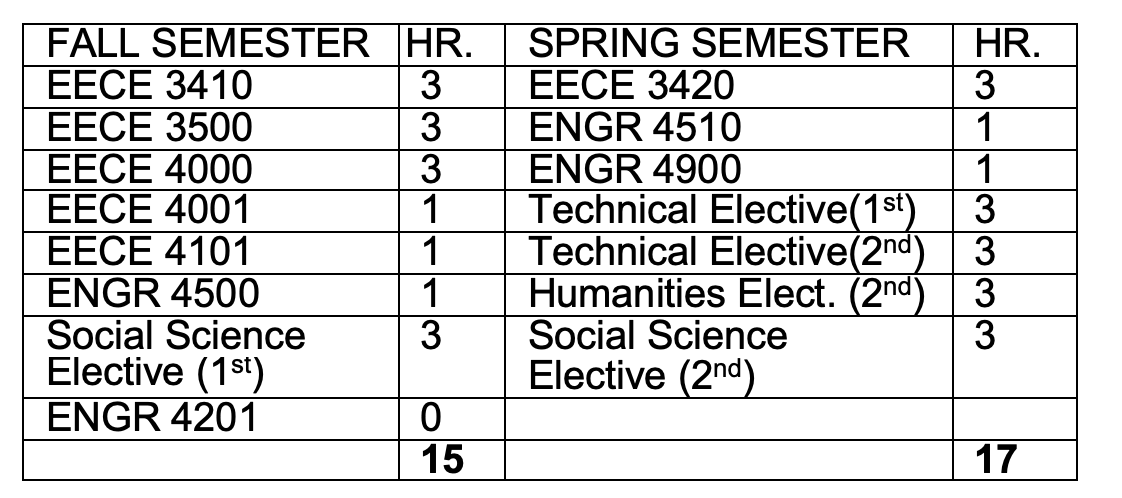 Bachelor of Science in Electrical Engineering (B.S.E.E)
(with Concentration in Computer Engineering)
FRESHMAN YEAR

SOPHOMORE YEAR

JUNIOR YEAR

SENIOR YEAR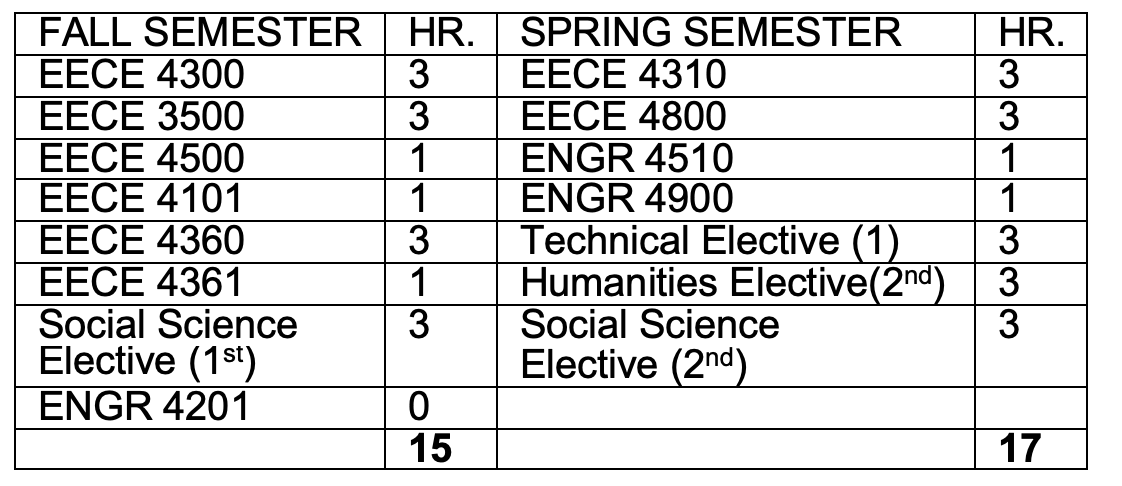 All students are required to meet the ENGINEERING ENTRANCE EXAMINATION (EEE) requirement prior to enrolling in upper level (3000-4000) engineering courses.

Technical and design electives must be chosen from the following courses with approval from advisor. (EECE 3330, 3420, 3430, 4020, 4100, 4150, 4350, 4410, 4600).

Social Science and Humanities Electives must be chosen from an approved list of general education courses.

Students must take ENGR 4201 EIT/FE Review Laboratory course and pass it with satisfactory grade. They are encouraged to take the Fundamentals of Engineering Examination with the consent of the department chair.

Students must provide proof of practicum experience of a minimum of continuous eight (8) weeks.

Student must also take the ETS

(Senior Exit Exam)

examination in the Final year.
---
webpage contact: