Dr. Manar Samad
Assistant Professor of Computer Science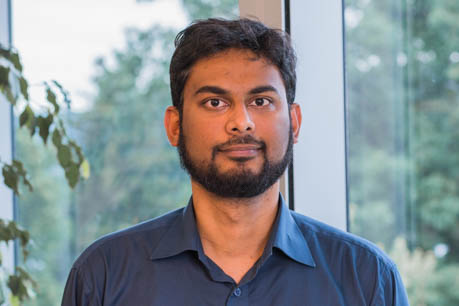 Department of Computer Science 
Tennessee State University 
3500 John A Merritt Blvd
Nashville, TN 37209
Office : McCord Hall 005E (Main Campus)
Email : msamad[at]tnstate[dot]edu
Phone : (615) 963-5877
Homepage : https://sites.google.com/view/cidalab/home
Areas of Interest 
Machine learning, Deep neural networks, Computer vision, Biomedical engineering, Human-computer interactions, Affective computing, Health informatics.
Education 
Post Doc Fellow, Geisinger Medical Center, Danville, PA, USA.
Ph.D., Computer Engineering, Old Dominion University, Norfolk, VA, USA.
M.Sc., Computer Engineering, University of Calgary, Calgary, AB, Canada.
B.Sc., Electronics Engineering, Bangladesh University of Engineering and Tech., Bangladesh.
Biographical Sketch 
Dr. Samad received his Ph.D. degree from the computer vision lab at Old Dominion University. He was the recipient of 2016 outstanding Ph.D. researcher award in the Electrical and Computer Engineering department at Old Dominion University. Dr. Samad received his master's degree from the University of Calgary, Alberta, Canada with a concentration in human-computer interactions and bachelor's with a major in digital communication from Bangladesh University of Engineering and Technology. He worked as a post-doctoral research fellow at Geisinger medical center in the area of health informatics and clinical decision optimization using electronic health records and machine learning. Dr. Samad is a multidisciplinary computational scientist with experience in research collaboration with medical disciplines including neurosurgery, orthopedics, pediatrics, psychology, radiology, and cardiology. His research primarily aims to leverage human-centric data and images to design better user interface, develop novel computational framework for biometric research, understand and classify human behavioral and disease patterns from multimodal data, and improve risk stratification in clinical practice.
Teaching Interests 
Machine learning, Computer vision, Discrete mathematics, Programming language, Computer graphics, Digital logic design, Digital and wireless communication, Algorithms, Data structures.
Grants
Samad, M. (PI) ($421,700). Optimizing the Utility of Large Electronic Health Records Data in Data-Driven Health Research - National Library of Medicine/National Institute of Health (2020-2023).
Selected Publications
Samad MD,

 

Sen S. A probabilistic approach to identifying run scoring advantage in the order of playing cricket. International Journal of Sports Science & Coaching. 2021;16(4):1011-1020. (Impact Factor: 2.15)
M. Alam,

 

M. Samad,

 

L. Vidyaratne, A. Glandon, & K. Iftekharuddin, Survey on Deep Neural Networks in Speech and Vision Systems. Neurocomputing, Vol. 417, page 302-321, 2020 (Impact Factor: 5.71)
M. Baqui,

 

M. Samad,

 

Rainald Lohner, "A Novel Framework for Automated Monitoring and Analysis of High Density Pedestrian Flow" J. of Intelligent Transportation Systems: Technology, Planning, and Operations, Vol. 24, No 6, 2020 (Impact Factor: 4.23)
Reza, S.

 

M. S.,

 

Samad, M. D.,

 

Shboul, Z. A., Jones, K. A., & Iftekharuddin, K. M. (2019). Glioma grading using structural magnetic resonance imaging and molecular data.

 

Journal of Medical Imaging,

 

6(02). (Impact Factor: 3.4)
Samad, M. D.,

 

Wehner, G. J., Arbabshirani, M. R., Jing, L., Powell, A. J., Geva, T., … Fornwalt, B. K. (2018). Predicting deterioration of ventricular function in patients with repaired tetralogy of Fallot using machine learning. European Heart Journal Cardiovascular Imaging, 19(7), 730–738. (Impact Factor: 6.87)
Samad, M. D.,

 

Ulloa, A., Wehner, G. J., Jing, L., Hartzel, D., Good, C. W., … Fornwalt, B. K. (2018). Predicting Survival From Large Echocardiography and Electronic Health Record Datasets. JACC: Cardiovascular Imaging, 12(4), 681–689. (Impact Factor: 14.2)
M. D. Samad, N. Diawara, J. Bobzien, J. Harrington, and K. Iftekharuddin, "A Feasibility study of autism behavioral markers in spontaneous facial, visual, and hand movement response data, IEEE Trans on Neural Syst. and Rehabilitation Engineering, 2017, vol. 26, no. 2, 2018. (Impact Factor: 3.80).