Home >
> Frequently Asked Questions
Frequently Asked Questions
Air Force ROTC Q&A
What is AFROTC?
The Air Force Reserve Officer Training Corps (AFROTC) produces leaders for the Air Force and Space Force. It is an educational program that gives men and women the opportunity to become Air Force officers while completing their degrees. Cadets receive military training while going to college. The program lasts three to four years. Any student with more than three years remaining may be eligible for ROTC.
ROTC courses are considered electives for which a student receives academic credit. Air Force ROTC's program is structured to foster the work ethic and principles that will help students not only succeed in school but also prepare them for life as exceptional citizens and members of the U.S. Air Force.
As a freshman cadet, you take a 1-hour class each week to learn basic Air Force knowledge. As a sophomore, you take a 1-hour class on air power and team building skills. There is no commitment for the first two years unless you are on scholarship. The academic courses, along with the weekly Leadership Laboratory, make up the curriculum.
Between sophomore and junior year, cadets attend a two-week Field Training camp (boot camp). Physical conditioning, an aircraft orientation flight, and weapons practice are some of the activities in which you will be exposed. Cadets who are still serious about becoming an Air Force officer after Field Training begin the Professional Officer Course (POC) in their junior year. This 3-hour course, taken each semester, offers advanced training in leadership, management, and communication skills. After a year in the POC, cadets find out what their jobs will be in the Air Force. Entering the POC obligates you to serve on active duty for four years. Upon graduation, cadets receive their commissions as second lieutenants and begin their careers.
How long is my commitment to the Air Force?
You incur a commitment once you begin your junior year or activate a scholarship. This is called "contracting." Upon graduation, you will be commissioned as a second lieutenant on active duty Air Force or Space Force. Your commitment is four years, whether you are on scholarship or not. Pilots, navigators, doctors, and lawyers have an extended commitment. Pilots serve a minimum of ten years, while combat systems officers, remotely piloted aircraft officers, and air battle managers serve a six-year commitment. Doctors and lawyers serve the equivalent to their years of education in their field.
How do I apply for a scholarship? 
If you are in high school, you can apply for the High School Scholarship Program (HSSP) at the following link before December of your Senior year:  afrotc.com/scholarships.
If you are in college, we automatically consider all of our enrolled cadets for a merit-based scholarship during the Fall and Spring semesters of their Freshman and Sophomore years. This gives us a chance to evaluate the leadership potential of each cadet and also lets each cadet prove their academic abilities. Things we consider for in-college scholarships include: GPA, college major, standardized test scores, commander's ranking, and military fitness.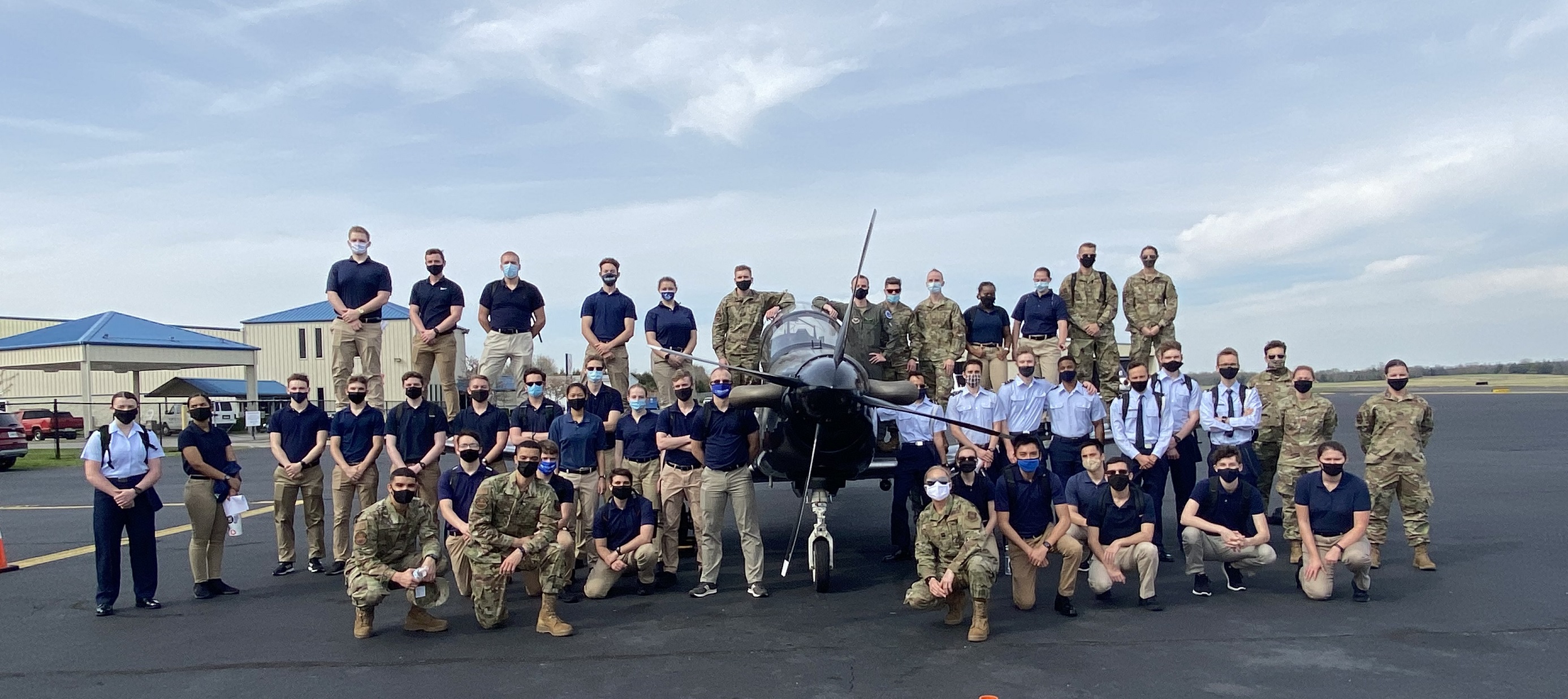 How much time with AFROTC take?
AFROTC is an academic elective and, time-wise, is not significantly different than any other elective. The Freshman and Sophomore level classes meet for 1 hour per week, while the Junior and Senior classes meet for 2.5 hours per week. In addition, all cadets attend a 2-hour leadership lab and two 1-hour physical training sessions (either morning or afternoon). 
I'm about to graduate college or I'm already working on a graduate degree.  Can I still join AFROTC?
You must be able to participate in AFROTC for three years and remain a full-time student. If you are nearing the end of your Bachelor's degree, you have the option to start work on your masters or other advanced academics during your last year in the program. You should ask the cadre to review your transcripts and let you know which options are best for you.
What if I have a class that conflicts with AFROTC?
Make every effort to re-arrange your schedule. If you are unable to adjust your schedule, contact the staff to find out what your options are. Conflicts will be handled on a case-by-case basis.
How do Air Force ROTC graduates compare to Air Force Academy and officer training school graduates?
There's no difference. Each program is slightly different, but all three programs produce one thing: highly-qualified officers. Once on active duty, the single-most important factor to being promoted is your performance on the job.
Do I have to go through basic training (boot camp)?
AFROTC's version of boot camp is the two-week Field Training program. This is normally taken during the summer after your sophomore year. The Air Force covers all necessary expenses. Cadets are sent to Maxwell Air Force Base in Montgomery, Alabama, to do their training. This is an intensive training period that gives cadets a firsthand look at Air Force life. Cadets from all over the country attend to gain hands-on experience in leadership, management, and problem solving. Cadets also receive survival training, aircraft indoctrination, weapons familiarization, and physical fitness training.
Does everyone who takes AFROTC become a pilot?
No. Not everyone in the Air Force is a pilot. There are around 120 other career fields to choose from. Visit the Air Force Personnel Center's Life and Career site for more information.