Home >
> Student Profiles | Parris Malone
Parris Malone
Class of 2014 | College of Liberal Arts | History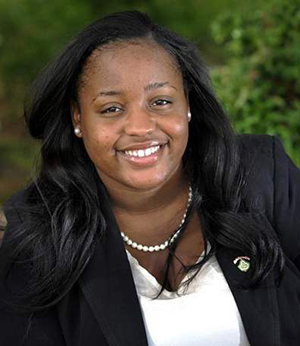 Parris Malone always wanted to be a teacher from as far back as she could remember. From the moment she stepped into her first-grade classroom until she finished high school, she knew that a career in education was what she wanted to pursue. Her ultimate goal is to eventually become a university professor and teach history.
But before she gets there, the senior from Memphis, Tenn., also wants to serve in a role that will not only help aspiring teachers attending Tennessee State University, but also students statewide.
Starting July 1, she began serving as President for the Student Tennessee Education Association, the largest professional organization in the state that advocates for educators, students preparing to become educators, and students in the public school system.
"I'm very excited to have been elected into this role," said Malone. "This is going to give me the opportunity to be involved and advocate for students going through the university system as they prepare to become teachers."
Malone, a History major seeking a teaching certificate, has been part of TSU chapter of TEA since she first started classes at the University. During her first three years, she has served as chapter historian, vice president, and this year as chapter president.
When the spring elections rolled around earlier this year, she decided to seek the state president position because, "if you are going to be involved in an organization, you might as well go for the top spot," she said.
But while she modestly does not see her election as a big deal and just something she was supposed to do, others around campus think just the opposite.
One of the advisors to the Student TEA chapter at the University, Debra Jackson, sees her new role as a way to lead by example and engage more college students.
"We are all ecstatic about Parris and her current position as president of the Student TEA," said Jackson, Director of the curriculum laboratory in the College of Education. "She has shown herself to be a hardworking, lead-by example president on the local level, and I expect no less as leader for the student membership across Tennessee. I look forward to what I know will be an exceptional year in the first steps in her future as the noted leader and the educator she is destined to become."
Dr. Nicole Kendall, Interim Department Chair in the Department of Learning and Teaching, was in total agreement, saying that Malone has the poise and presence needed to serve in a pre-professional organization. She was impressed with Malone's desire to advocate for education rights and student issues, and thinks she is a remarkable student leader.
"In her pursuit to serve as STEA state president, other chapters were impressed with the ideas that she discussed in her campaign, challenging those in attendance to 'give to students more than just average learning," said Kendall.  "As she prepares for her tenure as state president, she continues to look for ways to engage college students so they see their education as more than just taking care of someone's kids. I know her hopes are to make a difference in herself, by making STEA a better organization."
To prepare for her new role, Malone said she tried to take in as much information about the organization as possible, as well as talking to other student members.
"I will be the go to person for each student member when they have any questions, concerns, or simply want to talk," answered Malone. "I want to make sure that I'm on top of everything I need to know so that I can be of assistance to them when they need me."
So what is her first order of business? Making sure, she said, all education students to realize the importance of being a member of their pre-professional organization.
"The Student Tennessee Education Association not only gives vital information and professional for each member, but they also have great member benefits that many students don't take advantage of," Malone.  "I want to stress the importance of joining and remaining a member after you leave your prospective university.
---
webpage contact:
PR