Leah Symonette
Class of 2017 | College of Agriculture, Human and Natural Sciences | Agricultural Communications major | Communications and Biology minor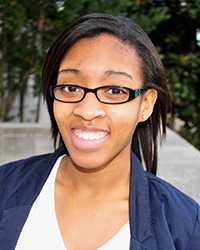 Hailing from Mount Juliet, Tenn., just a few miles away from the Tennessee State University campus, Leah decided to attend TSU because she had family members that attended and she wanted to same experience. She selected her major because, she said, "having a deep love for Agriculture and a passion for communications, she was able to combine the two areas."
"There are many great things about TSU and it is hard to pick the best thing about the University," Leah said. "I think it would be the student involvement. Once you get involved in an organization you get the chance to make lifelong friends."
Leah is already on her way to academic success. Recently she was one of three undergraduates who brought home cash prizes for their "exceptional" performance at the inaugural TSU Farm Bureau Collegiate Discussion Meet. As a freshman, Leah took the first-place prize of $700 and will go on to compete in the state contest to be held at the Tennessee Farm Bureau's Young Farmers and Ranchers Conference in Columbia, Tenn., in July.
"The College of Agriculture, Human and Natural Sciences has changed my life," added Leah. "The College has given me numerous opportunities, including being able to network and recruit future TSU Tigers."
Following graduation, Leah hopes to have a career in the field of Agricultural Communications then go to medical school for Pediatric Nephrology.
---
webpage contact:
pr