Ryan Gammon
Class of 2015 | College of Liberal Arts | Criminal Justice major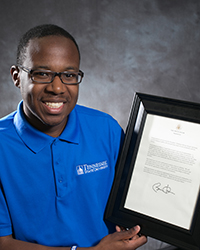 When Ryan Gammon arrived on campus he took the University's motto of "Think, Work, Serve" seriously. The junior from Memphis, Tenn., has been taking on volunteer projects that range from picking up trash around campus to larger projects in conjunction with the Center for Service Learning and Civic Engagement. Some of the volunteer projects he has been involved in include the March of Dimes Walkathon, and the MLK Service Day projects.
But the two biggest and what he is most proud of are working with The Little Pantry that Could, a small food pantry associated with the West Nashville United Methodist Church, and Adopt a Stream, a program initiated by Ryan and the Phi Beta Sigma fraternity, to keep a section of the Phillips Branch of the Cumberland River clean.
"I just think it is important to give back," added Gammon. "My ultimate goal it to leave TSU with a legacy of giving to this community and to make it a better place."
Ryan was recently rewarded for his hard work when he received a letter signed by Barack Obama congratulating him on his President's Volunteer Service Award along with an award citation.
According to the citation, the president thanked Gammon for his devotion to service and for doing all he can to shape a better tomorrow for the nation.
"I was just amazed that someone here in Nashville recognized all my efforts and nominated me for the award," said Ryan. "To be recognized by the President is quite an honor."
---
webpage contact:
pr