Derek Platt
Class of 2015 | College of Agriculture, Human and Natural Sciences | Cell and Molecular Biology major & Chemistry minor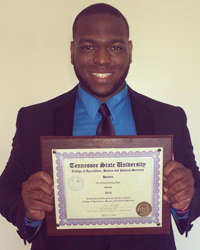 Derek originally came to Tennessee State University because of the athletic program. He entered as a football player and played his freshman year. Since his focus at the time was his athletic endeavors, he came to TSU to play football since the student-athlete graduation rate was 88 percent.
The Luray, Tenn., native is now focusing on his studies and decided to major in biology during his senior year of high school after completing AP Biology and falling in love with the subject. After graduation Derek plans on going into the Medical Scientist Training Program where he can combine his passions of research, medicine and helping others.
"I will earn my Ph.D. in the areas of infectious diseases, microbiology and immunology to study host-pathogen interactions and pathogenesis at the cellular and molecular levels," said Derek. "In conjunction, I will earn my M.D., complete a residency in internal medicine and become an infectious disease specialist, therefore providing me access to the clinical realm while I conduct research. My career goals are to run a translational biomedical research laboratory and treat patients."
Derek was recently awarded the Outstanding Undergraduate Student from the College of Agriculture, Human and Natural Sciences. He credits the faculty for their hard work, professionalism and caring.
"The CAHNS has immensely changed my life. I do not know where I would be if it were not for the incredible faculty members who have guided and nurtured me."
---
webpage contact: