Masters in Public Administration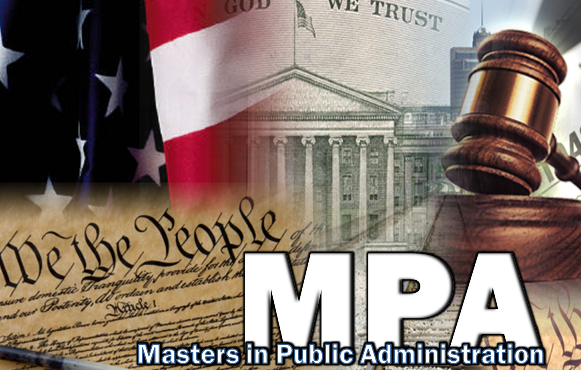 The MPA is the key professional degree for individuals working in the fast-growing public and nonprofit sectors, and our graduates succeed in obtaining work in those areas (Where do our graduates work?). The College of Public Service MPA is the only NASPAA-accredited MPA program in Middle Tennessee (read our mission).  Located in the state capital and a vibrant city, we can offer opportunities to interact with state and local public policymakers, administrators and nonprofit leaders during your studies.  The MPA can also be combined with a graduate certificate to emphasize Healthcare Administration and Planning or Nonprofit Management, increasing relevance for either of these dynamic fields. Students who are pre-service (having less than one year professional-level experience in a public, nonprofit or healthcare administration setting as evaluated by program advisor) complete a 300-hour internship, gaining real-world experience in their desired sector (see a list of recent host organizations).
Qualifying unconditionally admitted students can apply for a graduate assistantship, subject to funds availability - contact us to learn more.
Courses are offered in a variety of delivery approaches (evening, hybrid, weekend) which help meet our students' needs as working adults.  You can start the MPA program in spring, summer or fall. If you are interested in nonprofit or healthcare administration in particular, you can elect to pursue both the MPA and our graduate certificate to enhance your skills.
Always seek advising before registration to make sound course choices (Contact your advisor).  In particular, students who want to pursue a certificate along with the MPA should seek advising before choosing any electives in the MPA or certificate to minimize chances of having to take an extra course while satisfying each set of requirements.
---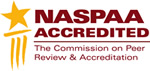 Is this the program for me?
Key guiding documents

How do I apply?
Are graduate assistantships or other funding support available?  Unconditionally admitted students may apply for MPA graduate assistantships, subject to available openings and funds. A limited number of these graduate assistantships involving a work commitment may be available for qualifying MPA students; this is a selective process and only individuals who have been unconditionally admitted to the MPA or current students who have achieved unconditional status may apply. Please note that we cannot guarantee that graduate assistantships will be available in subsequent years.
What class should I take?  Speak to your advisor before making course choices to ensure a smooth path through the program.

Are graduate assistantships or other funding support available? 
What's my plan for graduating?  You should consult with your advisor to complete a program of study as soon as you have 9 credits (3 courses) in the program.  Together you will map out a plan for completing program requirements.

How do I complete the internship requirement?  Does my professional experience count?  MPA students have a six-credit internship requirement.  Those students with a year or more professional-level experience in the public, nonprofit, or healthcare sectors may apply for the internship exemption subject to advisor and department approval. 
Do I need to submit a writing portfolio to meet graduation requirements?  All students who started taking MPA courses in or after Fall 2008 must submit the writing portfolio for evaluation.  To make this process easier, make sure you save your papers as you take your MPA coursework. 

When can I sit for the MPA comprehensive exam?  Are there any materials to help me get ready?  You can request to take the MPA comprehensive exam when you have at least 30 credits complete in the program and you have completed (or are completing that semester) your core courses.  You must have a 3.0 GPA to sit for the exam. Sample questions are available to help you prepare.  The comp covers core courses, not electives.

What must I do to notify the University ahead of time that I'm ready to graduate?  If you are ready to graduate, you must apply online to notify the Graduate School that you are planning to graduate in the upcoming semester.  Watch the deadlines at the links below carefully for this application and also for the Grad Finale, when you can get your cap and gown.

---
webpage contact:
Public Administration