College of Public Service
We Educate Leaders and Scholars Who Serve
Our mission is to educate, socialize and serve students and employers of nonprofit, healthcare and urban organizations by: [think] providing educational programs that build skills in knowledge of social work, urban affairs, public administration, and leadership; [work] conducting scholarly and applied research activities supportive of these educational purposes; and [serve] consulting and applying research and knowledge of social programs. 
---
Michael Harris, Ph.D.
Dean and Professor, College of Public Service
615-963-7201
Email me
Cara Robinson, Ph.D.
Interim Department Chair and Associate Professor, Department of Social Work and Urban Studies
BSSW Social Work; Child Welfare Certification; MSW MTC; BS Urban Studies; minor Nonprofit Management and Leadership
615-963-7243
Email me
Rodney Stanley, Ph.D.
Department Chair and Professor, Public Administration
MPA; PhD Public Policy and Administration; MPS; Graduate Certificates in Nonprofit Management; Healthcare Planning and Administration; Public Policy; and Executive Leadership
615-963-7241
Email me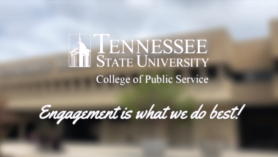 Take a few minutes and learn about how the College of Public Service was engaged during the Fall 2018 semester, and get a peek at the exciting activities we have planned for the Spring 2019 semester.
If you'd like to see more of the videos developed by the College of Public Service, we encourage you to visit our YouTube Channel and subscribe (click the Play button below). We'll be developing many videos during the year, which serve to showcase the great work being accomplished by our students, alumni, faculty, staff, and community partners.