College of Public Service
We Educate Leaders and Scholars Who Serve
Our mission is to educate, socialize and serve students and employers of nonprofit, healthcare and urban organizations by: [think] providing educational programs that build skills in knowledge of social work, urban affairs, public administration, and leadership; [work] conducting scholarly and applied research activities supportive of these educational purposes; and [serve] consulting and applying research and knowledge of social programs. 
---
---
Contact Us
Michael Harris, Ph.D.
Dean and Professor, College of Public Service
615-963-7201
Email me
Cara Robinson, Ph.D.
Interim Department Chair and Associate Professor, Department of Social Work and Urban Studies
BSSW Social Work; Child Welfare Certification; MSW MTC; BS Urban Studies; minor Nonprofit Management and Leadership
615-963-7243
Email me
Rodney Stanley, Ph.D.
Department Chair and Professor, Public Administration
MPA; PhD Public Policy and Administration; MPS; Graduate Certificates in Nonprofit Management; Healthcare Planning and Administration; Public Policy; and Executive Leadership
615-963-7241
Email me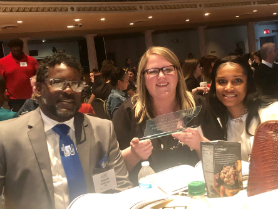 Congratulations to our amazing BSSW students who won the National Association of Social Workers (NASW) poster policy competition during the 2019 Social Work Day on the Hill! Amanda Smith, Kenneth Patterson, and Nikki Patterson worked together with Dr. Cynthia George and Professor Delores Butler to conduct powerful research that was behind their award winning poster – Tennessee: Unlocking Potential Behind Bars. We also congratulate and celebrate the MSW students who presented a policy poster – Kayla Simmons and John Page. These students received a standing ovation after their presentation, and were approached by faculty and students who recognized the high quality of their poster and presentation. Please visit the BSSW and MSW program pages to learn more about our world class degree programs.