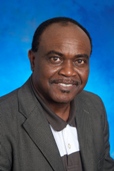 Sam Dennis
Research Associate Professor
Department of Agricultural and Environmental Sciences
College of Agricultural, Human and Natural Sciences

Contact Information:
Office Location: 207 CARP Bld.
Telephone: 615-963-5822
FAX: 615-963-5888
Email: sdennis@tnstate.edu
Research and Extension Areas: (Soils & Water Quality)
Dr. Dennis current Research and Extension work spans water resources and environmental soils. His research and extension work pertains to surface water monitoring for nutrient contaminants and sediments at the watershed scale. He has been involved in coordinating regional technology transfer conferences and multi-state training programs that have educated and increased the capacities of water resource management professionals across the region and nation. He is also involved in multi-state program teams that target critical issues in nutrient management, irrigation management, animal waste management and runoff management in watersheds across the south.
Selected Publications
Antonious, G. S. O Dennis and Snyder 2010. Heavy metals uptake in plant parts of sweet potato grown in soil fertilized with municipal sludge. In Press J. Environ Sci. Health.
Antonious, G. F, Snyder, and S. O Dennis 2009. Heavy metals in summer squash fruits grown in soil amended with municipal sewage sludge. J. Environ Sci. Health Vol: 45: 167-173.
Dennis, S. O., D. Eskandarnia and A. Clardy. 2009. Know your creek: A look at the water quality of two creeks at the Collins River sub-watershed. In Proceedings Southern Nursery Association Research Conference Vol. 54: 43-47
Oliver, J B, M. .E Reding, S. O. Dennis, J. J. Moyseenko, N N. Youssef, M G. Klein, A A. Callcott, S.S. James, L R. Mcanally and B L. Bishop. 2008. Drench Treatments for Management of Larval Japanese Beetle (Coleoptera: carabaeidae) in Field- Grown Balled and Burlapped Nursery Plants. Jour. of Economic Entomology. Vol :101(4): 1158-1166.
Dennis, S. O. T. Tsegaye, R. E. Harrison, S. A. Aburime. 2007. Transport behavior of entomopathogenic nematodes, Steinernema carpocapsae in nursery field soils. Jour. of food, Agriculture & Environment. Vol: 5. (3&4): 454-459.
Dennis, S. O., T. Tsegaye, R. E. Harrison, S. A. Aburime. 2007. The fate of entomopathogenic nematodes in nursery soils: Implications on water quality. J of Environmental Monitoring and Restoration. Vol. 3:237-252.
Tsegaye T, .A Johnson, W. Mersie, S. O. Dennis, K. Golson. 2007. Transport of atrazine through soil columns with or without switch grass roots. Jour. of food, Agriculture & Environment. Vol 5: 345-350.
Teaching
AGSC 4230 – Soil/Water Conservation
Education
Ph.D. Plant & Soil Science. Alabama A&M University
Emphasis: Soil Physics/Environmental Soil Science
MS. Agricultural Sciences. Tennessee State University
BS. Plant & Soil Science. Middle Tennessee State University
Minor: Mathematics.
Date joined staff: 2005
---
webpage contact:
Ag & Consumer Sci