Explore. Create. Learn.
 Welcome to Your Future
Growing plants for fuel.
Helping children learn.
Making healthier foods.
Learning how cells develop and function.
Cleaning our environment.
Creating new medicines.
Keeping families together.

These are just some of the exciting careers you can pursue with a degree from the College of Agriculture, Human and Natural Sciences.
Allow us to open doors for you to exciting opportunities in the expanding realm of the life sciences and we will provide you with the knowledge, skills and training needed to excel in the career field of your choice.  Join our diverse student body to begin your future today.
Learn about the many
and varied
Degree Programs
in Agriculture, and Family & Consumer Sciences.
What is Special About Our College
LOW FACULTY-TO-STUDENT RATIO
The College's low faculty-to-student ratio assures you that you will receive individualized attention from dedicated faculty who are experts in their areas of specialization.  Career opportunities for graduates are excellent.
NETWORK OF RESEARCH FACILITIES
The uniqueness of our urban location coupled with our network of research facilities provides you with unique and marketable hands-on experience in research projects and industry internships.

Best of all, you can get your education for little or no out-of-pocket expense!  We have made financial assistance available through work-aid to undergraduate students receiving the Hope Scholarship to cover all tuition and on-campus living expenses. 
Graduate Assistantships are available to qualified graduate students who show promise for excellence in graduate work.
Find out about admission to our programs, or email or call us (615) 963-5438 to find out more!
---
---
Explore the College of Agriculture Human and Natural Sciences
on Facebook, Instagram, Pinterest and Twitter.

Explore TSU for yourself.
Visit us and see the campus,
learn more about life in Nashville,
and discover the heart of our exciting TSU Tiger community.
Apply for admission, request information, or contact Tennessee State University today.

For questions, suggestions, additions, etc. pertaining to the CAHNS website, contact Dr. Nick Gawel or Joan Kite.
News

TSU CHANS gets $500K for goat meat study

TSU says agriculture researchers have noted a demand for goat meat because of a growing population of cultures in the country that consume it, and dietitians say it's healthier than other meats, including chicken and beef. Read more here.
---
Outstanding Award Winners announced Friday
TSU CAHNS celebrated its best and brightest at its annual end-of-the-year award ceremony where faculty, staff, and students were honored for the work. Find out who took honors and see  photos on our Facebook page.
---
The Spring issue CAHNS Link has hit the virtual newsstand here! 
---
  Congrats Grad Students!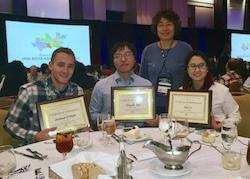 Congratulations are in order for our sterling graduate students who took first and second place honors for their oral presentations at the 18th Annual Symposium of the Association of 1890 Research Directors April 1-4 in Atlanta, Georgia. 
Joshua O'Hair (left) won first place and Yingde Zhu and Hui Li won second place. TSU Professor Suping Zhou (standing) serves as the students' mentor.
O'Hair talked about "Cellulolytic Thermophiles Isolated from Spray Geyser, Amphitheater Springs, and Whiterock Springs inside Yellowstone National Park." Li presented her work on "Characterization of Poly-3-Hydroxybutyrate (PHB) Produced by Bacillus cereus tsu1 with Rapeseed Cake Substrate." Zhu presented his work on "Heat Stress-induced Pollen Infertility in Tomato."
---
TSU CAHNS celebrates AG Month
TSU CAHNS has events planned throughout the month with the first festivity being the 2017 Collegiate Discussion Meet at 9 a.m. Friday, April 7,  at the Farrell-Westbrook Building at TSU's Agricultural Complex. Come watch our students gather to discuss, not debate, immigration and food labeling policies that affect the agriculture industry. Students are vying to win cash prizes from $100 to $300. No doubt our students will bring their best discussion skills to compete.
---