Explore. Create. Learn.
 Welcome to Your Future


---
Chat with the Dean
Low Faculty-to-Student Ratio | Personalized Attention
The College's low faculty-to-student ratio assures you that you will receive individualized attention from dedicated faculty who are experts in their areas of specialization.  Career opportunities for graduates are excellent.
Network of Research Facilities
The uniqueness of our urban location coupled with our network of research facilities provides you with unique and marketable hands-on experience in research projects and industry internships.
Financial Assistance
Best of all, you can get your education for little or no out-of-pocket expense!  We have made financial assistance available through work-aid to undergraduate students receiving the Tennessee HOPE Scholarship to cover all tuition and on-campus living expenses. 
Graduate Assistantships
Graduate Assistantships are available to qualified graduate students who show promise for excellence in graduate work.
---
Admission |  Request Info | Visit Campus | Life in Nashville
Email or call the College of Agriculture at (615) 963-5438 
---
New Soil and Water Conservation Scholarship
The Soil and Water Conservation Scholarship at Tennessee State University is meant to bring back into focus the vital necessity and passion for the soil and water conservation discipline by encouraging current students to consider a career in soil and water conservation. A stipend of $2000 will be awarded to the selected candidate in August preceding the start of the fall semester. In addition, $200 will be awarded to the student awardee's major professor/ advisor to be used for program development to encourage the continued mentoring of the students in the field of soil and water conservation, as well as to entice the student candidate to apply for the scholarship. Students can download the application by clicking the link above. Good luck!
---
AgLINK, the alumni magazine for the College of Agriculture hits the stands this week. Click the link to download!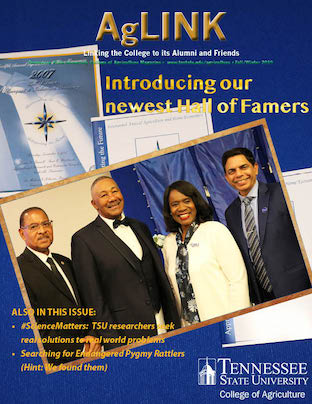 ---
Mark this date and don't miss this important and informative lecture.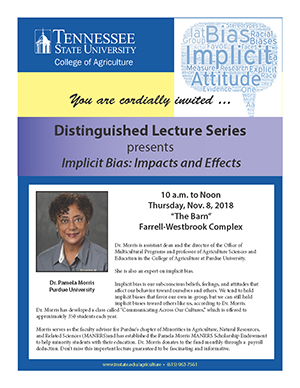 ---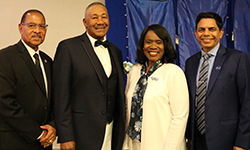 Aggies fete Hall of Famers
The College of Agriculture celebrated its newest members at the 20th Annual Agriculture and Home Economics Hall of Fame Reception and Induction Celebration in late October at the Sheraton Music City Center. Will Nesby, retired USDA program liaison for the U.S. Department of Agriculture, J.W. McGuire, retired county director for the Cooperative Extension Service, and Dr. Chandra Reddy, dean of TSU's College of Agriculture, now have their portraits hanging in the Hall of Fame in "The Barn." Read more.
---
#EducationPays
Graduate student Uzoamaka Abana was declared Syngenta's national scholarship winner for her essay  # RootedinAg . Ms. Abana, who already received a $1,000 scholarship for being a finalist in the essay competition, will now receive a $6,000 scholarship and travel to Minneapolis, Minnesota at the end of October to be honored for her hard work and talents. Read her essay here.
---
TSU, Vanderbilt partner to boost minority representation Earth geosciences
Vanderbilt and Tennessee State universities are joining forces to significantly increase the number of underrepresented minorities studying the geosciences. The new partnership, called Earth Horizons, will increase the range and availability of earth and environmental science courses offered to undergraduate students from both schools... more
---
Professor declared USDA, Cooperative Extension and APLU Regional Winner for Excellence in Extension
Professor Jason de Koff has been named a regional winner for the prestigious USDA, Cooperative Extension, and 
APLU Excellence in Extension Award. Dr. de Koff is praised for his "leadership in Tennessee and the nation to build capacity for biomass energy, training, and promotion. 
---