Explore. Create. Learn.
 Welcome to Your Future
Growing plants for fuel.
Helping children learn.
Making healthier foods.
Learning how cells develop and function.
Cleaning our environment.
Creating new medicines.
Keeping families together.

These are just some of the exciting careers you can pursue with a degree from the College of Agriculture, Human and Natural Sciences.
Allow us to open doors for you to exciting opportunities in the expanding realm of the life sciences and we will provide you with the knowledge, skills and training needed to excel in the career field of your choice.  Join our diverse student body to begin your future today.
Learn about the many
and varied
Degree Programs
in Agriculture, and Family & Consumer Sciences.
What is Special About Our College
LOW FACULTY-TO-STUDENT RATIO
The College's low faculty-to-student ratio assures you that you will receive individualized attention from dedicated faculty who are experts in their areas of specialization.  Career opportunities for graduates are excellent.
NETWORK OF RESEARCH FACILITIES
The uniqueness of our urban location coupled with our network of research facilities provides you with unique and marketable hands-on experience in research projects and industry internships.

Best of all, you can get your education for little or no out-of-pocket expense!  We have made financial assistance available through work-aid to undergraduate students receiving the Hope Scholarship to cover all tuition and on-campus living expenses. 
Graduate Assistantships are available to qualified graduate students who show promise for excellence in graduate work.
Find out about admission to our programs, or email or call us (615) 963-5438 to find out more!
---
---
Explore the College of Agriculture Human and Natural Sciences
on Facebook, Instagram, Pinterest and Twitter.

Explore TSU for yourself.
Visit us and see the campus,
learn more about life in Nashville,
and discover the heart of our exciting TSU Tiger community.
Apply for admission, request information, or contact Tennessee State University today.

For questions, suggestions, additions, etc. pertaining to the CAHNS website, contact Dr. Nick Gawel or Joan Kite.
News
TSU's Goat Producer Program recognized in USDA annual report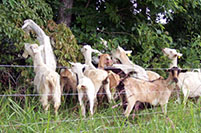 USDA's National Institute of Food and Agriculture recognized TSU CAHNS Master Meat Goat Producer Program, offered by TSU Cooperative Extension, in its 2015 Annual Report: "Over the last 10 years, the program has led Tennessee to become the second largest goat-producing state in the country with more than 5,000 producers," the report stated. 
---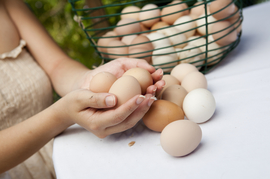 Are you counting your chickens and eggs in a safe manner?
Dr. Sandria Godwin, the director of the Didactic Program in Dietetics at TSU CAHN's Department of Family and Consumer Services, and Edgar Chambers IV, lead investigator at Kansas State University,will talk about research involved in developing consumer messages for the proper handling of poultry and eggs in an upcoming webinar on at 3 p.m. on Aug. 25. The webinar is part of series hosted by the Institute of Food Safety and Nutrition. 
The seminar can be viewed via Adobe Connect as well as in Room 2311 of the Waterfront Building in Washington, D.C.  All are welcome to sign up, log in, listen and learn.
---
TSU CAHNS' research into amaranth makes headlines
TSU CAHNS' research into the superfood amaranth continues to make headlines. Channel 5 Reporter Rebecca Schleicher talks to Dr. Matthew Blair about the importance of this food crop of the future. Watch Channel 5's report now.
---
NPR is talking about us!

Nashville Public Radio's Assistant News Editor Emily Siner interviewed Dr. Matthew Blair, professor at TSU's College of Agriculture, Human and Natural Sciences, about his research into amaranth, an ancient Aztec crop now deemed a food of future. Listen and  learn here. Photo by Emily Siner. 
---
USDA Deputy Under Secretary tours TSU College of Agriculture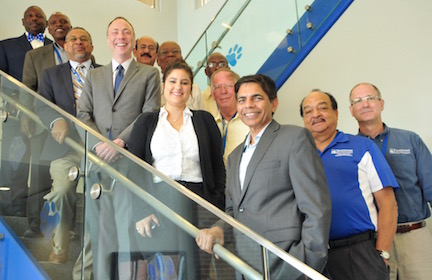 Jonathan Cordone, USDA Deputy Under Secretary of Farm and Foreign Agricultural Services, visited campus Thursday touring our labs and learning about the exciting research happening here. See a slideshow on our Facebook page. 
---
NPR visits College of Agriculture, Human and Natural Sciences
Emily Siner, assistant news director from Nashville Public Radio, visited TSU CAHNS today to speak with Dr. Chandra Reddy about agriculture's future and the college's role in creating leaders in that field. She also interviewed Dr. Matthew Blair about amaranth, one of the nutritional food crops of the future. Together, Blair and Siner toured an amaranth germplasm field on campus. We look forward to hearing her/our story soon on NPR.
---
International Amaranth Institute Conference begins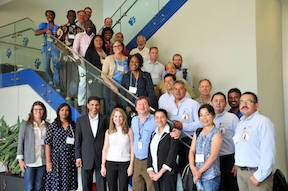 Attendees at the Amaranth Institute Conference gather in the front lobby of the new Biotechnology Building at TSU's College of Agriculture, Human and Natural Sciences. Participants will spend two days sharing their latest research findings and other information about amaranth, an ancient food crop deemed a crop of the future.See more photos. 
---
TSU CAHNS professor honored for work in Extension and Outreach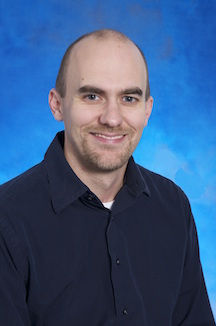 A Tennessee State University professor, known for his work with farmers and Extension agents throughout Tennessee, has received multiple awards from the Tennessee Association of Agricultural Agents and Specialists and the National Association of County Agricultural Agents.
Jason de Koff, associate professor in the College of Agriculture, Human and Natural Sciences, received an Early Career Award, Achievement Award and Communication Awards from TAAA&S. At the end of July, he travelled to Little Rock, Arkansas, to receive an Achievement Award and the Search for Excellence in Crop Production Award at the NACAA annual meeting.
"I am quite honored by the awards and was proud to help represent Tennessee at the NACAA annual meeting in July," de Koff said. "I plan to continue to represent TSU and Tennessee by providing my research and experiences to those who need them."
De Koff has a research program focused on switchgrass and winter canola production for bioenergy.  As part of his Extension program, he directs the mobile biodiesel demonstration for farmers and Extension agents. 
---
International Amaranth Conference
Educators, researchers, farmers, and food industry experts will be on campus to learn about an ancient Aztec grain that is considered a crop of the future. Please join us for the International Amaranth Conference Aug. 3-5 at TSU's College of Agriculture, Human and Natural Sciences. Register here.
---
Small Farm Expo
Join us for the 2016 Small Farm Expo on Thursday July 21 at the TSU Agricultural Research and Extension Center!
---
USDA Director to Speak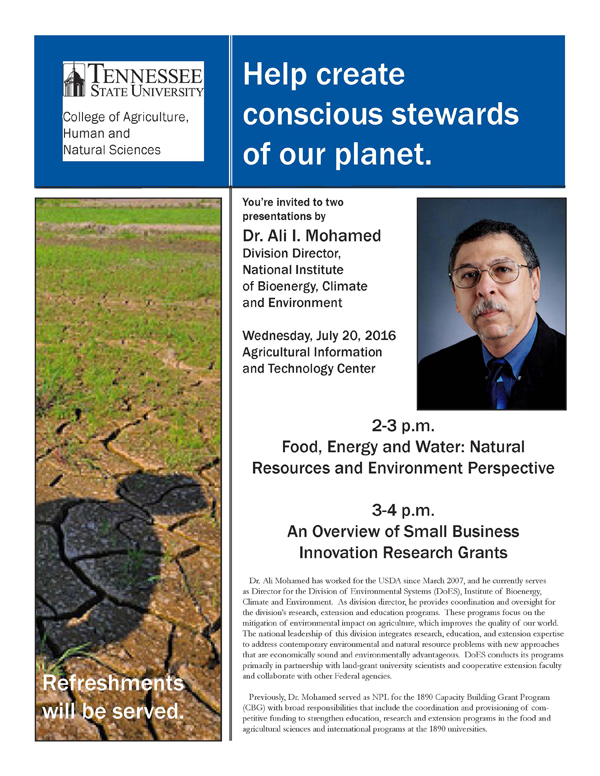 Dr. Ali Mohamad will speak on two topics:  "Food , Energy and Water: Natural Resources and Environmental Perspective" and "An Overview of Small Business Innovation Research Grants". July 20, 2:00-4:00 in the AITC. 
---

Fashion Merchandising Alum in Paralympic Games
Markeith Price, a 2012 Family and Consumer Sciences graduate is one of 66 athletes chosen for the 2016 Paralympic Games in Rio.
---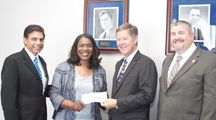 Farm Credit Partners with CAHNS 
Farm Credit has partnered with the college to enhance the future of sustainable agriculture in the US. 
---
Blair Featured
Matthew Blair's Cuban bean research was recently featured in an article in CSSA.  
---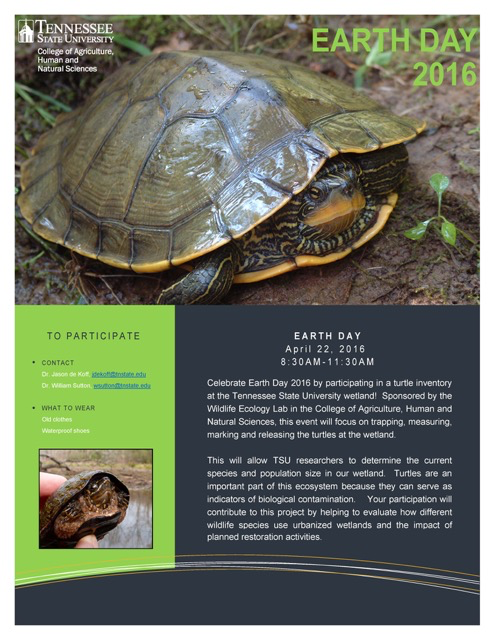 Earth Day
Participate in our earth Day Turtle Count!
---
Students, Faculty and Staff Recognized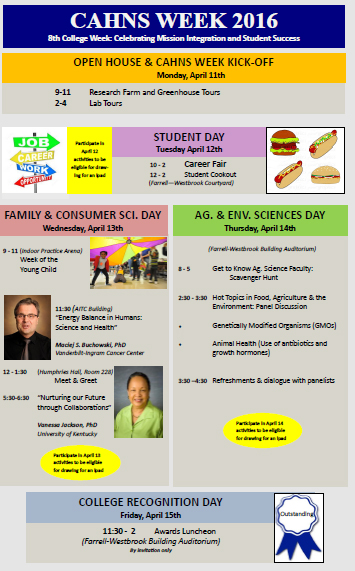 The 8th Annual CAHNS Week was held April 8-15, 2016.  Visit the CAHNS Week page to learn about the award-winning members of our college!
---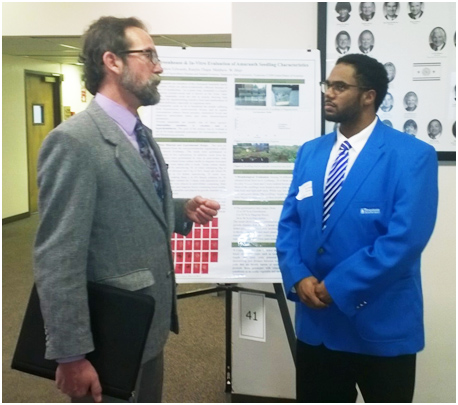 CANHS Students Present Research at Capitol
Three Agricultural and Environmental Sciences students, Brittany Hogan, Danielle Solomon, and Matthew Edwards recently participated in the Posters at the Capitol Event.  Learn more here.  
---
Men's Health Feature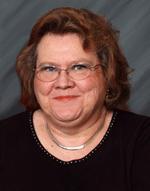 Professor Sandria Godwin from the Department of Family and Consumer Sciences discussed proper food handling and safety in an informative article by Men's Health. Read the article here.
---
TSU Extension on Channel 5
Rutherford County Extention agent Misty Layne-Watkins was featured on Channel 5 News for her efforts in diabetes outreach and education. Watch the segment here.
---

Scholarship Recipients
Department of Agricultural and Environmental Sciences students Danelle Solomon (Nashville, TN) and Kristen Stigger (Memphis, TN) have been awarded $5,000 scholarships from the National Black Farmers Association Scholarship Program. Solomon and Stigger are among 19 students nationally to receive NBFA scholarships.
---
Congratulations
AES Students Olusha Moses, Cosmas Muasya, Oluwatosin Ogunmayowa, Junie Nkonge and Sierra Washington have been invited to the Monsanto Student Leadership Event.  This expense-paid trip to Monsanto's World Headquarters is a three-day learning event including professional development, student social activities, business presentations and interviews for internship and co-op opportunities.
---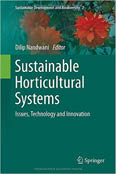 Book Published
Sustainable Horticultural Systems a book edited by Dr. Dilip Nandwani, Department of Agriculture and Environmental Sciences, has been published by Springer. 
---
Dr. Blair Featured on PBS Show
The NPT Volunteer Gardener show recently highlighted Dr. Matthew Blair's research on legumes.  See the episode here.  Dr. Blair's segment begins at about the 6:00 minute mark.
---
Two New Fact Sheets
TSU Extension has published two new fact sheets for the nursery industry.  Click for information on Maple Shoot Borer and Juniper Tip Blight.
---
Godwin Featured in USDA Seminar
The USDA Institute of Food Safety and Nutrition recently featured Dr. Sandria Godwin in its monthly on-line seminar series of experts in the food sciences. Dr. Godwin presented on "Identifying Food Safety Risk Factors and Educational Strategies for Consumers Purchasing Seafood and Meat Products Online".
---

deKoff Honored
Dr. Jason deKoff, Assistant Professor in Agricultural and Environmental Sciences, has received the Early Career Professional Award from the American Society of Agronomy.

---
Japanese Maple Scale
A new publication on controlling Japanese Maple Scale has been produced by TSU.  It is available here.
---
Recycler Of The Year


The TSU Nursery Research Center has been named Recycler of the Year for its innovative plastic recycling program for the nursery industry.
---
New Publication on Insect Control
Flatheaded appletree borer is a problem in nursery production and landscapes.  A new publication is available on the best way to control this damaging insect.
---
New Farmer Academy
We have a new program that is directed toward owners and potential owners of small acreages who desire information on how to best utilize their land and other resources to develop agricultural enterprises.On-line PSM in Applied GIS Announced
---
What Weed Is That?
Dr. Jason de Koff has published two new weed identification guides, for cool-season weeds and warm-season weeds.    
---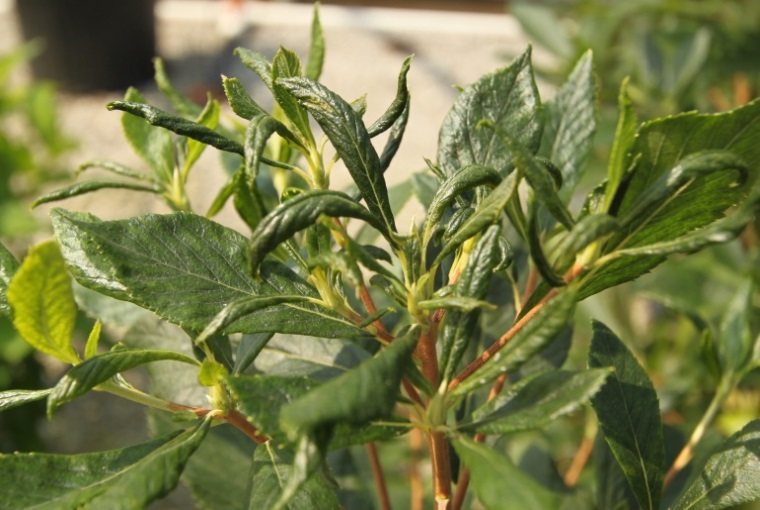 Broad Mites Got You Down?
Our new publication on broad mite control provides you with information on the diagnosis and control of this tiny, but damaging pest. 
---
New Biotechnology Concentration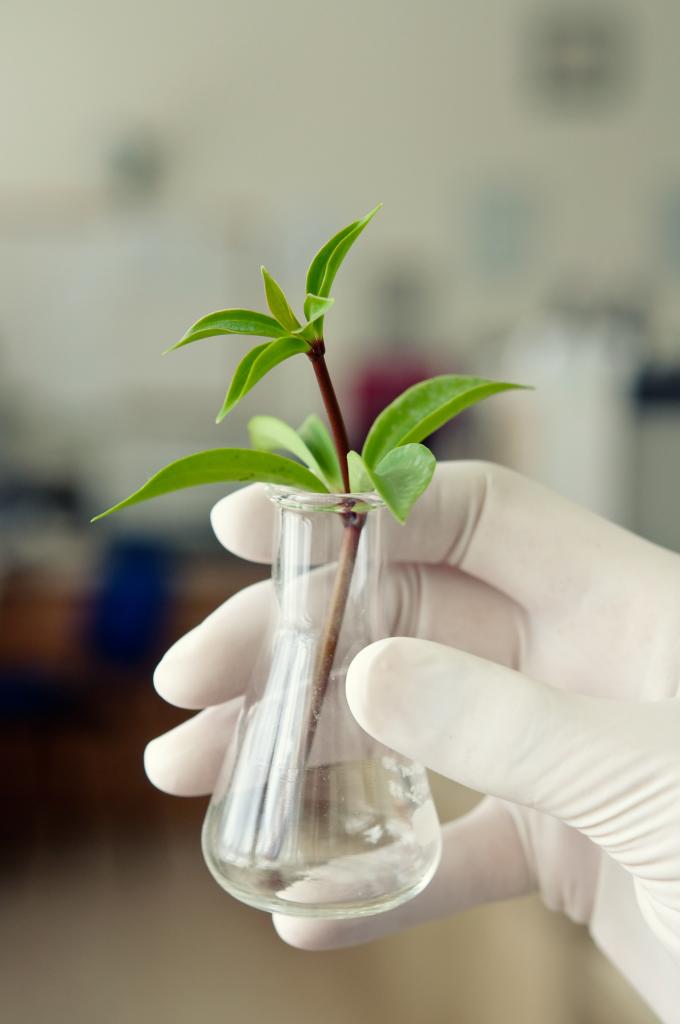 The Department of Agricultural and Environmental Sciences has added a concentration in Biotechnology.  Students with training in biotechnology enjoy exciting careers that help feed, fuel and heal the world.  
---
New Graduate Concentrations
The Department of Agricultural and Environmental Sciences has added two new Masters Degree concentrations – Agribusiness Management and Analysis and Food Marketing and Supply Chain Management.  Explore how these high demand areas can enhance your career.
---
Dean Reddy Recognized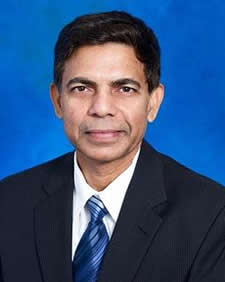 Dr. Chandra Reddy, Dean of the College of Agriculture, Natural and Human Sciences, has been recognized as a top professor at affordable Historically Black Colleges by Affordable Colleges Online. Congratulations Dr. Reddy!
---
What To Do When Food Is Recalled
Learn what to do when a food recall is issued or if you suspect food tampering with our publication on What To Do If A Food Product is Recalled. 

---
Too Much Water in Your Garden?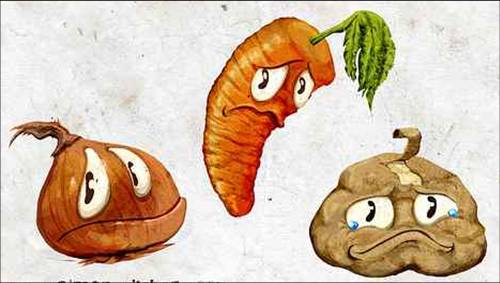 Our new publication, Can I Salvage My Flooded Garden?, tells you how to safely utilize produce from home gardens that have been flooded. 
---
Agricultural Impacts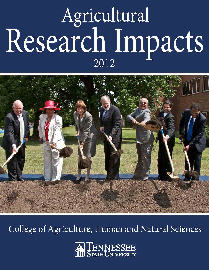 Learn about how how our research is helping to improve the lives of Tennesseans, Americans, and people around the world.


---
Extension Impacts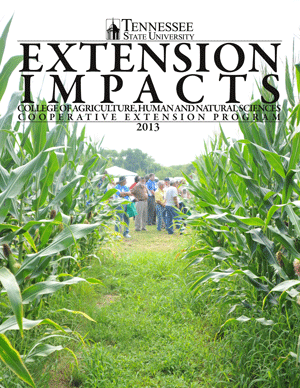 See how our Extension agents and faculty are having an impact on the lives of people around Tennessee
---