Explore. Create. Learn.
 Welcome to Your Future
Growing plants for fuel.
Helping children learn.
Making healthier foods.
Learning how cells develop and function.
Cleaning our environment.
Creating new medicines.
Keeping families together.

These are just some of the exciting careers you can pursue with a degree from the College of Agriculture.
Allow us to open doors for you to exciting opportunities in the expanding realm of the life sciences and we will provide you with the knowledge, skills, and training needed to excel in the career field of your choice.  Join our diverse student body to begin your future today.
Learn about the many
and varied
Degree Programs
in Agricultural, Environmental and  Human Sciences.
What is Special About Our College
LOW FACULTY-TO-STUDENT RATIO
The College's low faculty-to-student ratio assures you that you will receive individualized attention from dedicated faculty who are experts in their areas of specialization.  Career opportunities for graduates are excellent.
NETWORK OF RESEARCH FACILITIES
The uniqueness of our urban location coupled with our network of research facilities provides you with unique and marketable hands-on experience in research projects and industry internships.

Best of all, you can get your education for little or no out-of-pocket expense!  We have made financial assistance available through work-aid to undergraduate students receiving the Tennessee HOPE Scholarship to cover all tuition and on-campus living expenses. 
Graduate Assistantships are available to qualified graduate students who show promise for excellence in graduate work.
Find out about admission to our programs, or email or call us (615) 963-5438 to find out more!
---
---
Explore TSU for yourself.
Visit us and see the campus,
learn more about life in Nashville,
and discover the heart of our exciting TSU Tiger community.
Apply for admission, request information, or contact Tennessee State University today.

For questions, suggestions, additions, etc. pertaining to the CAHNS website, contact Dr. Nick Gawel or Joan Kite.
News

TSU agriculture students to attend prestigious AFA Leaders Conference
NASHVILLE, TENNESSEE — Six students in Tennessee State University's College of Agriculture have been selected to participate in the 2017 Agriculture Future of America (AFA) Leaders Conference from Nov. 2-5 in Kansas City, Missouri.   
These students will join 800 top agriculture students in the nation attending the conference, which focuses on personal and professional development and is tailored to the student's year in college.
  The students selected are Kalie Ellis, a freshman studying Agricultural Leadership, Education, and Communication, Bobbi Casey, a freshman studying Agribusiness, Emoni White, a sophomore studying Animal Science (pre-vet), CheKenna Fletcher, a junior studying Food Biosciences and Technology, and Justus Watson and Justin McKinnie who are seniors studying Biotechnology.
"These students excel both in scholarship and leadership. I am proud of them for getting selected for this prestigious Leaders Conference," said Dr. Chandra Reddy, dean of the College. 
The six students were selected as part of the University Growth Initiative, a national grant awarded by the AFA to help bridge agricultural businesses with agricultural colleges and universities. Tennessee State University was selected as well as University of Maryland, College Park, Murray State University, University of Tennessee at Martin, Huntington University, and Texas A&M University.
"True to our mission, each of these campuses demonstrated, through their applications, commitment to building bridges for their student leaders by identifying opportunities such as AFA's leader development programs, said Ashley Collins, AFA director of Collegiate Relations.
Dr. De'Etra Young, professor and mentor to TSU's top students, said she actively seeks opportunities outside of the College for TSU students and she is pleased that AFA recognizes the excellence fostered at TSU.
"The six students selected to attend this year's Leaders Conference were chosen based on their exceptional commitment and passion for a long-standing career in agriculture," said Dr. Young, who is also coordinator for the honors program Dean's Scholars. 
"It is essential for us to provide programs and resources to equip our future leaders," she said. "AFA's Leaders Conference will provide additional leadership development and networking opportunities for our outstanding students. Currently, the students selected to participate are scholars on the Dean's List, and active leaders in TSU¹s Student Government Association and Minorities in Agriculture, Natural Resources, and Related Sciences." 
Dr. Young will be attending the leadership conference with the students. 
---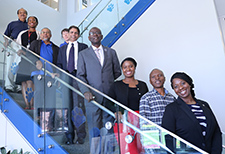 Peace Corps representatives visit the College of Agriculture
Representatives from the Peace Corps were on campus Thursday and Friday to inform students and faculty about the educational adventures the Peace Corps offers in other countries around the world.

---
Professor featured on Wallethub
Dr. Aliyar Fouladkhah, a food scientist researcher and professor at the College of Agriculture, is one of the resident experts on the website Wallethub where he informs consumers about food safety. 
---
Professor's research paper wins award
Dr. Aditya Khanal, an assistant professor in agribusiness, has been awarded an Emerald  Literati Award  for his scholarly work determining the impact of internet usage on the small farmer. Read his research results here.
---
Dean's Scholar student earns scholarship
Environmental Science major Danielle Solomon has won a prestigious National Black Farmers Association scholarship. Congrats Danielle!!  Learn more here.
---
TSU CHANS gets $500K for goat meat study
TSU says agriculture researchers have noted a demand for goat meat because of a growing population of cultures in the country that consume it, and dietitians say it's healthier than other meats, including chicken and beef. Read more here.
---
---