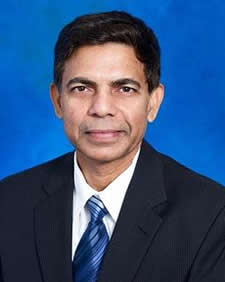 Chandra Reddy
Professor
Dean and Director of Research/Administrator of Extension
College of Agriculture, Human and Natural Sciences
Contact Information:
Office Location: 125 Farrell-Westbrook
Telephone: 615-963-7561
FAX: 615-963-5888
Email: creddy@tnstate.edu
 
Research Areas:
Sustainable Agriculture, Environmental agronomy, etc.
Publications:
Refereed journal Articles 52
Books/Bulletins 4
Intl. Conference Proceedings 43
Extension publications 9
Technical reports 18
Research abstracts 78
Conference Presentations and Invited Lectures 43

Most Significant Publications:
1. Reddy, K. C., Reddy, S. S., Malik, R. K., Lemunyon, J. and Reeves, D. W. 2008. Nitrate movement and P, K, Ca and Mg accumulation in Soil as a result of 5-yr Continuous Poultry Litter Application for cotton.  Agronomy Journal 100(4):1-9.
2. Reddy, K.C., Malik, R., K. Reddy, S.S., and Nyakatawa, E.Z.  2007.  Cotton growth and yield response to nitrogen applied through fresh and composted litter. The Journal of Cotton Science 11:26-34.
3. Reddy, K.C. 1988.  Alternative Production Strategies for Millet and Cowpea in Rainfed Agriculture in Niger.  Publ. Purdue University, West Lafayette, IN 47907/INRAN, B.P. 429 Niamey, Niger. 46p (Handbook, Fr.).
Teaching:
SPS 616-Modeling Natural Resources Management
SPS 416/516-Principles of Sustainable Agriculture
SPS-554/454 Tropical Soils
SPS 523/423-Tropical Food Crop Production
SPS-101 Introduction to Plant Science
Extension:
Developed and extended no-till farming practices in Alabama and dryland cropping systems in West Africa.
Recent Honors and Awards:
Fellow, the Soil Science Society of America, Madison, WI, 2010.
Fellow, the Food Systems Leadership Institute (FSLI), APLU, Washington, DC, 2010 - 2012
Outstanding Scientist, the Association of Agricultural Scientists of Indian Origin (AASIO), Long Beach, CA, 2010.
Member, The National Agricultural Research, Extension, Education, and Economics Advisory Board (NAREEEAB); appointed by the Secretary of Agriculture, US Federal Govt., Washington, DC, 2010 - 2013
George Washington Carver Agricultural Excellence Award, US State Dept/USAID, Washington, D.C., 2008.
Fellow, American Society of Agronomy, 2006
Education:
B.Sc (Ag). –Andhra Pradesh Agricultural University
M.Sc (Ag). - Andhra Pradesh Agricultural University
Ph.D. – University of Florida
Date joined staff:  2008
Click here for full Resume of Dr. Reddy
---
webpage contact: