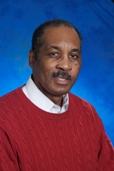 Graham P. Matthews
Associate Professor
Early Childhood Education
Department of Family and Consumer Sciences
College of Agriculture, Human and Natural Sciences
Contact Information:
Office Location: 305 C Humphries Hall 
Telephone:  615-963-5627
FAX: 615-963-5033 
Email: gmatthews2@tnstate.edu
 Research Areas:
The Role That a Father's Absence Has Upon a Pre-School Child's Behavior in the Classroom; Academic Achievement in Young Children from Single-Parent Families
Publications:
Refereed journal Articles -2
Books -1
Conference Presentations and Invited Lectures -3
Most Significant Publications:
1.Higher Education and Campus Ministry: Connecting with Students in Schools and Colleges, by James A. Noseworthy & Graham P. Matthews, Nashville, TN:  Cokesbury, 2002.
2."Children's Bible Stories with Questions", (2nd Edition) Townsend Press: Nashville, TN, 1996
3."The Rise of Father Absent Families in Rural America: Its implications for the future".  Building Strengths: A Time of Change, Vol. 3, Ed., by Jerry King and Leslie Sydorenko, Arkansas State University, 1989.
4."Remembering Segregation in Rural Georgia," Georgia Archives of History and Education. Vol. 3, p.70-77, 1989.
Teaching:
ECFS 1010 – Introduction to Early Childhood
ECFS 3610 – Early Childhood Curriculum
ECFS 3320 – Creative and Expressive Arts for Young Children
ECFS 4000 – Behavior Management and Guidance of Children
ECFS 4600 – Kindergarten Methods and Materials
Education:
B A -      Central State University
A. M. -   The University of Michigan
Ph. D. -  The University of Michigan
M.Div. -  Vanderbilt University Divinity School
Date joined staff: 2005
Click for more information
---
webpage contact: