Home >
> Student Tennessee Education Association
Student Tennessee Education Association
Professional Advocacy & Engagement begins here!
STEA exists to help our members move smoothly from student on campus to beginning teacher. STEA gives you the edge during the crucial first five years in the classroom.

College can't do that, no matter how it good it is. It takes veteran teachers helping you find your way. STEA adds to your formal education by providing life lessons about salaries, contracts, competency testing, evaluation, discipline, certification requirements and more.

Join the 60,000 other students across the nation as part of NEA's student program (NEA-SP) as a member of STEA today. There are over 3 million teachers, education support professionals, and students just like you waiting to welcome and support you. Plus during your first year of teaching and regular NEA membership, you'll be eligible to  receive a rebate of $20  for each year you were a student member. You can also   join STEA now .  
2020-21 TSU-STEA Officers


Derrick Sanders, Jr.
President

Torrance Buntyn
Vice President

Augtonia Coleman
Secretary

Treveon Hayes
Treasurer

Dionna Robinson
Historian
 
TBD, Fall 2020


VolState Jr. Rep




Monica Jones




VolState Sr. Rep.





Main Office & TSU-STEA Advisors
Location:
203 Clay Hall, Department of Teaching & Learning
3500 John A. Merritt Blvd.
Nashville, TN 37209


Chapter News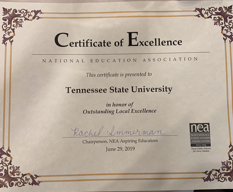 July 1, 2019  - STEA received Outstanding Local Excellence at the National Education Association's Aspiring Educators Summer Leadership Conference (Houston, TX).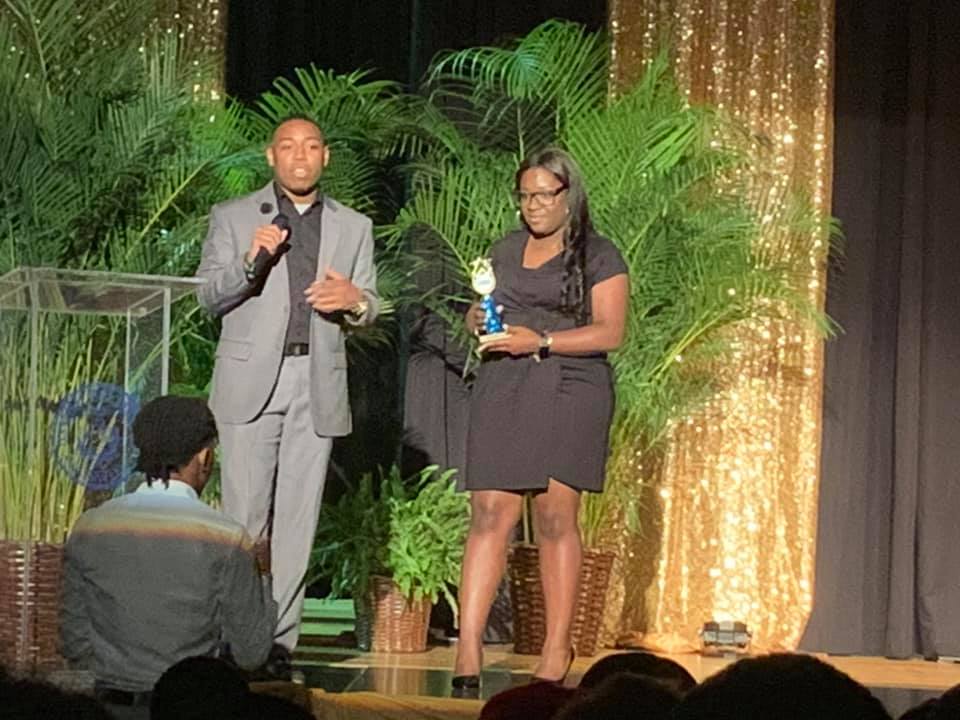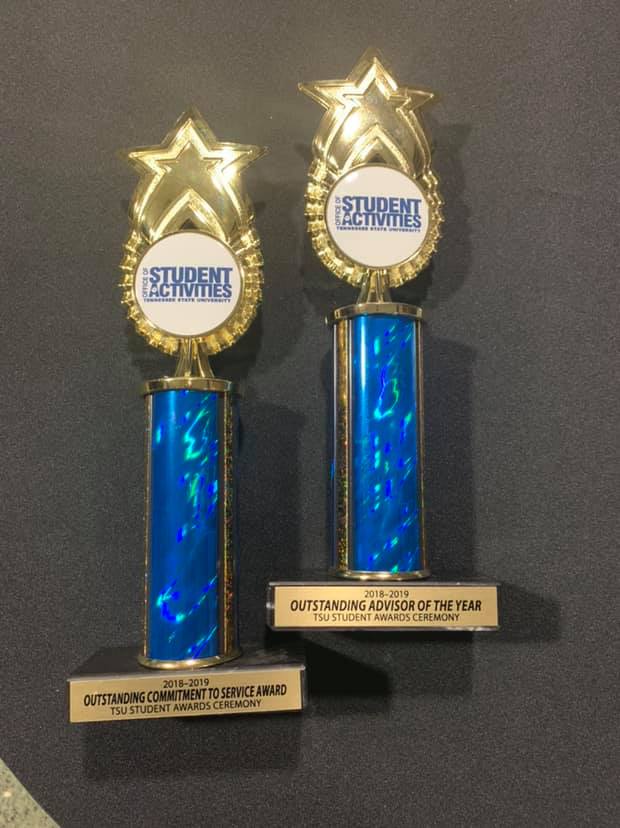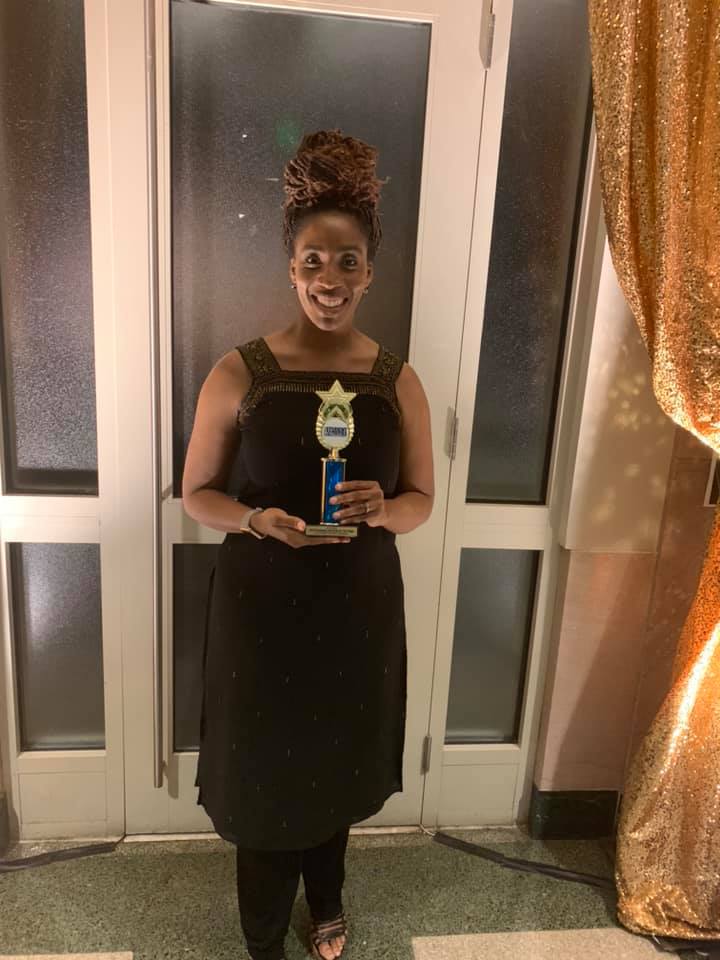 April 18, 2019  - STEA received two honors during the 2019 University Student Organization Awards Ceremony: Outstanding Advisor of the Year and Outstanding Commitment to Service.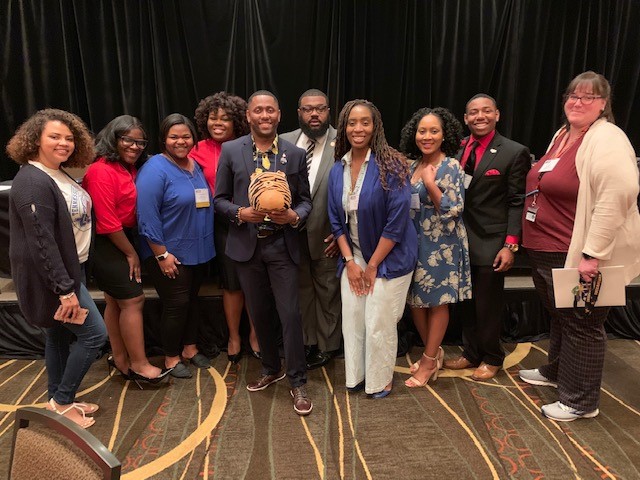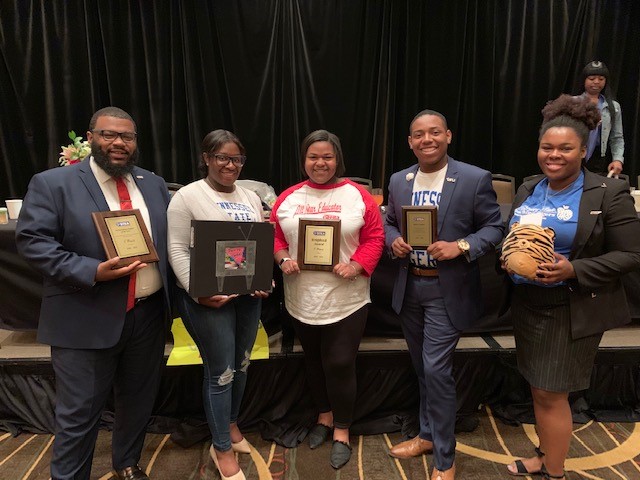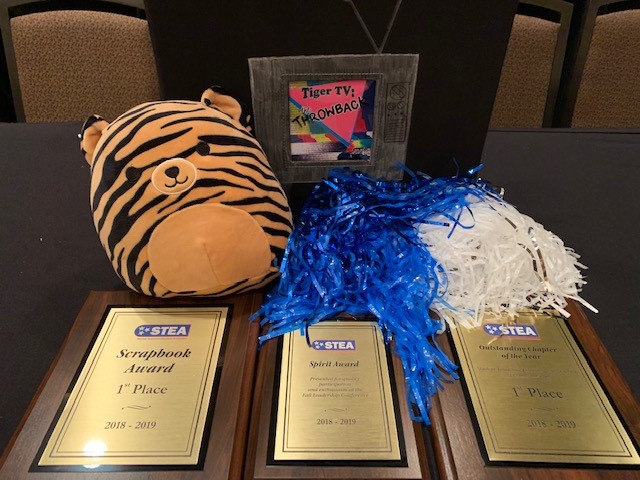 April 12, 2019  - Seven (7) TSU-STEA members attended the Spring Delegate Assembly. TSU will have two (2) members of the state executive board: Derrick Sanders, President-Elect and Arianna Herrington, Vice-President Middle TN. Four members (4) will represent the chapter (and state) at the TEA and NEA representative assemblies: Bisa Gilchrist, Arianna Herrington, CarVaughn Page, and Derrick Sanders. The chapter earned the following honors:

1st Place - Outstanding Chapter of the Year
1st Place - Scrapbook Award
2018-2019 Spirit Award
Summer 2018 - Six (6) TSU-STEA members participated in the Tennessee Education Association (TEA)s and National Education Association (NEA) representative assemblies; in addition to their own NEA-Aspiring Educators (NEA-AE) conference in Minneapolis, MN. Local secretary, CarVaughn Page, ended his term as a member of the NEA-AE Advisory Committee. While he was unsuccessful in his campaign for NEA-Aspiring Educator's Student Chairperson, he still advocated for a task force to investigate how HBCU/Minority Serving Institutions (MSIs) address the recruitment of diverse educators in the profession. This new business item was formally adopted at the NEA representative assembly. TSU delegates were graduates: Jenika Headley-Greene and Raymond Boyd; and current students: Bisa Lasco-Gilchrist, Arianna Herrington, and Tommy Norman. 
Student TEA Presidents from Tennessee State University
2013-2014, Parris Malone
2010-2011, Delvin Woodard
2007-2008, R. Jermaine Coleman
1990-1991, Debra Davis
NEA Student Program Chairperson from Tennessee State University
2008-10, R. Jermaine Coleman
---
webpage contact:
Teaching & Learning