First Year Experience
Helping You Navigate Your 1st Year!
Welcome TSU27!
The Office of First Year Experience is a place for all first-time freshmen on the campus of Tennessee State University. We belieive that student engagement is a key component of student success so we offer programs, events, and intiatives catered to the unique needs of freshmen. Follow us on social media @TSUFresh and visit us in the Student Success Center Suite 103. 
First, Who is Considered a First-Year Student at TSU?
First-year students at TSU are students who have never attended college before or have less than 12 transferable credit hours, and have a high school diploma or GED. First-year students are new college students pursuing an undergraduate degree.
---
Important Dates
New Student Orientation Session 7
Had a busy summer? Make sure to register and attend the final NSO on August 15, 2023 from 11 a.m. to 1 p.m.
Freshman Welcome Week is the official introduction to life on campus for all first year students! TSU 27 get ready for the ultimate first year experience with Dreamville TSU.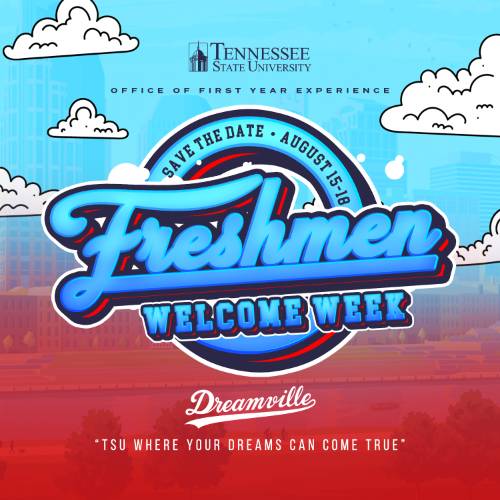 ---