TRIO (College-prep) Programs 
Assisting Students to Achieve Academic Potential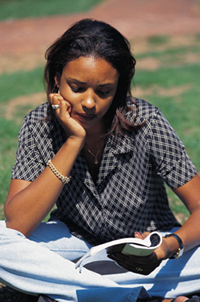 Prepare for success in college while you're still in high school and find the support you need to succeed when you enroll at TSU.
Take advantage of the TRIO Programs (College Prep Programs) at Tennessee State University to:
enhance your creative thinking skills,
expand your ability to communicate effectively, 
and learn good study habits, and develop a positive attitude toward learning.
Experience What College Has to Offer
Educational Talent Search
Targeted Metro Nashville students in grades 6 through 12 can experience what college has to offer through TSU's Educational Talent Search Program .
Upward Bound
Selected Metro Nashville high school students can learn more about the college environment and receive additional preparation for college success through our Upward Bound Program
Ronald E. McNair
Once you're enrolled at TSU, you'll want to check out our McNair Scholars Program to gain experience conducting and presenting research, assistance with applying and preparing for graduate school, and key leadership and professional skills to help you excel academically.
---
---
Explore TSU for yourself.
Apply for admission, request information, or contact Tennessee State University today. 
 
---
---