Home >
> Preview Day at Tennessee State University (TSU), Nashville, TN
Spring Preview Day 2020
Spring Preview Day Goes LIVE
Thursday, April 9, 2020 at 5pm via YouTube
IN RESPONSE TO COVID-19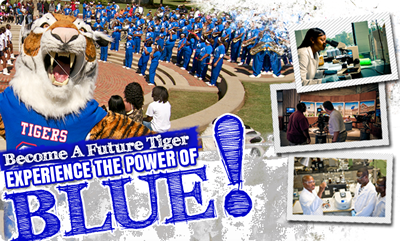 During these uncertain times the safety and health of our guests, staff and students is of utmost importance.   As local, state and federal authorities continue to update their responses we will act accordingly.  Tennessee State University continues to provide updates on the University's response to the COVID-19 pandemic. The University has moved all courses to an online delivery format; cancelled international and domestic travel through April 30; cancelled all campus events through the end of April; and closed the residence facilities, effective March 21, 2020. 
We are both deeply saddened that this includes Spring Preview Day 2020 yet highly aware of the severity and need to take necessary precautions.  While we had so many wonderful aspects of our University prepared for you, we are committed to finding innovative ways to still provide an experience and an opportunity to show you the multifaceted greatness that is TSU.  We invite you to participate in our virtual experience in lieu of coming to our campus. We are excited that you are considering becoming a Tiger at Tennessee State University and will stop at nothing to help you in your college admissions decision.  Though we are working remotely, members of our team are eagerly awaiting to assist you and will be attentive to our emails and calls using our remote technology services.
If you have any questions about our University, applying, or the First Year Experience don't hesitate to contact me via email at tandrews@tnstate.edu or by phone at 615-963-5119 or schedule a virtual meeting with me here: https://calendly.com/tandrew9/questions-about-preview-day. 
With Tiger Pride,
Tasha A. Andrews
Tasha Andrews, M.Ed
Executive Director of New Student Programs
Tennessee State University
---
Location: Howard Gentry Complex
Address: 3500 John A. Merritt Blvd Main Campus  Nashville, TN 37209
Details: Check-in/Registration 9:00 AM-9:45 AM. Preview Day starts promptly at 10:00am.  Open parking.
Directions: Event Location

---
What to Bring?
High School Seniors should bring official copies of their high school transcripts and ACT/SAT Scores for "On the Spot" Admissions decisions
Already accepted?  Come see what your Fall 2020 semester will be like and meet other Tigers of Class of 2024
---
Who Should Come?
High School Students and their families (up to 3 Guests per student)
Local Youth Groups
Trio/Upward Bound/Educational Talent Search
Fall 2020 Accepted Students
---
For Questions or Information
Contact admissions@tnstate.edu. 
---
Register Now

---