Logo Use & Standards
For Marketing Purposes
University Seal  |  Athletics Tiger Logo  |  Secondary Logos
** RESTRICTED USE
The  University seal, athletics logo, and other secondary logos  are  not  available on this page for download as their use is restricted for specific applications and offices. Please refer to the  Style & Branding Guide  for more information.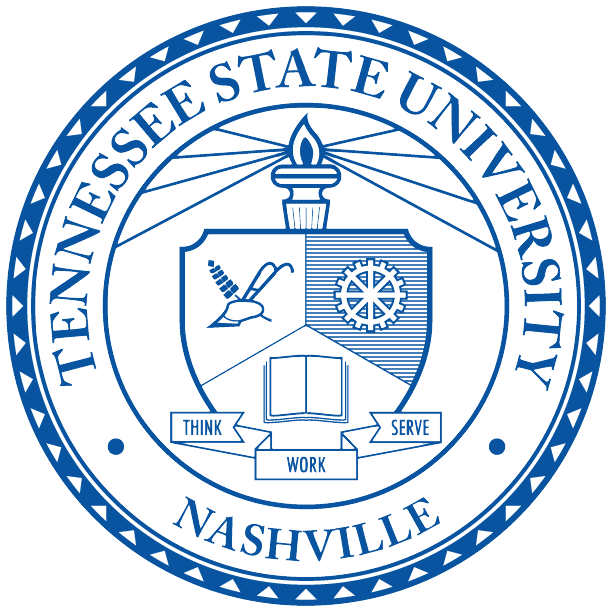 ---
University Logo
EXTERNAL VENDORS
External vendors must be licensed in order to use the TSU logo.  View details.

DEPARTMENTAL LOGOS
Please submit your logo-creation request to Creative Services in PR...specifying your department name. Department logo specifications are detailed in the University's Style & Branding Guide.

INTERNAL USE
Below are the official Tennessee State University logos for download for both Windows and Macintosh platforms. Please refer to the Style & Branding Guide for guidelines on proper usage and on prohibited reproductions.

PROFESSIONAL PRINT PROJECTS
Please use the a vector EPS image below.

INTERNAL/SMALL AUDIENCE PRINT PROJECTS (Ex: flyers, internal newsletters, etc.) 
Please use a high-resolution JPEG image below. If you need a JPEG that is larger than 2 inches wide by .5 inches tall, please request it on the Creative Services page.

POWERPOINT AND WEB
Please use a GIF image below.

*NOTE: Using GIFs and low-resolution JPEGs in your print publication will likely yield a low-quality reproduction of the image. These formats are intended for on-screen viewing only.
Right-click the appropriate link below & choose "Save Link As" --

EPS
high-res JPEG


2in x .5in

GIF
 
EPS
high-res JPEG


2in x .5in

GIF
GIF - transparent background
SVG
 
 
GIF - transparent background
SVG
EPS
high-res JPEG
PNG
 
EPS
 
PNG
 
---
Favicon
View/Download favicon  (right-click & choose "Save link as" to save the image to your PC... or preferably, just use the following URL in the system into which you're placing the favicon: www.tnstate.edu/favicon.ico ) 
---
Color Choice
TSU Primary Color (blue):  #0070C0
Secondary Color (red):  #8C0000 
---
Digital Color Codes
These colors are to be used when developing TSU websites and digital-only images.
| | | |
| --- | --- | --- |
| Color | Hex Code | RGB |
| TSU Blue (Reflex Blue) | | 0, 83, 159 |
| Light Blue | | 82,165,232 |
| Medium Blue | | 0, 51, 102 |
| Dark Blue | | 0, 36, 71 |
---
Watermark
Right-click images to download them
TSU logo watermark (600 wide)

Cupola watermark (323px wide); ---