Presidential Timeline
A Legacy of Excellence
Dr. William J. Hale
President, 1912-1943
From its founding date in 1912, Dr. William J. Hale became president of Tennessee Agricultural and Industrial College until his retirement in August 1943. Hale arrived in Nashville January 1911 to supervise construction of the facilities and develop the school's curricula. Handpicking the 13 faculty members from such notable institutions, Tennessee A&I opened its doors for the first time June 19, 1912 and two days later enrolled 247 students for the summer term. In 1916, Hale received only 40 percent of the school's funds from the state with the rest coming from federal sources, tuitions, fees and gifts from the African-American community. Hale expanded the school despite the limited resources provided by a general assembly and the State Board of Education. By 1944, the college produced the third highest number of graduates among historically African-American universities. Under his leadership Tennessee A&I State College became a notable African-American institution and one of Tennessee's best known colleges.
Dr. Walter S. Davis
President, 1943-1968
From 1943, until his retirement in 1968, Dr. Walter S. Davis led Tennessee State University through an era of tremendous growth in areas as multifaceted as academics, facilities and worldwide recognition. Tennessee Agricultural and Industrial State College achieved university status in 1951 and the Tennessee Board of Education elevated the university to a full-fledged land-grant university in 1957. Under Davis' leadership, 24 new buildings were constructed on the campus and it was during his tenure that athletes from Tennessee State University commanded the attention of the nation and the world by winning national championships and titles in football, basketball and swimming, along with Olympic medals in track and field.
Dr. Andrew P. Torrence
President, 1968-1974
In 1968, Dr. Andrew P. Torrence, also an alumnus, was named the university's third president. Throughout his relatively brief tenure, the university strengthened its focus on academics and introduced a broader array of offerings. It was during this time that the university, through a bill passed by the state legislature, formally dropped 'Agricultural and Industrial' from its name and became Tennessee State University, which is one of the most significant events during the Torrence presidency. Also, it was in 1968 that a Tennessee State University faculty member named Rita Sanders filed a lawsuit alleging a dual system of higher education in Tennessee based on race, which over the years evolved into Geier v. Tennessee. The court did not reach a decision until 2001.
Dr. Charles B. Fancher
Interim President, 1974-1975
Dr. Charles B. Fancher began his career at Tennessee State University in 1962 and served in a number in positions, including interim president in 1974. From 1975 until his retirement in 1985, he was vice chancellor for Academic Affairs for the State University and Community College System of Tennessee. He has held memberships in many professional and civic organizations and has degrees from Talladega College, the University of Pittsburgh and the University of Wisconsin.
Dr. Frederick S. Humphries
President, 1975-1985
Dr. Frederick S. Humphries demonstrated highly effective administration skills which resulted in the improvement and expansion of academic programs, upgraded faculty, increased enrollment and quality of students, and expanded scholarships and support activities. However, he will likely be remembered most for his bold and tenacious fight for the rights of a historically black university which was located in the same area with a historically white university when he insisted on the predominance of Tennessee State University over the University of Tennessee at Nashville (UTN). This ultimately led to the merger of TSU and UTN, with TSU becoming the surviving institution, heralded as one of the fairest and most important desegregation decisions of the 20th century. Humphries achieved a national reputation as a dedicated fighter for the cause of the continued existence of HBCUs and opportunities for minorities.
Dr. Roy P. Peterson
Interim President, 1985-1986
Dr. Roy P. Peterson, deputy executive director of the Kentucky Council for Higher Education, was appointed interim president of Tennessee State University in 1985. Peterson, a native from Louisiana, earned degrees from Southern University, the University of Oregon and the University of Iowa. He served as the chief of academic officer for the State Higher Education Board in Illinois prior to assuming a similar position with the Kentucky Council. Peterson led the Tennessee State University toward the fulfillment of its role as an urban institution by broadening relationships within the greater Nashville community.
Dr. Otis L. Floyd
Interim President, 1986-1987 (interim)
President, 1987-1990
Noticing a need for expansion on campus to house a growing number of students and provide a modern facility, Dr. Otis L. Floyd began to secure funds for a large renovation project. He was the instrumental force in acquiring $112 million for the construction on the Master Plan project. Construction projects began in 1989, and under Floyd's plan, nearly all of the buildings on campus were renovated. Eight new buildings were constructed, including the Floyd- Payne Campus Center, the Ned McWherter Administration Building, the Wilma Rudolph Residence Center and the Performing Arts Center. Floyd served as president until June 1990 and transitioned to become the first African-American chancellor of the Tennessee Board of Regents from July 1990 until his death in 1993. After his passing, in his honor, The Tennessee College of Public Relations Association established the Otis L. Floyd, Jr. Award for Excellence in Administration. In 1997, the Tennessee Board of Regents established the Dr. Otis L. Floyd Scholarship which is still being awarded to deserving students today. The students who receive the scholarship are charged with working to make an impact in education.
Dr. George W. Cox
Interim President, 1990-1991
Dr. George W. Cox served Tennessee State University for more than 20 years progressing during his tenure from professor of education to vice president of academic affairs to interim president from July 1990 to April 1991. He was a distinguished member of several organizations and received numerous citations for his work in education, human relations and public service. He earned degrees from LeMoyne-Owen College, Memphis State University and the University of Tennessee.
Dr. James A. Hefner
President, 1991-2005
During Dr. James A. Hefner's 14-year tenure as president of Tennessee State University he oversaw the implementation of a $112 million capital improvement plan, secured by former President Floyd and as part of the Geier agreement that attempted to end race-based disparity in higher education spending in Tennessee. Several new buildings were built, including a campus center, an administration building and a Performing Arts Center. Under his leadership, enrollment reached an all-time high of 9,100 students.
Dr. Melvin N. Johnson
President, 2005-2010
Dr. Melvin N. Johnson began his tenure as the seventh president of Tennessee State University in 2005. Before serving as president, Johnson served as provost and vice chancellor for academic affairs and as a tenured professor of economics at Winston-Salem State University. He taught at the U.S. Air Force Academy and completed a distinguished military career as a lieutenant colonel. Under Johnson's leadership, he was instrumental in continuing to bring positive national attention to the university by recognizing the Freedom Riders with honorary degrees, engaging the university in the Tennessee Campus Compact, positioning the university to receive national awards for community service and engagement, obtaining $8 million for Race to the Top Funds by President Obama, opening the university's doors to flood victims and businesses, and obtaining Community Engagement Classification by the Carnegie Foundation for the Advancement of Teaching.
Dr. Portia H. Shields
Interim President, 2011-2012
Dr. Portia Holmes Shields was appointed interim president of Tennessee State University on January 2, 2011 becoming the first woman to lead this historic institution in its 100-year history. Shields holds a Ph.D. in Early Childhood/ Elementary Education from the University of Maryland, a Master of Arts degree in Remedial Reading from George Washington University and a bachelor's degree in Elementary Education from District of Colombia Teachers College. She was awarded Post-Doctoral Fellowship to study in West Africa by the African-American Institute in New York City. Shields has served in various capacities in the field of education. At Howard University, she served as dean of the School of Education, director of Medical Education and Biomedical Communications. She also served as the first female president of Albany State University from 1996 to 2005. In 2007, she became the chief executive officer and chief academic officer at Concordia College until 2009.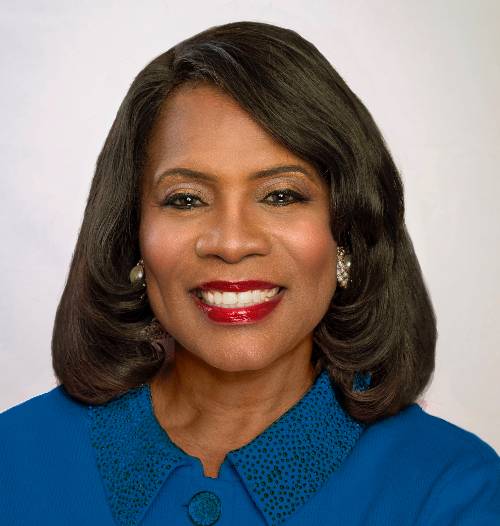 Dr. Glenda Baskin Glover
President, 2013-Present
Dr. Glenda Baskin Glover returned to her beloved alma mater to begin serving as the institution's eighth and first female president on January 2, 2013. The TSU students, alumni, faculty and staff embraced a five-point vision that energized the TSU family, and included: (1) academic progress and customer service, (2) fund raising and partnerships, (3) diversity and inclusion, (4) shared governance, and (5) community outreach. The University's academic offerings have increased to 45 bachelor's degrees, 24 master's degrees and seven doctorate degrees under President Glover's leadership. Academic offerings now include a Professional Science Masters in Applied Geospatial Sciences, and a Master of Computer Science. Accreditations and reaffirmations of accreditations have been achieved in the various units, including public health, a first for TSU. Applications for two newly created colleges have completed the first phase of approval and now await final approval from TBR. These are: (1) College of Physical and Life Sciences (STEM disciplines), and (2) elevate the Honors Program to an Honors College. Additionally, both alumni giving and Research and Sponsored programs are at record highs. TSU continues to increase its rankings various evaluation agencies.
---
webpage contact:
Alumni