Michelle J. Pinkard
Associate Professor
Department Chair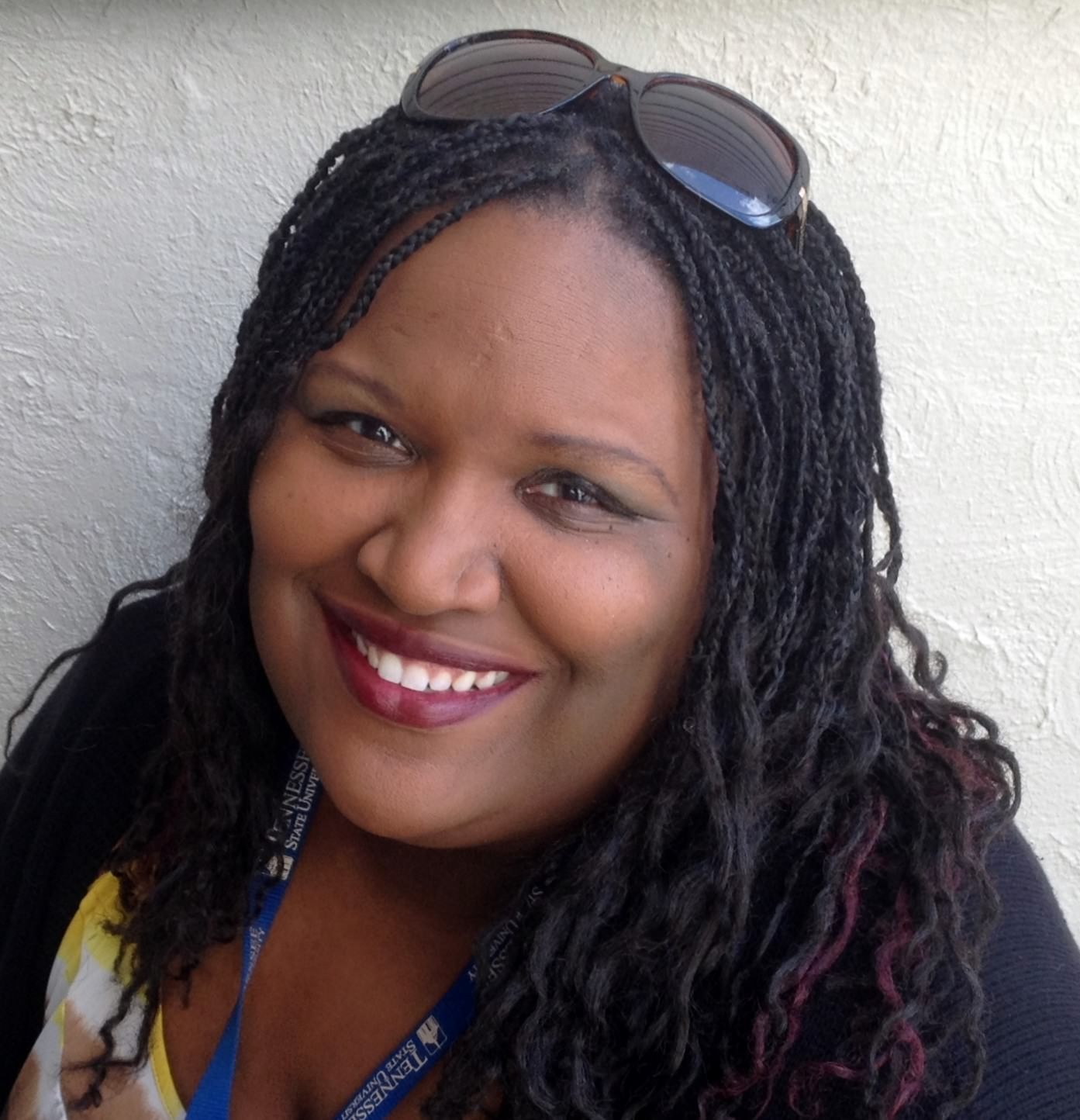 Department of Languages, Literature, and Philosophy
Education
Ph.D., Arizona State University
MA, Morgan State University
BA, Paul Quinn College
104 Humanities Bldg.
615-963-5715
mpinkar1@tnstate.edu
BIO
Dr. Michelle J. Pinkard teaches African American Literature, Poetics, Women's Studies, and Composition. Her scholarship is inspired by intersections in African American, Gender, Modernism and Creative Writing studies. She is also a poet whose work was published in Callaloo Journal, and The African American Review. Pinkard's essays, short stories and poems have appeared in several anthologies. Prior to teaching, Pinkard performed award-winning work in public relations and print journalism, which provided the investigative foundation to become an interdisciplinary scholar of African American cultural history. Ultimately, the apex of these varied interests is an examination of the way identity affects the creative process. She is the founder and director of the I Want to Write Initiative at TSU.

Refereed Academic Publications

"On Francis Harper." DLB 381: Writers on Women's Rights and United States Suffrage. Ed. George Anderson, Gale Research Inc.: 2017
"Where Pepita Be: Confronting Gendered Erasure in Gwendolyn Brooks' In the Mecca." Journal of Ethnic American Literature, 2017.

""Don't Knock at My Door Little Child:'" The Mantled Poetics of Georgia Douglas Johnson's Motherhood Poetry" in Critical Insights: Harlem Renaissance.  Ed. Christopher Varlack, Salem Press, 2015.
"A Conversation with Aunt Carol: The Fluid Functionality of Funeral Programs in the African American Community," in Women and the Material Culture of Death. Eds. Maureen Goggin and Beth Tobin, Ashgate Publishing, 2013.
Creative Writing

The Eye of the Tornado: Fifty Poems for Rhyme and Reason, La Caille Nous Publishing, Inc., 2004
Meridians, Accepted poetry in forthcoming issue: "Summer Girl" and "Token Survival Guide," 2018
College Language Association Journal, "Dying Declarations," 58.3/4, 2015 (Poetry)
African American Review, Project Muse, 47.1, 2014 (Poetry)
Callaloo, Project Muse, 35.4. Fall 2012 (Poetry)
Family Pictures, The Washington Post, 2007 (Poetry)
In Our Own Words: A Generation Defining Itself, MWE Enterprises, 2005 (Poetry)
Sunday at Four, The Trapped Truth Society, Spring/Summer 2004 (Poetry contribution to anthology and accompanying CD).
Aunties: Thirty-Five Writers Celebrate Their Other Mother, Ballantine Books, 2004 (Short story)
Between Quiet and Confrontation, Lost Words Publishing, 2003 (Poetry)
Journalism
Business and Military Affairs Reporter/Columnist: Reporting for The Shreveport Times included following the activities of Barksdale Air Force Base, veteran's affairs, general assignments and local business developments. Shreveport, LA, 2000 – 2003.
Selected Conference Presentations

2016  "Branding Cosby: The Rise and Fall of America's Most Beloved Father" at the Popular Culture/American Culture Association in the South Conference, Nashville, TN.

2015  "Maternal Poetics in Harlem Renaissance Poetry" at Society for the Study of American Women Writers Conference, Philadelphia, PA.

2015  "Now the way of the Mecca was on this wise:" Tracing Intersectionality in Gwendolyn Brooks' In the Mecca'"  SCMLA, Nashville, TN.

2014   "'It is dangerous for a woman to defy the gods:' The Poetics and Politics of Silence in Women's Poetry of the Harlem Renaissance." Furious Flower Poetry Conference, James Madison University, Harrisonburg, VA.

2013    National Endowment of Humanities Summer Institute, "Don't Deny My Voice: Reading and Teaching African American Poetry." NEH Scholar, University of Kansas, Lawrence, KS.

2012    Callaloo Creative Writing Workshop, Brown University, Providence, RI.

2011    "'Do Not Knock at My Door Little Child': Maternal Representations in the Poetry of Georgia Douglas Johnson," at African American Literature Conference, Penn State University, State College, PA.

2010    "A Conversation with Aunt Carol: The Fluid Functionality of Funeral Programs in the African American Community," at Southwest/Texas Popular & American Culture Associations Conference, Albuquerque, NM.

2008    "A Defense of Georgia Douglas Johnson: Modernist, Feminist and Harlem Renaissance Poet," at Lifting Belly High: Women Poets Since 1900s, Duquesne University, Pittsburgh, PA.
Selected University Committees, Campus Groups
LLP Technology Committee, Faculty Senate Technology Committee, Career Development Liaison, LLP Webmaster, Sophomore Literature, Advisement and Faculty Adviser for Soul Fire Poetry Group.

Selected Awards and Honors
2016 Tenure Track Teacher of the Year in the College of Liberal Arts
2016 nominated Faculty Award for Exemplary Service-Learning
2016 Outstanding Service Learning Project Award
2018 Outstanding Service Learning Project Award

Classes Taught at TSU

ENGL 1010 – Freshman English I
ENGL 1012 – Hon. Freshman English I
ENGL 1020 – Freshman English II
ENGL 2013 – Black Arts and Literature I
ENGL 2023 – Black Arts and Literature II
ENGL 3120 – Creative Writing Poetry I
ENGL 4160 – Writing for Publication 
ENGL 4920 – Advanced Poetry Writing
---