Roxane Pajoul 
Assistant Professor
Department of Languages, Literature, and Philosophy

152 Humanities Building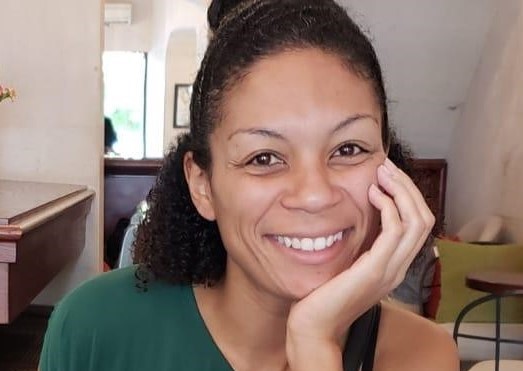 615-963-5713
rrodger1@tnstate.edu

Education:
Ph.D. in French, Vanderbilt University
M.A. in French, Vanderbilt University
M.A. in American History, Paris VII (France)
B.A. in Anglophone Studies, Paris VII (France)

BIO:
Dr. Pajoul is a native of France and has Martinican origins. Her dissertation examined taboo topics in the Francophone Caribbean, particularly questions of homosexuality and race in Martinique, Guadeloupe and Haiti. In her courses of all levels, Dr. Pajoul values oral production, a marketable skill that she deems essential to her students' success in any profession. She also encourages her students to develop critical thinking through the analysis of short music clips, films, and images, especially regarding the question of race in France.

Her research interests include:
-- Taboos, silences, tensions in Caribbean literature and culture
– particularly homosexuality and race.
-- Women and Gender Studies: representations and use of the female body in literature, films, and media.
-- Black France: "Race" in France.
Selected Academic and/or Popular Press Publications
-Book Chapter (peer review edited volume)
-"Neither here, nor there: negotiating the French-Caribbean relationship in literary mixed-race Couples," in Unheard (-of) Voices from the Afro-Romance Diaspora, Georg Olms Publishing (Forthcoming)
Selected Conference Presentations:
-Tabou genré : entre phénotype et genre, deux auteures antillaises
(postponed Covid-19) oubliées. » Women in French (WiF) - May 2022
-"Fostering equity and interculturality in diverse foreign language
classrooms." Diversity, Decolonization, and the French Curriculum (DDFC)
(November 12-13, 2020/virtual) - November 2020
-"Moral Perversion: Politics of Contamination in Emile Zola's La Curée" South Central Modern Language Association (SCMLA) – November 2015
-"The Vanderwiki Project: a social pedagogies approach to cultural issues in France" Tennessee Foreign Language Teaching Association (TFLTA) – November 2013

-"Réappropriation/reconstruction de soi: être citoyenne haïtienne sous la dictature Duvalier" Caribbean Studies Association (CSA) – May 2012

Invited Speaker
-2020 Alliance Française of Nashville, Nashville, TN August 22
Co-host. Ciné-club documentary Mariannes Noires and Systemic Racism in France.

-2020 Vanderbilt University's Center for Teaching, Nashville, TN Recorded June 9
Podcast Leading Line episode 80. Adapting to Remote Teaching during Covid-19. Recording.
-2019 Fisk University, Nashville, TN November 4
Expert commentator. Documentary Mariannes Noires and Black France
Classes Taught at TSU
-FREN-1010: Elementary French I
-FREN-1020: Elementary French II
-FREN-2010: Intermediate French I
-FREN-2020: Intermediate French II
-FREN-3020: Advanced French Grammar
-FREN-3120: Culture and Civilization of France
-FREN-3030: Introduction to Translation French-English/English-French
-FREN-3130: Francophone Cultural Studies
-FREN-4300: Francophone Cinema

Select University and Departmental Committees:
-2021-present - Recruitment and Retention Committee
-2019-present - Chair LLP Technology Committee
-2018 - University Quality Enhancement Plan - Proposal Team Beyond Borders: Developing Global Leaders and Cultural Competency
-2017-2021 - LLP Curriculum Committee
Training/Professional Development
-2021-2022 ACUE course - Effective Online Teaching Practices: Cohort B, Fall 2021-Spring 2022