Accounting
Tennessee State offers a Bachelor of Business Administration (BBA) and Masters of Businesss Administration (MBA) with concentration in Accounting.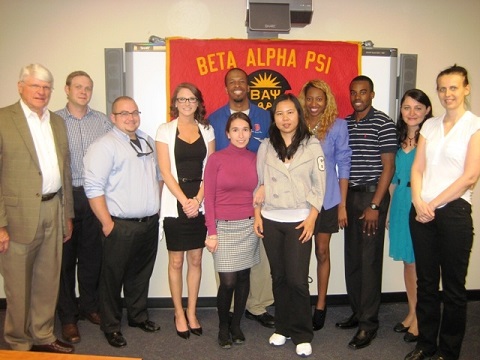 Where could a degree in Accounting take me?
Accountants are needed when the economy is thriving as well as when the economy is in a downturn. Accounting is a critical business function in every organization imaginable. This fact affords accounting graduates a wide variety of career choices upon successful completion of our program. For those that learn the fundamental knowledge and skills, coupled with problem solving abilities, the opportunities are limitless.
A wide variety of career choices for accountants exists. Public accounting consists of the "Big-Four" international CPA firms, in addition to national, regional, and local firms. Accountants in the public sector may pursue interest in auditing, taxation, financial accounting, or management advisory services.
Industry accounting offers graduates a chance to pursue managerial accounting, cost accounting or internal auditing careers. Not-For-Profit accounting includes federal, state and local governments; colleges and universities; health care institutions, and other nonprofit organizations.
We take pride in knowing that our program positions students for graduate level studies. We also put our students on track for successful attainment of the coveted Certified Public Accountant (CPA) designation. Our students are on record scoring as high as 96 on the CPA exam.
Accountants often establish their own accounting firms. Although very challenging, some of our graduates dedicated themselves to creating their own path through entrepreneurial endeavors recognizing accounting as their method. They developed the fundamental accounting skill sets and work ethic to do so. You too can be among them by joining us.
Vision & Mission
The Vision of the Department of Accounting is to achieve positive national recognition for our high-quality accounting programs.
The Mission of the Department of Accounting is to prepare a diverse student body for careers in public, management, and government accounting.
What does it take to obtain a degree in Accounting?
The Accounting Department in the College of Business is positioned to supply the global market with well-trained, competent, and trust-worthy future leaders through our accounting course curriculum offerings. As an accounting student, it is also important that you develop the additional skills necessary to position yourself for the most lucrative and competitive opportunities available. Students that successfully complete our program are poised to become productive and responsible accounting leaders prepared to address crucial business needs.
Our faculty and administrators, along with the corporate accounting leaders represented on our advisory board, work in concert to ensure our curriculum is challenging, purposeful, and relevant to the accounting profession.
Our curriculum is designed to produce graduates who are:
Knowledgeable in accounting and aware of the global business environment
Critical thinkers and problem solvers
Competent in technology
Effective communicators and team members
Aware of ethical ramifications of business decisions.
What makes your faculty and staff special?
The faculty and staff assembled are passionate, engaging, supportive, and determined to provide students with the skill sets required to fulfill their academic and career goals. Faculty are equipped with first-hand background knowledge of industry trends which allows them to paint a vivid picture of current and emerging accounting and financial reporting issues. This gives students the ability to not simply memorize principles, but to understand the "why" that supports their origin. Our faculty is internationally recognized through their research, with 100% of our fulltime professors possessing doctoral degrees and holding the industry respected and recognized CPA and other designations. It is important to us that our classes are structured to maximize individual attention which is why we boast an average 20-to-1 professor-to-learner ratio. This allows students to learn from industry experts with ample opportunity for individualized attention during and after class time. Make no mistake, our program is challenging and fast paced, but the reward is the opportunity to successfully pursue your wildest professional ambitions.
What awards are available for Accounting majors?
Several awards are available for accounting majors displaying scholastic achievement, leadership abilities, and involvement in student activities. For example, awards are given by:
TN Society of CPAs (TNCPA),
Association of Government Accountants (AGA),
Institute of Management Accountants (IMA),
Financial Executive International (FEI),
Institute of Internal Auditors (IIA)
and Beta Alpha Psi (BAP).
Several other organizations also have scholarships available to students majoring in accounting.
A number of professional certifications are available to accounting graduates. The best known is the Certified Public Accountant (CPA) designation, which gives the holder a license to practice public accounting. The American Institute of CPAs offers the CPA exam throughout the year (www.nasba.org). Students may pursue the MBA Concentration in Accounting program at TSU to meet the 150-hour educational requirement for the CPA exam.
The Certified Management Accountant (CMA) designation also requires successful completion of an exam and work experience for an individual to receive certification. The Institute of Management Accountants offers the CMA exam as well as the CFM (Certified Financial Manager) exam throughout the year.
Other certifications include the Certified Internal Auditor, Certified Governmental Financial Manager, Certified Fraud Examiner, and Certified Information Systems Auditor.
Let us get you there!
If you see yourself fulfilling your dreams and living the life you deserve through a successful career in Accounting, we would like to facilitate that transition from student to professional for you. Apply Now