Home >
> Using the Center
Using the Center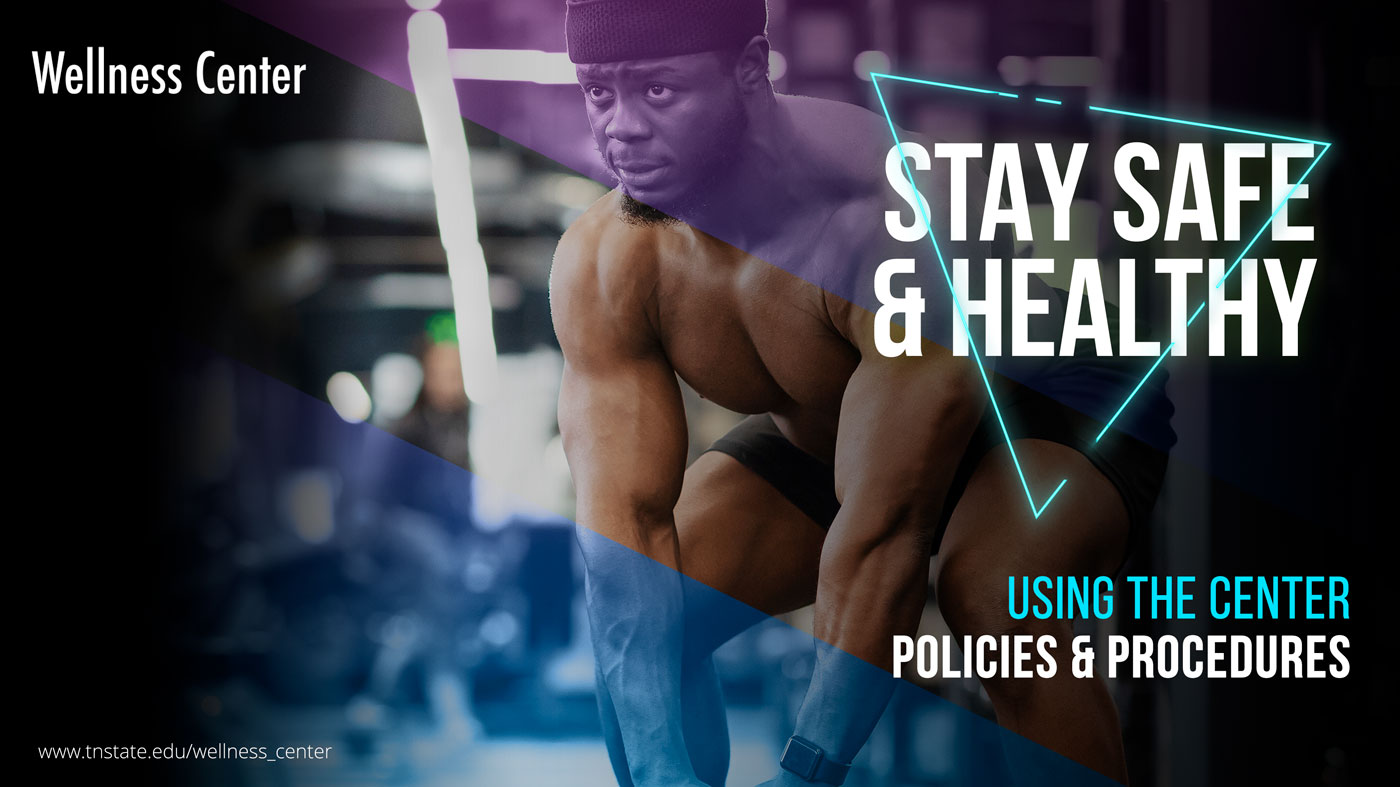 Dress Code Policy: (In order to maintain a friendly, safe and respectable environment), guest are required to abide by the following:
Guest must wear appropriate attire at all times, that is not offensive, suggestive or overly revealing.
Guest must wear a proper shirt at all times. No exposed midriffs, navel, chest, or nipple area.
Guest must wear proper athletic shoes. No boots, open toed shoes, crocs, slides, sandals, bare feet, etc.
Guest must wear proper bottom attire. No jeans, khaki, canvas and military pants, garments with metal rivets, buttons, belts, exposed zippers, cargo shorts, undergarments, exposed glutes, etc.
For personal health and saftey, guests must abide by the following guidelines
Back, midriff, sides are completely covered.
Shorts at least mid-thigh in length.
Use a towel to cover the surfaces that make contact with skin.
Wipe any surfaces off before and after using equipment.
Please note the following use policies:
Valid TSU ID is REQUIRED (students, faculty, & staff)
Participants exercise at their own risk Individuals are responsible for their own health and safety
TSU is not responsible for injuries or any lost or stolen items left in the locker rooms
PLEASE BRING A LOCK FOR USE ON LOCKERS TO SECURE PERSONAL ITEMS. Locks are to be removed daily. 
MACHINES MUST BE CLEANED AFTER EACH USE
Participants must RACK WEIGHTS AFTER USE
Never put hand and feet under weight stacks. Place hands and feet only on the handgrips and foot pads provided.
DO NOT DROP WEIGHT STACKS, PLATES, DUMBBELS OR OTHER FREE WEIGHTS ON FLOOR!
Use of collars is mandatory on all free weights
All free weight users must provide at least one spotter
Personal training is not permitted
Please- No Profanity, Yelling, Screaming, or Misconduct
No tobacco, food, or drink allowed in exercise area or aerobics room
Only Wellness Center Staff may operate the stereo and televisions
Headphones are required for personal stereos, i-pods, and mp3 players
Maximum of 30 minutes allowed on each cardio machine when there is a wait
No personal items such as jackets or bags are allowed in the weight room area
Proper exercise attire is required: No jeans, cargo shorts, boots, sandals, flip-flops, or sliders will be allowed.
Swimming pool may be used during authorized hours only and swimming is strictly prohibited without a lifeguard on duty
No bikes, scooters, etc. are permitted inside the Wellness Center
Malicious damage to or careless us of equipment will lead to loss of Wellness Center privileges
Do not operate equipment if it has loose or damaged parts 
Report repair needs to the staff. Do not attempt repairs yourself.
Dress code strickly enforced.