Home >
> Child Welfare Certification Program
Child Welfare Certification Program
Education & Employing Social Workers in the State of TN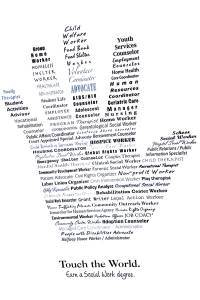 The Social Work Program at Tennessee State University and the Tennessee Department of Children's Services (TDCS) have entered a partnership to recruit BSSW students for the Child Welfare Certification Program.  We are seeking students who are interested in a career in child welfare.
The certification program requires the applicant:
Be a full time student
Have at least four semesters remaining before graduation
Overall 2.6 cumulative GPA
Complete two elective child welfare courses
Course work for the BSSW degree
Complete field education with the TDCS
Background check must be conducted on each applicant
Each applicant will be interviewed.  Students selected for the certification program will receive a full in-state tuition scholarship and stipend for text books and living expenses for a maximum of four semesters.  In exchange for this funding, the student agrees to work for TDCS for two years upon graduation. 
BSW/BSSW Certification Program Information and Application Deadlines
Apply for the DCS Certification Program
To Apply to the Program: The application process and materials are located on the Title IV-E website. Please read all the information provided on the website: http://www.tn.gov/dcs/article/tuition-assistance-programs
Application Deadlines:
Fall Semester - June 15
Spring Semester - November 15
INTERESTED?
Please contact:
Sirena Bragg
BSW/MSW Program's Manager
Department of Children's Services
Cordell Hull Bullding, 7th Floor
436 6th Avenue North
Nashville, TN 37243
Office Phone: 615.253.6821
Email: sirena.y.bragg@tn.gov
Brittany M. Green
DCS Tuition Assistance Program Specialist
Department of Children Services
Cordell Hull Building
436 6th Ave. North 7th Floor
Nashville, TN 37243
Office Phone: 615.741.1220
---
webpage contact:
Social Work