Dr. Elaine D. Martin
Professor
Coordinator-General Biology I,II and Teacher Certification Program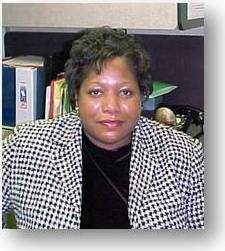 Department of Biological Sciences
College of Life & Physical Sciences
Contact Information:
Office Location: 112-D McCord Hall
Office Telephone: 615-963-5769
Fax: 615-963-7140
Email: emartin@tnstate.edu

Education:
BS (1981) Biology, University of Montevallo
M.Ed.(1985) Science Education, University of Montevallo
Ph.D. (1990) Secondary Education, Biology, University of Alabama
Research Interests: Distance Education, Evaluation and Assessment of Student Achievement
Select Publications:
2008 A Custom Lab Manual for Tennessee State University (BIOL 1111, 1121)
(1997). K-12 Distance Education: Learning, Instruction and Teacher Training. Article Published in Chapter on Learners and Learning, Martin, E.D. and Rainey, L. Pennsylvania: Pennsylvania State University.
(1993). Martin, E.D. and Rainey, L. "Student Achievement and Attitude in a Satellite-Delivered High School Science Course. "The American Journal of Distance Education, 7 (1), 54-61.
Abstracts and Papers:
(1998-1999). Project Kaleidoscope, Faculty for the 21st Century, Collection of Statements. Martin, E.D.
(1997). Conference Abstracts. The 18th ICDE World Conference at The Pennsylvania State University, USA. Theme: The New Learning Environment: A Global Prospective. Martin, E.D. and Rainey, L. "The Effect of Distance Learning on Student Achievement and Student Attitude, A Longitudinal Controlled Study".
(1997). Stratton, M. W. and Martin, E.D.  "A Review of Specific Collaborative Programs in Science and Mathematics." Journal of the Tennessee Academy of Science, 72 (1-2), 29.
(1995). Discussion Papers. Invitational Research Conference in Distance Education. Theme: Towards Excellence in Distance Education, A Research Agenda. Martin, E.D. and Rainey, L. "The Effect of Distance Learning on Student Achievement and Student Attitude."
Teaching:
BIOL 1110,1111 General Biology I, General Biology I Lab
BIOL 1120 General Biology II
BIOL 3710 Methods of Teaching Biology
BIOL 4100 Special Topics
BIOL 4724 Student Teaching
---
webpage contact:
Biology