The Annual Africa Conference
Tennessee State University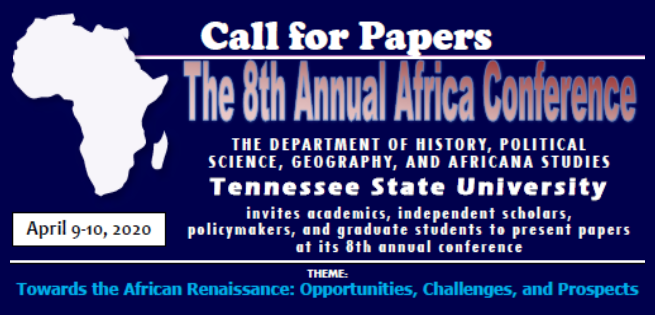 Welcome to the homepage of the Annual Africa Conference at Tennessee State University, Nashville, Tennessee. Each year the department hosts academics, independent scholars, policymakers, and graduate students in an international conference on various themes on African and Diasporan African history and related subjects. Interested individuals are encouraged to submit abstracts relevant to the theme of the current conference.
---
Current Conference
The 8th Annual Africa Conference
Date: April 9 -10, 2020
Theme: " Towards the African Renaissance: Opportunities, Challenges, and Prospects"

---
Registration
Mandatory non-refundable registration fees for the conference are:
Regular: $75 by Dec. 31, 2019; & $90 by Feb. 15, 2020
Graduate Students: $30 by Dec. 31, 2019; & $45 by Feb. 15, 2020
Note: The above fees cover admission to the panels, transportation from the hotel to the conference venue and back, conference reception on Thursday, breakfast and lunch on Friday, and the Friday night banquet. 
Banquet only registration: $30 by Feb. 15, 2020
Registration payment is accepted in two ways:
1. By check: Mail check payable to "Tennessee State University" to:
The Annual Africa Conference
Department of History, Political Science, Geography, & Africana Studies
Tennessee State University
3500 John A. Merritt Boulevard
Nashville, TN 37209
2. Online: Click this link.
Follow the instructions on the link to make your payment.
Conference Program
TBA
Hotel Information
Rooms are reserved at the LaQuinta Inns & Suites by Wyndham--Nashville Airport  at a discounted rate for participants.

---
Conveners
Dr. Adebayo Oyebade
Professor of History & Department Chair
aoyebade@tnstate.edu
Dr. Gashawbeza Bekele
Associate Professor of Geography
gbekele@tnstate.edu

---
Conference Venue
Tennessee State University, Avon Williams Campus
330 Tenth Avenue North, Nashville, Tennessee 37203