Home >
> Intramurals & Recreation
Intramurals & Recreation

Get up!  Get going!
Get involved with intramural sports and recreation programs at Tennessee State University.
Work out at theRalph H. Boston Wellness Center. Swim laps in the Olympic-size indoor pool. Go bowling and play air hockey, foosball, billiards, board games, card games, or ping-pong in the Student Recreation Center. Pick up a basketball game or challenge your friends to racquetball in Kean Hall.
Take your energy outdoors with a run around the track or try your hand at archery, basketball under the pavilion, tennis, touch football, fishing, cycling, canoeing, and hiking.
Or bring us your activity ideas and we'll help you get your group off the ground.
Intramural and Recreation Sports Office
Main Campus, Kean Hall, Room 928
Floyd-Payne Campus Center
10:00 a.m.–10:30 p.m. M–F
1:00 p.m.–10:30 p.m. Sat–Sun
615-963-5662 or 615-963-5663
Why wait? Explore TSU for yourself. Visit us and see the campus, learn more about life in Nashville, and discover the heart of Big Blue Country.
Apply for admission, request information, or contact Tennessee State University today.
Undergraduate Admissions
P. O. Box 9609
888-463-6878 toll-free
615-963-5101 voice
615-963-2930 fax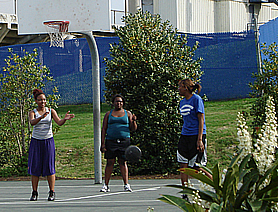 Recreational Basketball