Home >
> Admission Information
Admissions
Interested in becoming a physical therapist?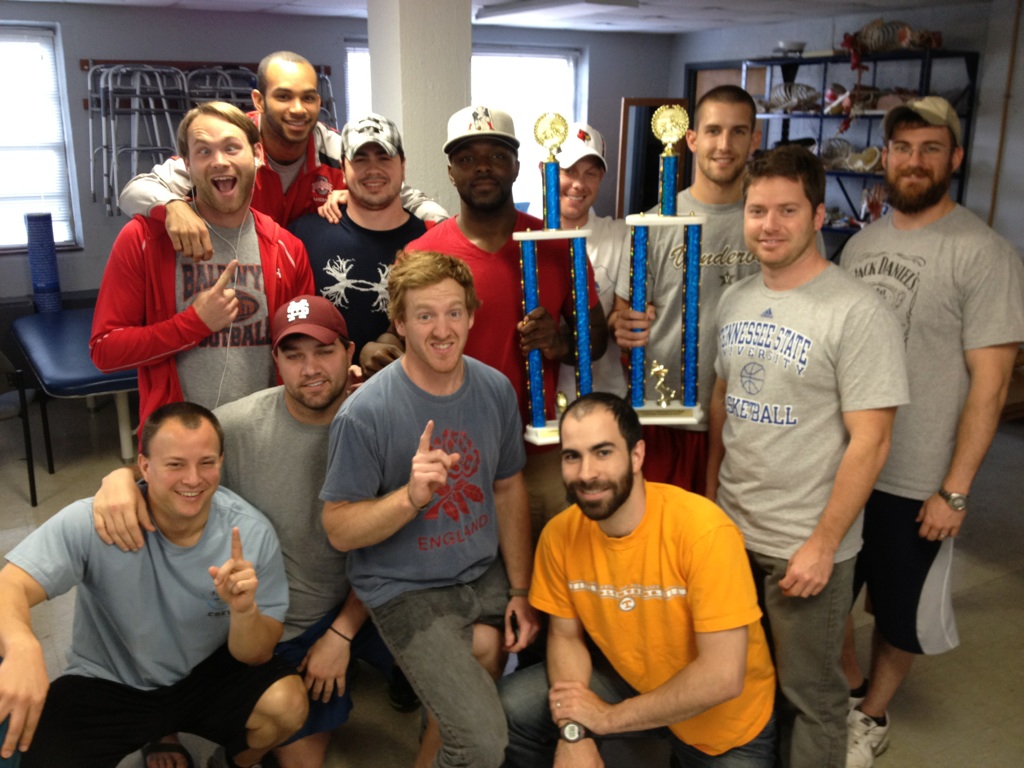 We are excited that you have selected Tennessee State University as one of your options for earning a Doctor of Physical Therapy (DPT) degree. We are happy to help you with any questions you may have about our application and admission process. However, we ask you to please read the instructions and all details very carefully.
If there is anything you cannot find on our website or in our PTCAS homepage, or if you would like advisement regarding the profession and/or your application, feel free to contact us. We are very proud of our program and take pride in our customer service. We are willing to set up meetings and schedule class visits or campus tours.

Peace,

David A. Lehman, PT, PhD
Professor
Chair, Admissions Committee
Tennessee State University
Department of Physical Therapy
3500 John A. Merritt Blvd.
Nashville, TN 37209
(615) 963-5946
dlehman@tnstate.edu


---
Information and Questions

All application and admission information is available in the Tennessee State University homepage on PTCAS. Please read the instructions and all details very carefully. If you still have any questions after reading all information and instructions, please to contact our Administrative Assistant, Ms. Brittany Price, at (615) 963-5881 or by email at bcosby@tnstate.edu.


---
Early Decision Option

We are offering the Early Decision option for the 2016-2017 Application Cycle which begins July 1, 2016 (for the class entering June 2017). If our program is your top choice of programs, we highly recommend considering the Early Decision option, since there is a strong possibility that we may fill the next class with Early Decision candidates.


---
PTCAS
The application process for our program must be completed through the Physical Therapy Centralized Application Service (PTCAS). Please visit the Tennessee State University homepage on PTCAS for specific application information and admission criteria.


---
Graduate Catalog Information

The information that follows provides the application and admission information as adapted from the TSU Graduate Catalog 2015-2017 (beginning on page 137).

For more updated and specific information regarding application and admission, please visit the Tennessee State University homepage on PTCAS.


---
 Admissions Requirements
Admission to the DPT program at TSU is a competitive process with admission to the program occurring once annually. A maximum of 36 students are enrolled in each class. A Bachelor's degree is required by the end of the spring semester in the year you expect to start the PT program.
The Department of Physical Therapy participates in the Physical Therapist Centralized Application Service, known as PTCAS. Applicants applying to the entry-level professional physical therapist program will apply online using the PTCAS application. The DPT program is participating in the "early decision" option under PTCAS. To learn more about the PTCAS application process including information about the "early decision" option, please visit the PTCAS web site at www.ptcas.org. Completed applications will be reviewed and early interviews and admissions will be granted to qualifying applicants.
The application submission period begins in July when PTCAS opens the application portal. The deadline for applications is October 1.
To be considered for admission to the program, applicants must have:
1.  A baccalaureate degree.
a. Official transcripts are required from all institutions attended. Transcripts are to be submitted to PTCAS, not the University.
b. Posting of the baccalaureate degree must appear on your final undergraduate transcript.
2. Completed application to the Graduate School and payment of application fee. 
3.  A minimal prerequisite GPA of 3.0 is required. We do not consider overall GPA in our admission decisions.
4.  Successful completion (C or better) of the following prerequisite courses.
a. Two (2) Biology courses with corresponding labs
b. Two (2) Chemistry courses with corresponding labs
c. Two (2) Physics courses with corresponding labs OR One (1) Physics course and a Movement Science course (i.e., Biomechanics, Kinesiology).
d. Human Anatomy (or Anatomy and Physiology I and II in lieu of separate Anatomy and Physiology courses)
e. Physiology (may be a general physiology or an exercise physiology course)
f. Math—at least a level of math required to take Physics I
g. Statistics/ Elementary Statistics
h. Two (2) Psychology courses OR One (1) Psychology course and One (1) Philosophy/Logic (or equivalent) course.
5.  The Admissions Committee may consider the substitution of similar/upper level courses for the required prerequisites.
Note: Prerequisite Course Substitutions: For information regarding substitutions/specific courses that fulfill the above prerequisites, please visit the Tennessee State University homepage on PTCAS.
6. The GRE scores must submitted to PTCAS using the Code = 7759. Our program requires a score of 150 for the Verbal section and 150 for the Quantitative section; we do not consider the combined score. Applicants who meet the minimum GRE score for one section (but not the other) may still apply. However, preference will be given to candidates who meet the minimum scores for both sections.
7. A minimum of 40 hours of documented observation in at least two different physical therapy clinical settings. Settings may include acute, long-term rehabilitation, outpatient, skilled nursing facility, and/or home health. Your observation hours must be documented in your PTCAS application.
8. Minimum of 2 recommendations - One must be from a physical therapist. Recommendations must be submitted through PTCAS.
9. Interview with the faculty (Invitations for interview are based on applicant prerequisite GPA and GRE scores).
10. Written essay that assures proficiency in the ability to write, demonstrating analytical ability, appropriate grammar, punctuation, and spelling. Essay is completed during the onsite interview—Please do not send an essay with your application.
The application deadline is October 1.
Students who expect to complete a Bachelor's degree in Spring just before beginning the program may be accepted pending the receipt of official transcripts including the degree earned.
Incomplete applications may result in your application being declared incomplete and result in non- admittance to the program.
International Students: Applicants with international undergraduate degrees should review the information outlined in the International Student Admission page of the Tennessee State University website and consult the appropriate sections of the Graduate Catalog.
Financial Assistance: Upon acceptance into the physical therapy program, students may apply for available stipends or other financial aid.


---
Clinical Practicum Requirements
All students accepted for admission into the graduate program in Physical Therapy must meet the following requirements prior to enrollment in the clinical practicum:
Proficiency in medical terminology
Documentation that they are free from communicable disease
Tuberculosis screening and all required immunizations
Current Cardiopulmonary Resuscitation (CPR) and Basic First Aid certification
Health/Accident insurance coverage
Professional student liability insurance coverage
Criminal Background Checks: Criminal background checks and or drug screens may be a requirement for training at some affiliated clinical sites. Based on the results of these checks/screens, an affiliated clinical site may determine to not allow your participation in training at their facility. This could result in your inability to successfully complete the requirements of this program. Additionally, a criminal background may preclude licensure or employment.
The following are Essential Functions that students should be able to meet, whether unaided or with reasonable accommodation, for a clinical practicum:
Critical thinking ability sufficient for clinical judgment;
Interpersonal abilities sufficient to interact with individuals, families and groups from a variety of social, emotional, cultural, and intellectual backgrounds;
Gross and fine motor abilities sufficient to provide safe and effective physical therapy care;
Auditory abilities sufficient to monitor and assess health needs;
Visual acuity sufficient for observation and assessment necessary in physical therapy care;
Tactile ability sufficient for physical assessment and treatment;
Physical ability to assist moving, transferring and ambulating patients who have physical impairment or dysfunction.
If students are unable to perform the aforementioned Essential Functions, they have the right to request reasonable accommodations from the Division of Disability Services as outlined in the  TSU Student Handbook.


---
Reservation Fee
Applicants who have been recommended to the Graduate School for acceptance into the DPT program are required to pay a non-refundable $250.00 reservation fee to secure their slot in the program. The reservation fee goes toward the cost of tuition once the applicant matriculates into the program.


---
Application to the Graduate School
Admission to the Physical Therapy program requires all students to complete an application form and pay a non-refundable application fee to Graduate School. It is strongly recommended that the application be submitted electronically and the fee paid on a charge card.
Note: A completed PTCAS application and a completed Graduate School application is required in order to be reviewed for admission.


---
Admission Notes
Admission to the DPT program at TSU is a competitive process with admission to the program occurring once annually. A maximum of 36 students are enrolled in each class.
A Bachelor's degree is required by the end of the spring semester in the year you expect to start the PT program.
Applicant must have a 3.0 prerequisite GPA at time of application for the application to be considered and for candidate to qualify for a possible interview invitation.
For applicants taking or re-taking courses in fall or spring, it is recommended that you do not include courses you are or will be taking or re-taking so that you have a 3.0 prerequisite GPA at time of application.
Applicant may have a total of no more than 4 prerequisite courses left to complete. They can have no more than 2 prerequisites left to take in Spring semester. For example, taking 2 in the Fall and 2 in the Spring or 3 in the Fall and 1 in the Spring is acceptable. However, taking 1 in the Fall and 3 in the Spring is unacceptable.


---
Tuition and Fees
Information about tuition and fees may be accessed through the Bursar's Office. The information below is only an estimate based on the Summer 2015 fees. The figures may change.
| | | |
| --- | --- | --- |
|   | Instate Fees | Out-of-State Fees |
| Summer Session  | $04,086 | $09,324 |
| Fall Semester  | $06,468 | $15,198 |
| Spring Semester  | $06,468 | $15,198 |
| Total for the One Year  | $17,022 | $39,720 |
| Total for Three Years  | $51,066 | $119,160 |
The figures in the table above do not represent total cost for attending program; it does not include the cost of textbooks, materials, housing, etc. Tuition and fees can change each year and thus the total cost for the program can change.


---
 Admission Decision Plan
Application Period: July 1, 2016 to October 1, 2016 using PTCAS
Early Decision Applications: Please be sure to read the Early Decision information on the PTCAS website. You must indicate that you are applying Early Decision if you apply prior to the August 15 deadline. If you do not indicate you are applying Early Decision, your application will not be reviewed as an Early Decision application.
Early decision application deadline: August 15
File reviews of completed/qualifying applications: 3rd and 4th weeks of August
Notification of applicants and invitation for interview: first week of September
Applicant interviews: 2nd week of September
Admissions decision: on or around the last week of September
General Applications: It is very possible that the class will be filled with Early Decision candidates. If so, General Applications will not be reviewed. If the class is not filled with Early Decision candidates, completed/qualifying applications submitted through the General Application process using PTCAS will be reviewed using a rolling review process.
Note: The sooner you submit a completed/qualifying application, the better your chances of being invited for an interview. A completed/qualifying application should meet the following stipulations:
At least a 3.0 prerequisite GPA at the time of application - We accept the highest grade of prerequisite courses that have been retaken.
A minimum score of 150 in the Quantitative section

and

a minimum score of 150 in the Verbal section of the GRE are required. 
Application to the Graduate School and payment of the application fee
Deadline for all applications is October 1!
---
webpage contact:
Physical Therapy